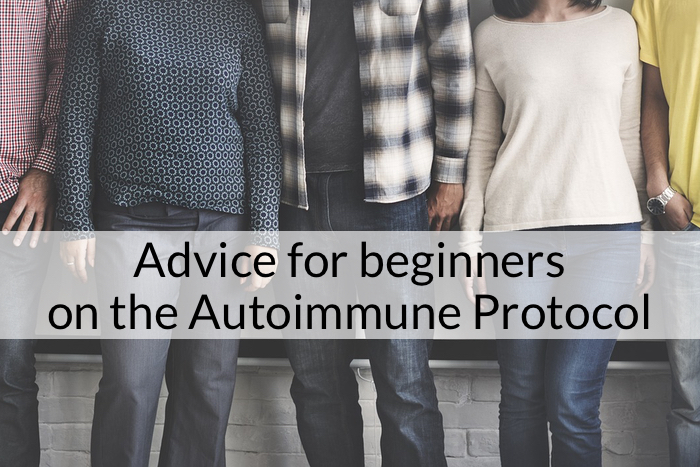 I am amazed every day by the positive energy among the AIP community, whether online or in local groups. When I started the Autoimmune Protocol diet and lifestyle, I had no idea how far I would go in my healing and how important all the people I would meet along the way would be. Something that happened recently reminded me once again that the connections we make are also an important piece of the puzzle.
I recently received an email from a lady asking what would be my advice to help a beginner start the Autoimmune Protocol and be successful. Although I have my own ideas on the subject (since I have been on the AIP since 2012 myself!), I decided to ask the question to the AIP community to see what they had to say.
I posted the question on my Facebook page and everyone pitched in with their best advice for beginners.
Advice for beginners on the Autoimmune Protocol:
Learn about the AIP and other peoples' experiences by reading books and blogs. Some great books for beginners are: The Paleo Approach by Sarah Ballantyne, A Simple Guide to the Paleo Autoimmune Protocol by Eileen Laird, and The Autoimmune Wellness Handbook by Mickey Trescott and Angie Alt. Information is power!
Ask for help to get started if you feel uncertain or overwhelmed. Whether it is a nutritionist in your hometown, a functional medicine practitioner, or an online coaching program, there are knowledgeable professionals out there who can help you.
If giving up everything at once scares you, do it progressively. You might eliminate one problematic food group per week. For example, eliminate processed sugar the first week, then nightshades the second week, followed by grains, nuts and seeds, dairy, and eggs.
Don't get overwhelmed by all the "rules". The AIP is a template; do what works for you. And certainly don't let the restrictions prevent you from starting the Autoimmune Protocol.
Choose the best time to start and plan for it. For example, avoid starting the AIP when you know you will be traveling or if you have a surgery coming up. Choose a time when you have the time to prepare.
It can be difficult to make your entourage understand why you are following a special diet. From the outside, the Autoimmune Protocol can be perceived as very restrictive, even extreme. Think about an elevator pitch in which you succinctly explain what the AIP is and why you are doing it. Once you have said your piece, don't act weird and uncertain. You know why you are doing this, your life may depend on it, so don't let anybody shame you or criticize you.
Look for a local autoimmune support group or an online support group. Mickey Trescott and Angie Alt, from Autoimmune Wellness, keep an ongoing list of all the local AIP groups. They are all over the world! There is also the Autoimmune Paleo Recipes group on Facebook, as well as the AIP Support group.
Prepare for the day you start the AIP. Start cooking a few meals and maybe freeze them so you are prepared.
Keep your meals very simple. Fill up your plate with 2/3 to 3/4 of vegetables and 1/3 to 1/4 of protein. Add some healthy fats, a little seasoning, and you've got yourself the ideal AIP plate!
Don't try to recreate old favorites you used to eat; it will take a lot of time and you will probably be disappointed anyway.
Always cook larger quantities so you will have leftovers.
"Planning ahead" is the name of the game. Always have safe food to eat, whether you are at home or on the go.
Focus on what you can eat instead of the foods you have to eliminate.
Change your view about food. Food is fuel and food is medicine.
Get rid of all the processed food in your house (laden with gluten, processed sugars, and food additives). Out of sight is out of mind. If that is not an option, create a space in the kitchen and in the refrigerator dedicated to your food and snacks.
Print lists of YES and NO foods and keep them handy in the kitchen or take them with you when you go grocery shopping.
A lot of free AIP recipes are available online! Look for them on Pinterest or on AIP blogs. A good place to keep up with the latest recipes is on the Paleo AIP Recipe Roundtable hosted by Eileen at Phoenix Helix.
Some kitchen tools can make your life easier and help you save time. Think slow cooker and Instant Pot.
Start meal planning, ingredients prepping, and batch cooking. They are totally worth the time! For example, before going grocery shopping, sit down and plan several meals you wish to cook in the following days. Build a shopping list with all the ingredients you will need. When you come back from your grocery trip, prep your ingredients (see how I do it here). You may also decide to dedicate a chunk of time to batch cooking (think cooking several meals at the same time and refrigerating or freezing them for later). Prepare TV dinner trays in advance, a large batch of soup that you freeze in smaller portions, pre-wash and cut vegetables and fruits for snacks.
Learn about the food you eat, where it comes from, and how it can benefit you.
Think about nutrient density! Some foods are considered superfoods because they contain a lot of nutrients to help you heal. Eileen from Phoenix Helix recently wrote an article about these superfoods for autoimmune health. On her list were sardines, wild-caught salmon, extra virgin olive oil, bone broth, sauerkraut, turmeric, kale, ginger, pastured chicken livers, and berries.
If you find yourself getting hungry too soon between meals, increase your intake of healthy fats such as cooking oils, avocado, fatty fish, olives.
Forget traditional breakfast; think dinner for breakfast instead.
Leftovers are a gold mine, especially for breakfasts or those days when you don't have the energy or the time to cook. If you get bored of leftovers, freeze them in smaller portions for later.
You may have to give it several tries before you really get on the band wagon. That's okay! Don't beat yourself up and keep trying. Take it one day at a time if you have to, it will be less daunting than thinking about every meal you will eat for the rest of your life.
You might feel bad as you go through the initial detox phase. Hang on, you will soon feel so much better.
Be patient. Healing takes time. Health is a journey, not a destination.
Don't compare yourself to others. Everyone is different and one person's healing is different from another.
Practice self-care and have compassion for yourself. You are doing the best you can!
Forgive mistakes. You are human and mistakes happen. Take it as an opportunity to learn and grow.
View the AIP as an adventure in which you will discover new foods you haven't tasted before.
Keep a journal to record your moods, your symptoms, and your sleep. This information is very valuable when you need to troubleshoot problems.
Don't rush the reintroductions. 

Wait until you see some improvement, then introduce one new food at a time.

Expect setbacks. They happen and they are not a sign that the Autoimmune Protocol isn't working for you. Be patient. Use your journal to troubleshoot. Ask questions.
When the going gets tough, remind yourself why you are doing this and that the AIP is a temporary diet!
Don't forget about the lifestyle piece.
If you have another great advice for beginners on the Autoimmune Protocol, I would love to hear it! Leave me a comment below and I will add it to the list.
Click it to pin it!