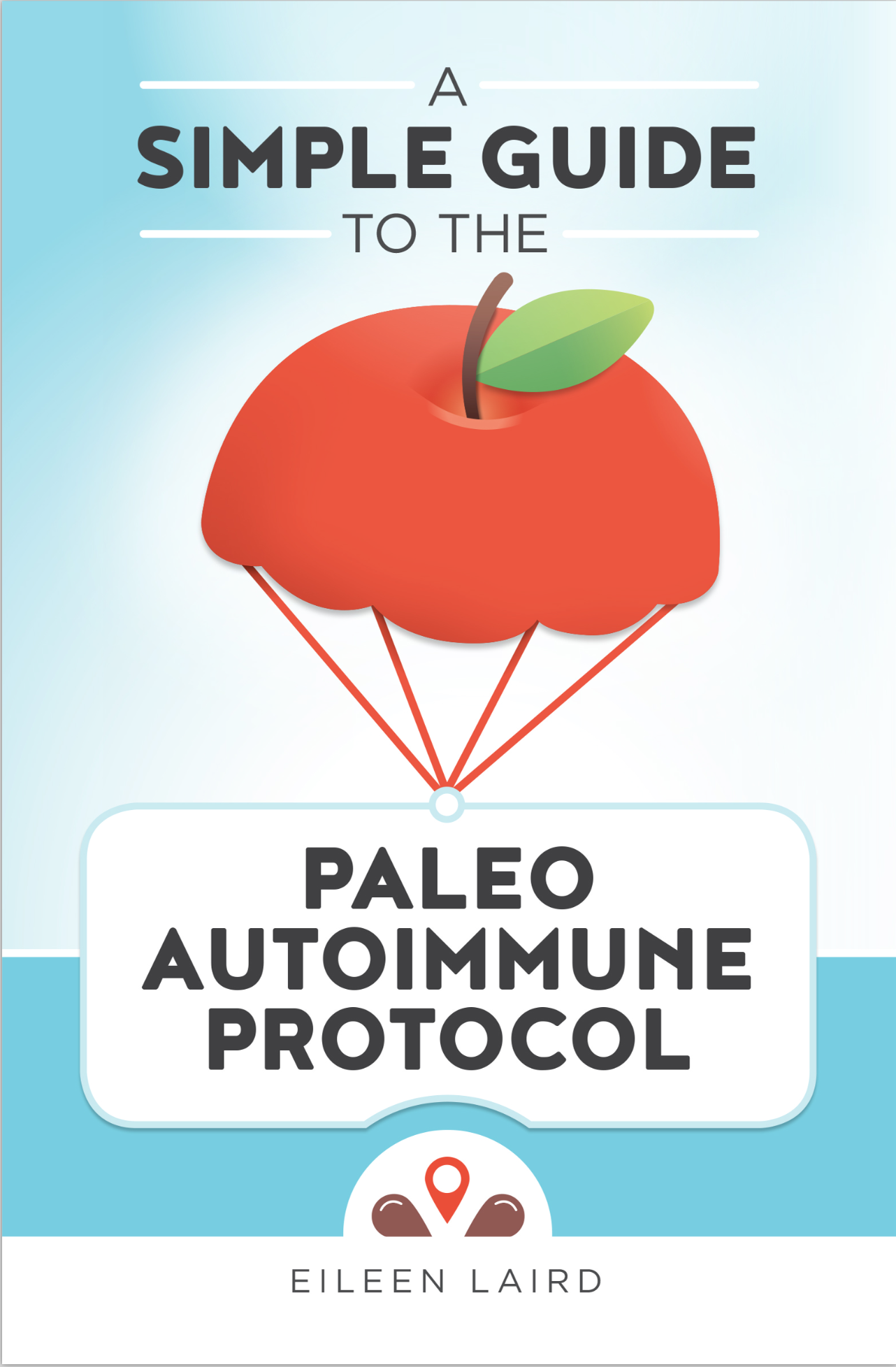 I am both pleased and excited to write about Eileen Laird's latest book called "A Simple Guide to the Paleo Autoimmune Protocol
".  Eileen is one of my favorite bloggers and I am going to tell you why.
But first, let me introduce this great lady, if you aren't already acquainted!  Eileen Laird blogs at Phoenix Helix, where she features recipes, research and personal success stories about the autoimmune experience.  She has already published two valuable resources for the autoimmune community: Reintroducing Foods on the Paleo Autoimmune Protocol and 85 Amazing AIP Breakfasts.  Eileen is also the host of the Phoenix Helix Podcast, focused 100% on autoimmune healing.  Eileen is using the paleo AIP diet and lifestyle to manage rheumatoid arthritis, so she has been in the trenches, just like you and me!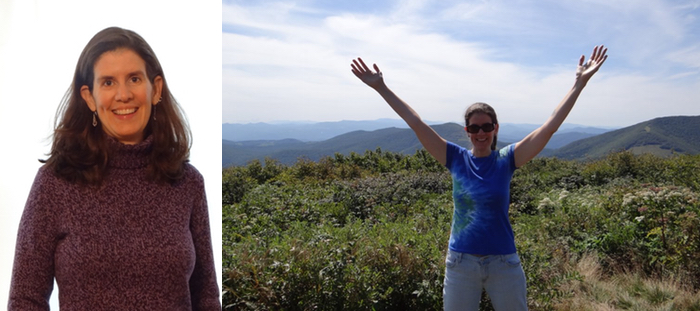 Most of you probably know that I was diagnosed with Hashimoto's Thyroiditis, an autoimmune disease attacking my thyroid gland, in 2009.  At that time, I was really sick and struggling with debilitating symptoms including anxiety, panic attacks, severe insomnia, swollen and painful thyroid, brain fog,…
Eileen's blog, Phoenix Helix, was the first blog I turned to to gather information and figure out a way to heal myself.  The amount and quality of useful information I found on her blog helped me greatly on my way back to health.  Eileen's posts are hugely informative, but in a simple way that I was able to grasp, even when my thinking was impaired by brain fog.  I found great comfort reading her own story of recovery.  Her compassion and gentle soul comes through in her writing, and her deep knowledge of the autoimmune protocol was a lifesaver for me.
Today, Eileen is coming out with this Simple Guide to the Paleo Autoimmune Protocol
.  It is a formidable resource for all of those who are fighting chronic illness and autoimmune disease.  She has written this guide as a simple conversation between friends, where she shares the essential information you need to get started on the autoimmune protocol.  Her book is easy to read and will provide you with a roadmap to embark on your own healing journey.
Here are the main topics included in this guide:
foods you need to avoid
foods you should add to your diet
grocery lists
meal planning tips
advices for traveling and eating out
navigating holiday traditions
getting support from family and friends
lifestyle interventions
food reintroduction process
how to survive a flare
trouble shooting tips
Focus on the bounty!
One of my most favorite parts of the entire guide is this AIP food pyramid graphic that Eileen created.  You can find the full colored version on Eileen's blog!  This is a perfect reminder that we have a bounty of healing foods available to us.  In Eileen's own words, "you can eat delicious, satiating food every day on the AIP".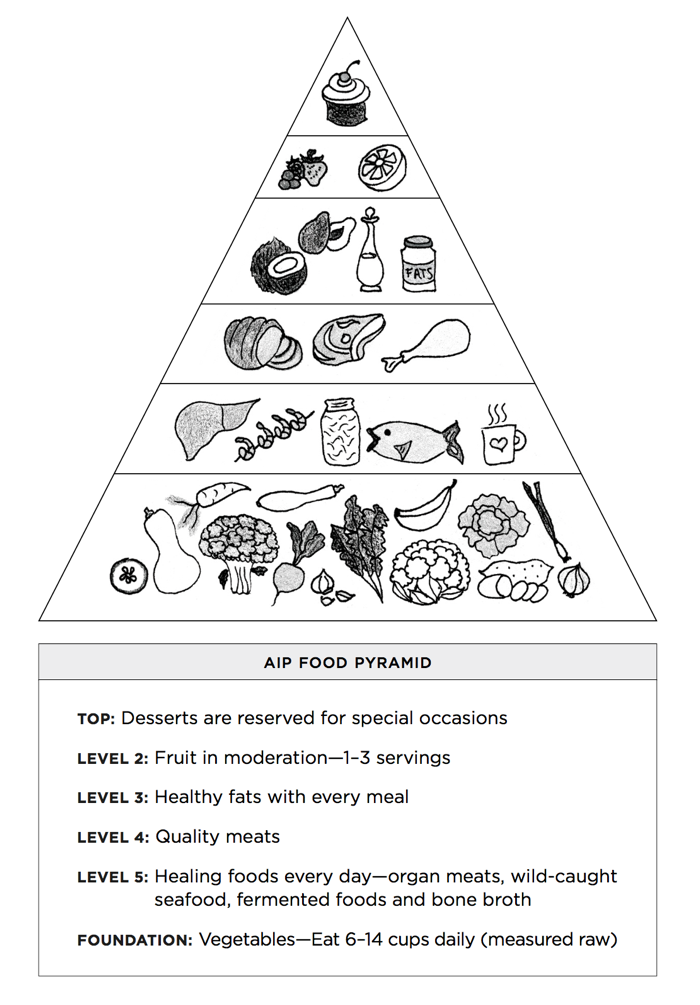 Now let's get on with the fun stuff!  I asked Eileen to share with us 5 little known facts about her.  Here are her answers!
She started cooking meals for her family when she was 10 years old after her mother went back to work!
Eileen is a Christmas Eve Baby!
She is a therapeutic bodyworker for her day job, specializing in lymph and craniosacral therapies, which just happen to be two of the best bodywork therapies for autoimmune disease.
Eileen has 6 grandchildren, getting a jumpstart on it through marriage, and it was one of the biggest perks of marrying her husband.
She is an introvert and needs some solitude every week or she gets easily irritated and covered in symbolic porcupine quills. For this reason, Mondays are her solitude day – She spends them alone and offline (no connection to the phone or internet) and finds it deeply peaceful and completely rejuvenating.
Eileen's #1 piece of advice for people starting the AIP: PREPARE!
"The autoimmune protocol is a big change, and it's not something you can do 'on the fly'. Read this book – learn how the protocol works and how to implement it. Then do some planning. Remove the foods from the kitchen you can no longer eat. Create a shopping list of the foods you'll be eating instead. Come up with a meal plan for your first week and include all 3 meals plus snacks. That way, you'll always have an answer to the question, "What will I eat?" Lastly, get support – whether it's your spouse, your family, a friend, or the online community. It's hard to make big changes, and we're much more successful when someone is there to cheer us on. "  – Eileen Laird
Enter the giveaway!  The giveaway is over.  The winner is Emma F. 
Eileen has graciously agreed to give away a print copy of her new book "A Simple Guide to the paleo Autoimmune Protocol" to one lucky reader! To enter the giveaway, subscribe to my newsletter and leave a note here in the comments to let me know you have done so.  Please note that you have to confirm your subscription in order to enter the giveaway.  Let me know also if you found this review helpful!  That's it!  This contest is open to US domestic participants only.  The winner will be chosen randomly and will be announced on Monday January 11. Good luck everyone!
---
Disclaimer: I was given a review copy of this book as well as a copy to give away, with no obligation. I'm 100% honest in my opinions. If I didn't love it, I wouldn't have written the review, nor hosted the giveaway.
This post contains affiliate links.  Click here to read what it means.