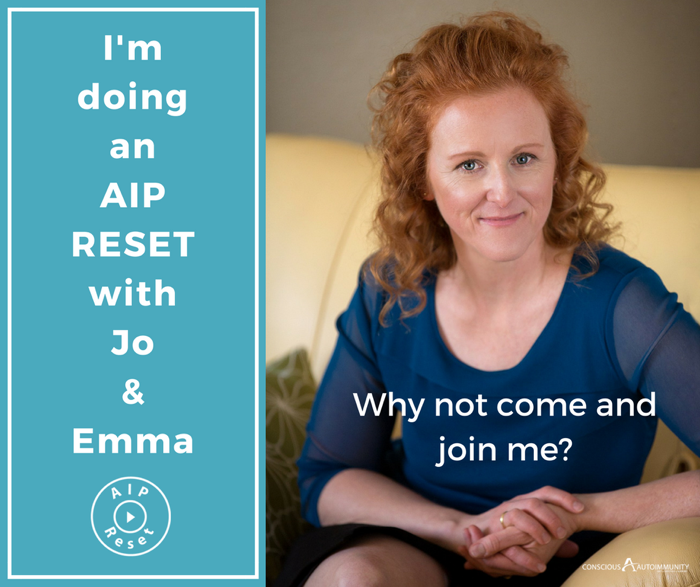 I am about to embark on a 30-day AIP Reset with the goal to curb my sugar cravings and regain control of my diet. If you think that this is something you could benefit from, I would love for you to join me!
I am not planning on doing this alone, though. I signed-up for the 30-day AIP Reset program over at Conscious Autoimmunity.
Disclaimer: I have not been paid in any form to write this blog post or to join the 30-day AIP Reset. I am doing this on my own time and my own dime because I believe in this program.
Why am I doing the 30-day AIP reset?
For a long time after my Hashimoto's diagnosis, I have been following a pretty strict AIP diet in order to heal my body and reverse the damaging effects of this autoimmune disease. The Autoimmune Protocol has been a lifesaver for me. Truly! Thanks to the AIP, my debilitating symptoms have disappeared and I have regained my health and energy.
But as things got better and my life returned to "normal", I have allowed a number of foods to come back into my diet. That is not a bad thing in itself at all. Indeed, the Autoimmune Protocol isn't meant to last forever. The ultimate goal is to heal your gut while eating the widest range of foods possible. However, I have noticed some small symptoms creeping back in. Mild joint pain when I overdo coffee or bloating after eating gluten-free bread. Those symptoms are signs that my body doesn't like some of the foods I am eating now.
I do not have the metabolism of my youth, either, and too much sugar (even if it is "good sugar" like honey or maple syrup) causes me to gain weight! Weight gain means an increase of overall inflammation. Sugar is also known to feed bad bacteria in the gut, creating or aggravating gut dysbiosis.
I have tried to ignore these mild symptoms for several months now in an attempt to make them disappear and it is not really working well! It is time to put my "big girl panties" on and clean up my diet before it gets out of control!
What is a 30-day AIP Reset?
As I mentioned previously, I am not doing this AIP Reset alone! I decided to join the 30-day AIP Reset program on Conscious Autoimmunity. It is a program designed to support those who are familiar with the Autoimmune Protocol but need some help in troubleshooting some issues or going back to the AIP basics.
When I saw how other people benefited from this program and how they were able to attain their goals, it gave me the impetus I needed to stop procrastinating and regain control of my diet.
I have to mention that this AIP Reset is not just about food. It happens that what I need right now is to re-calibrate my diet. But the AIP Reset is also about troubleshooting your lifestyle. Are you having trouble keeping your anxiety and stress levels under control? Do you have a hard time keeping a regular exercise routine?  Would you like to have better sleep hygiene?
The AIP Reset covers all aspects of living with an autoimmune disease or chronic illness, from the food you eat to the way you live.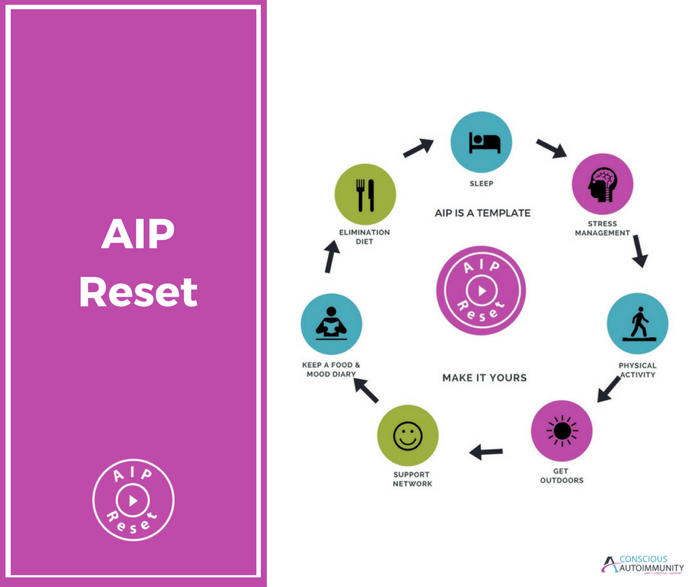 There are two aspects of the 30-day AIP reset that I really love:
1) I won't be alone because I am joining a COMMUNITY. When you sign up, you are automatically part of a safe and friendly private Facebook group in which all the participants interact together and motivate each other under the supervision of trained health coaches. How cool is that? We might not have the same goal, but the process is the same. We will help each other stick to our guns and find the courage and determination to accomplish our goals. All this in a friendly and supportive environment. In total privacy.
2) I am getting daily SUPPORT. When you sign up for the AIP Reset, your entire experience is supervised by trained health coaches, Jo and Emma, who are super knowledgeable about the Autoimmune Protocol. Jo and Emma follow the AIP diet themselves so they know the ins and outs and the challenges. You also receive daily posts in your mailbox with tools, support, and information to get the most of your AIP Reset!
How to join the 30-day AIP reset?
It is really easy, my friends, and the good news is you won't have to break the bank in order to join. Click here to sign up for the AIP Reset program and join me on this adventure!