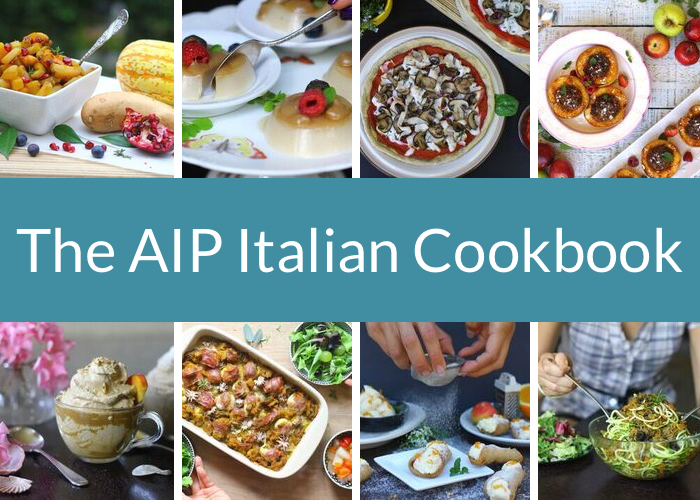 The AIP Italian Cookbook, written by the lovely Ambra Torelli, contains over 50 creations inspired by Italian cuisine, from lasagna, spaghetti, and gnocchi, to cannoli and panna cotta! All of the recipes are allergy-free and compliant with the Autoimmune Protocol (AIP). Ambra suffered from hypothyroidism and leaky gut issues in her teen years. She discovered later that she is dairy intolerant, has a non-celiac sensitivity to gluten, and that by adjusting her diet and lifestyle she could dramatically improve her overall health.
Ambra, who hails from the beautiful city of Cremona, South of Milan (Italy), wrote this cookbook to prove that food allergies and dietary restrictions don't have to spoil your creativity in the kitchen and passion for good food! Indeed, having access to great food and knowing that you can still enjoy amazing pasta dishes and tiramisu, for example, can make you feel less overwhelmed about embarking on an elimination diet like the AIP.
What will you find in this e-book?
This cookbook follows the structure of a typical Italian meal, starting with "Colazione" (breakfasts).

Then come the "Primi" (first courses) and "Secondi" (second courses). First courses are usually carb-based dishes, like risotto, pasta, and pizza. Second courses are generally accompanied by a "Contorno" (side dish) made with vegetables.

To end on a sweet note, Ambra has created a series of delightful "Dolce" (desserts) to satisfy your sweet cravings!

To complete this collection of recipes, Ambra has also included a short introduction to the Autoimmune Protocol as well as an AIP Ingredient Guide with a focus on the allergy-free ingredients needed to recreate your favorite Italian classics. Think AIP pasta replacements, how to make dairy-free and nut-free Parmesan cheese, and a guide to AIP flours.
What I like the most about the AIP Italian Cookbook
From the get-go, I was excited to discover new AIP recipes I hadn't been able to enjoy before, such as AIP pasta dishes!
Ambra also has a special way to present her food that is very colorful and eye-catching. It is hard to resist her invitation to explore the Italian cuisine of her youth. Her love of life and good food comes through in every page of her cookbook.
Thanks to her creativity in the kitchen, Ambra delivers a unique collection of recipes that is beautiful and tempting. If you are looking for something different from your usual fare, you have come to the right place.
An exclusive recipe from the cookbook: AIP Lemon Rosemary Cookies
Ambra has graciously agreed to share an exclusive recipe from her cookbook with you all. Ambra recommends using a digital scale when measuring ingredients for baking and she uses metric (grams) measurements for maximum accuracy. If you decide to convert the grams into ounces or cups, use this website.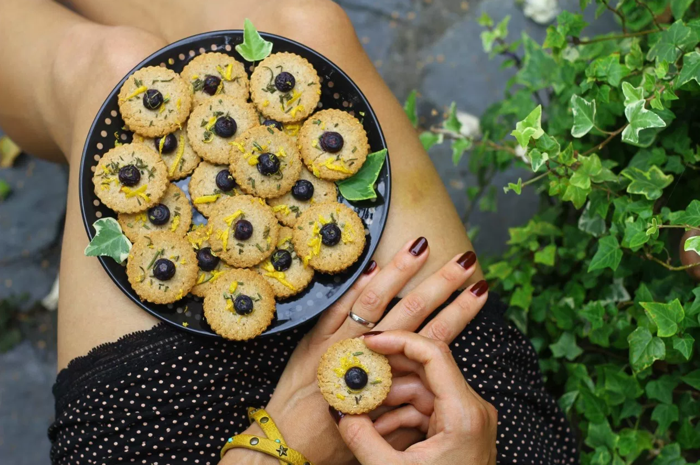 Prep time: 10 min | Cook time: 15 min | Serves: 20 cookies
Ingredients for the cookies:
100 gr tigernut flour
70 gr tapioca flour
zest of ½ lemon
¼ tsp finely chopped rosemary
40 gr melted coconut oil
10 gr freshly squeezed lemon juice
25 gr coconut milk
20 frozen blueberries
Ingredients for the toppings:
zest of ½ lemon
¼ tsp finely chopped rosemary
Directions:
Preheat the oven to 350 F.
In a mixing bowl combine tigernut flour and tapioca and mix well.
Add in the lemon zest and finely chopped rosemary and, when it's well mixed, add all the remaining wet ingredients and knead well with your hands until you get a nice and compact ball of dough.
Helping yourself with a rolling pin, roll down the dough on a wooden board (or, if you don't have it, you can simply place a sheet of parchment paper on the table) until ¼ of an inch thick.
Using a circular cookie cutter, cut out your AIP Lemon Rosemary Cookies and place a frozen blueberry in the middle of each one.
Place your cookies on a baking pan lined with parchment paper and bake for 15 minutes.
Sprinkle the remaining lemon zest and chopped rosemary on top and you are ready to enjoy your AIP cookies!
Make sure to let them cool down completely before storing them in an air tight container so they maintain their friability.
---