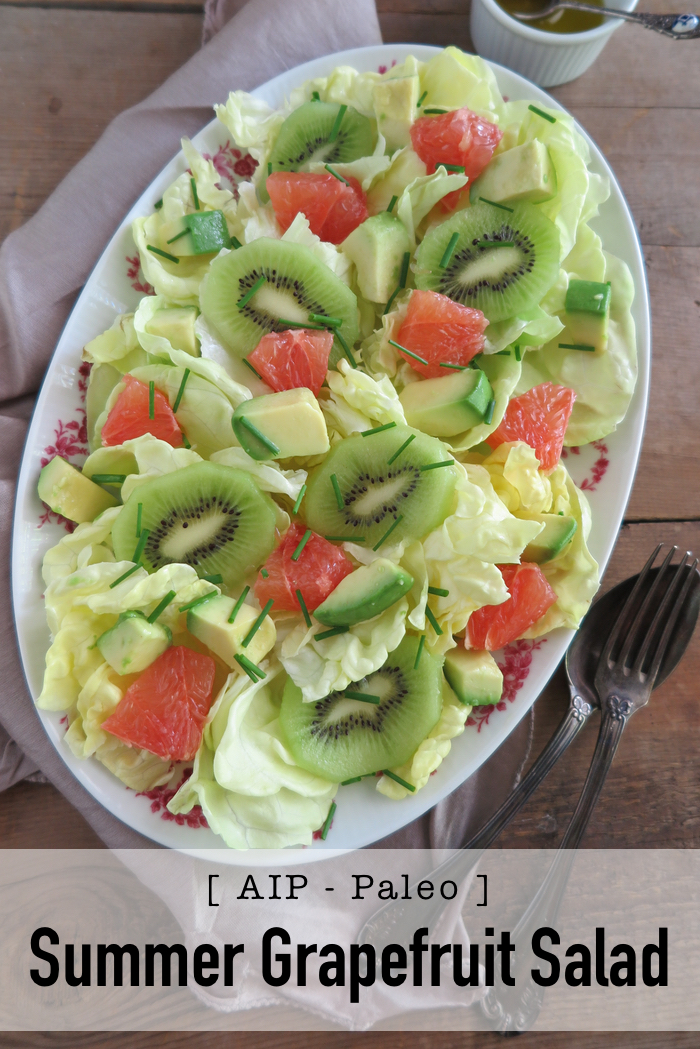 I thought about calling this recipe "Squeezing the Last Drop out of Summer Salad" but it would have been too long!  It describes exactly how I feel, though, as I am almost scrambling to create the most colorful and tasty salads I can before fall sets in.
I was inspired to create this grapefruit salad while traveling in Europe this summer.  I got the chance to visit several farmers markets in the south of France and was struck by the abundance of colorful fruits and vegetables.  If you find yourself perusing the stalls of a French market, be careful not to touch anything with your own hands though, unless you have been given express permission by the vendor!  It is simply not done in France to touch fresh produces.
On market days, restaurants and little cafés serving bistro food will tempt you with delicious meals prepared with ingredients produced locally.  A bistro salad, or chef's salad, is often on the menu and would always catch my eye.  The crispy fresh bib lettuce I use in this recipe, paired with pink grapefruit, kiwi, and avocado, transports me back to the markets in France!  It is fresh, tasty, and is the perfect accompaniment for any grilled meat and barbecues.
This recipe has been originally posted on the blog Autoimmune Paleo.

AIP / Paleo Summer Grapefruit Salad
This recipe is 100% compliant with the strict elimination phase of the Paleo Autoimmune Protocol (AIP).
Author:
Sophie Van Tiggelen
Cuisine:
Paleo Autoimmune Protocol
Ingredients
1 pink grapefruit
1 kiwi
1 avocado
¼ cup lemon juice
Pinch sea salt
1 small head Bibb lettuce
1 tablespoon minced chives


Dressing:
2 tablespoons extra-virgin olive oil
1 tablespoon apple cider vinegar
Pinch sea salt
Instructions
Peel the skin from the grapefruit with a sharp knife, making sure you remove all the white. Cut up the flesh into small ½-inch cubes. Set aside.
Peel the skin from the kiwi and slice thinly with a sharp knife. Set aside.
Peel the avocado, remove the pit and cut into small cubes.
In a small dish, cover the avocado with lemon juice and a pinch of salt, and let marinate for a few minutes.
Meanwhile, cut your bib lettuce into small, bite-sized pieces.
Place all ingredients in a large bowl and mix delicately. Really use light hands here!
Drizzle the dressing on the salad and sprinkle chives for garnish.
Serve immediately. Bon appétit!