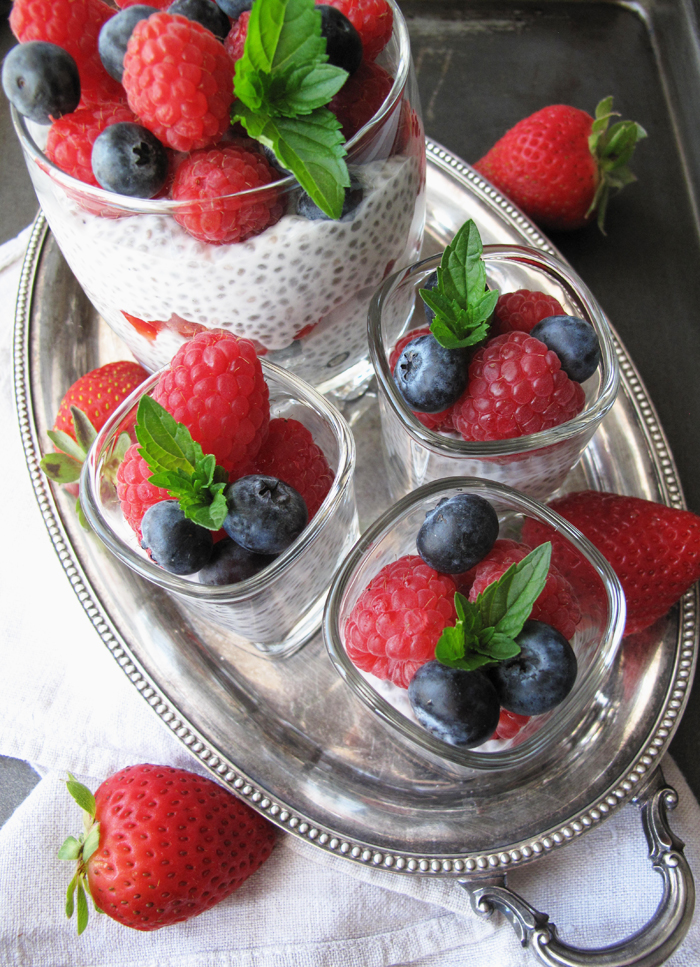 Have you heard about chia seeds?  At first, I associated them with those commercials where you see hedgehog clay planters growing hair grass in your kitchen!  Well chia seeds are in fact an ancient Aztec superfood packed with beneficial nutrients.  They look a lot like sesame seeds and they have a mild and nutty flavor.  You can pretty much sprinkle them on everything to add flavor and texture to your desserts and dishes.
Today I am using them to make a delicious vanilla pudding that I serve with berries as a dessert.  I usually prepare the pudding in advance the previous day as it needs to sit overnight in the fridge.  For this recipe, you will need coconut milk.  I use this one that I buy at my local Vitamin Cottage.  The wholefood 365 brand is also a great buy.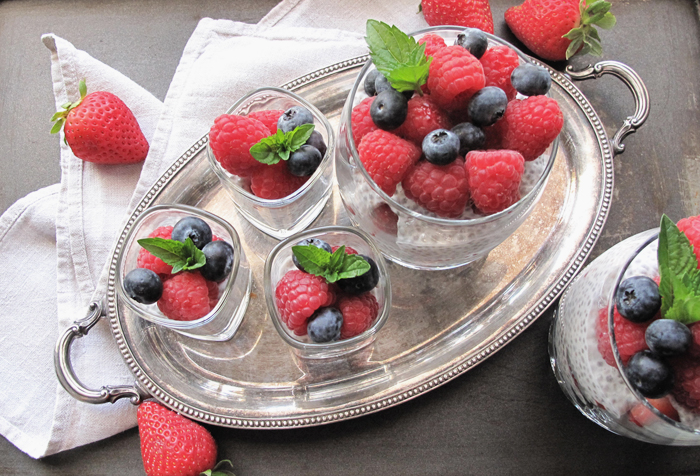 This dessert is probably one of my husband's favorite.  I think that he likes the contrast between the creamy vanilla pudding and the subtle taste of the crisp fresh raspberries.  And he has a particular fondness for raspberries.  He likes telling me about that one time when, travelling on a business trip in South Africa, he ate the entire dish of raspberries from the buffet at breakfast!  This story is not so surprising in itself but it is about the joy of the moment that he keeps reliving each time he tells me about it.  It makes my heart melt as a piece of butter.
Paleo / Vanilla Chia Seed Pudding with Berries
Vanilla chia seed pudding with seasonal berries. I use a mason jar for this recipe, but you can use any type of recycled glass jar with a lid. The pudding needs to be prepared in advance and sit in the fridge overnight.
Ingredients
1 can full fat coconut milk
1/4 cup chia seeds
2 TSP vanilla extract
2 packets (1g) of organic stevia or 2 TBSP honey
Seasonal berries of your choice: blueberries, raspberries, strawberries
A little piece of mint for the garnish
1 big mason jar with a lid
Instructions
Pour the coconut milk in your glass jar.
Add the vanilla extract and the sweetener. Stir with a spoon.
Add the chia seeds and stir again.
Place the jar with the lid on in the fridge for 15 minutes.
Take the jar out of the fridge and shake vigorously for 30 seconds.
Place the jar back in the fridge and wait overnight.
The chia seed pudding will set overnight and gain consistency.
If the pudding is too thick the next day, just add some fresh coconut milk and stir gently with a spoon.
Final preparation: create layers of berries and pudding in a pretty tall glass and place a little piece of fresh mint on top.
Bon appétit!
Now that we are friends, let's keep in touch!  Subscribe to our newsletter.
[wysija_form id="1″]