Batch cook individual rhubarb crumbles
and freeze them for later (or not)!
It is the end of the summer here in Colorado and I still have all this rhubarb growing in my backyard. I hate seeing food go to waste, so I decided to use my ample supply to make individual rhubarb crumbles that I would freeze to enjoy later during the winter.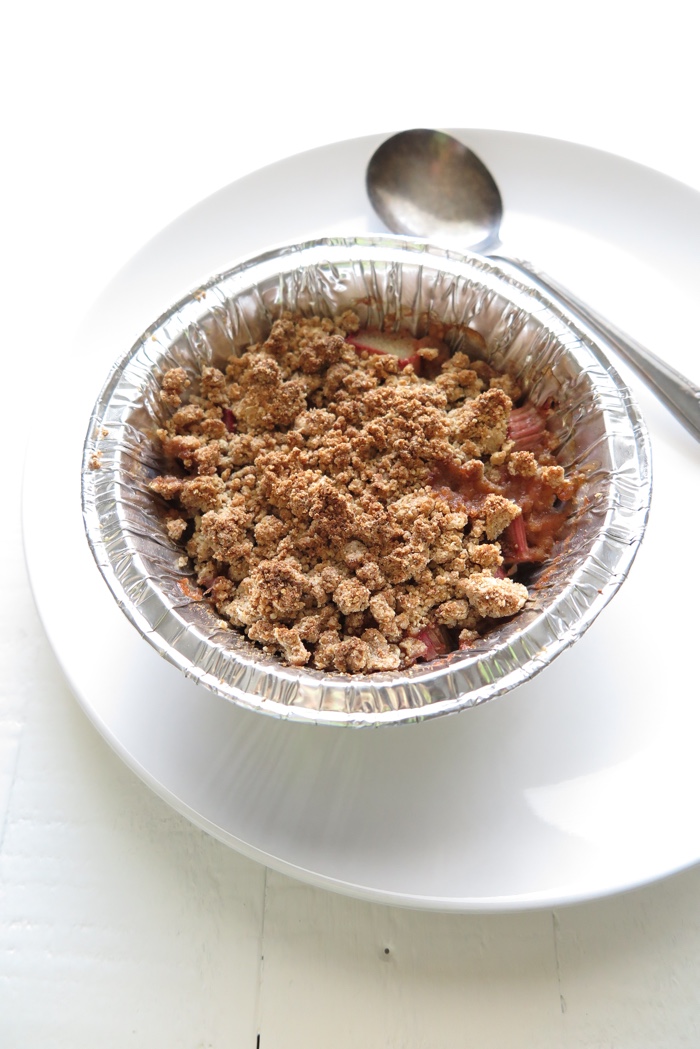 You can also cut the rhubarb stalks into pieces and freeze them as is. I personally don't like that solution because when you thaw frozen fruit it tends to be mushy and watery. I prefer to prepare single serving size portions of crumble that I can freeze and thaw as desired. That way, it's a little bit of work now and all fun later!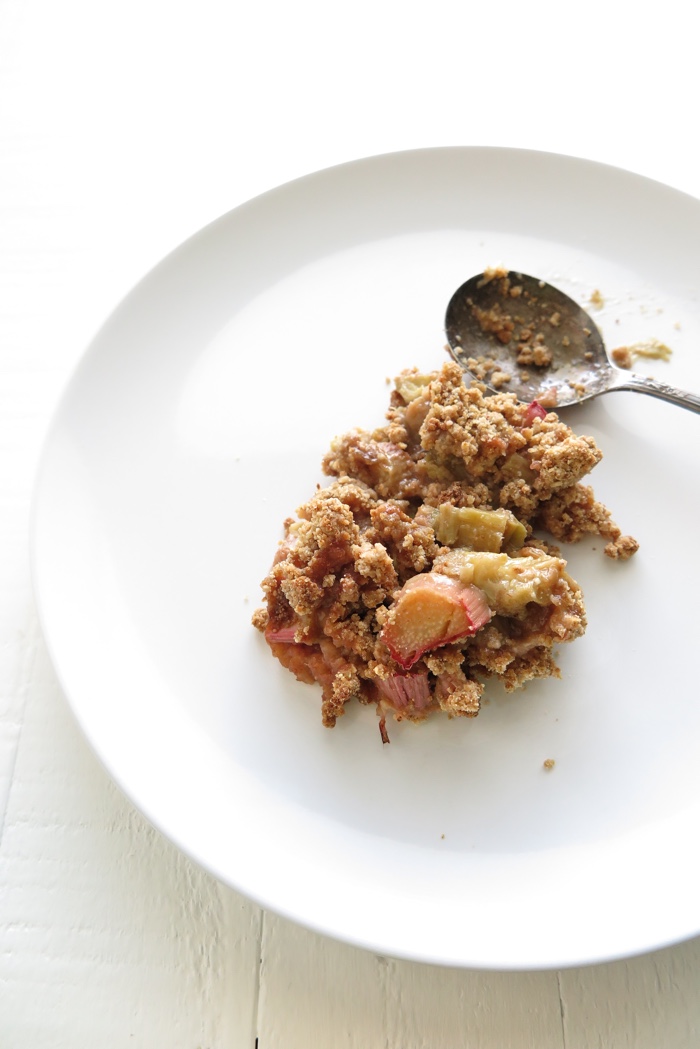 To peel or not to peel? My mother and grandmother always peeled the rhubarb before using it in any kind of recipe. But after posting this strawberry-rhubarb compote recipe on the blog, a lot of people told me they never peel rhubarb! I guess it is up to you if you want to peel the stalks, but it sure speeds up the process greatly not to peel! I tried this recipe without peeling and, frankly, I didn't notice any difference. Still delicious!
Which containers did I use? I like to use these aluminum pot pie pans (5 inches diameter) that I find at my local grocery store. You can also find them in larger quantities and much cheaper here. When you are done with them, don't throw them away. You can reuse them several times.
Don't have rhubarb but still want to prepare a crumble? Check out this easy and healthy apple crumble!

Individual Rhubarb Crumbles [Paleo-AIP]
This recipe is 100% compliant with the elimination phase of AIP (Autoimmune Protocol).
Author:
Sophie Van Tiggelen
Instructions
Preheat oven to 350° F and set the rack in the middle.
Divide rhubarb evenly between 8 disposable pot pie pans (5 inches - like these).
Add 2 Tablespoons of water and 1 1/2 Tablespoons of date sugar to each container.
To make the crumble, combine cassava flour, tigernut flour, coconut flour, and date sugar in a bowl and mix well.
In a small bowl, combine palm shortening and apple sauce. Whisk and pour over dry ingredients.
Mix with a spatula or your fingers until you obtain a dry and crumbly dough.
Divide dough evenly between containers, topping the rhubarb.
Bake in the oven until fruit is tender and crust is golden, about 30 to 35 minutes.
Serve as is, topped with coconut whipped cream, or vanilla ice cream.
Click it to pin it!