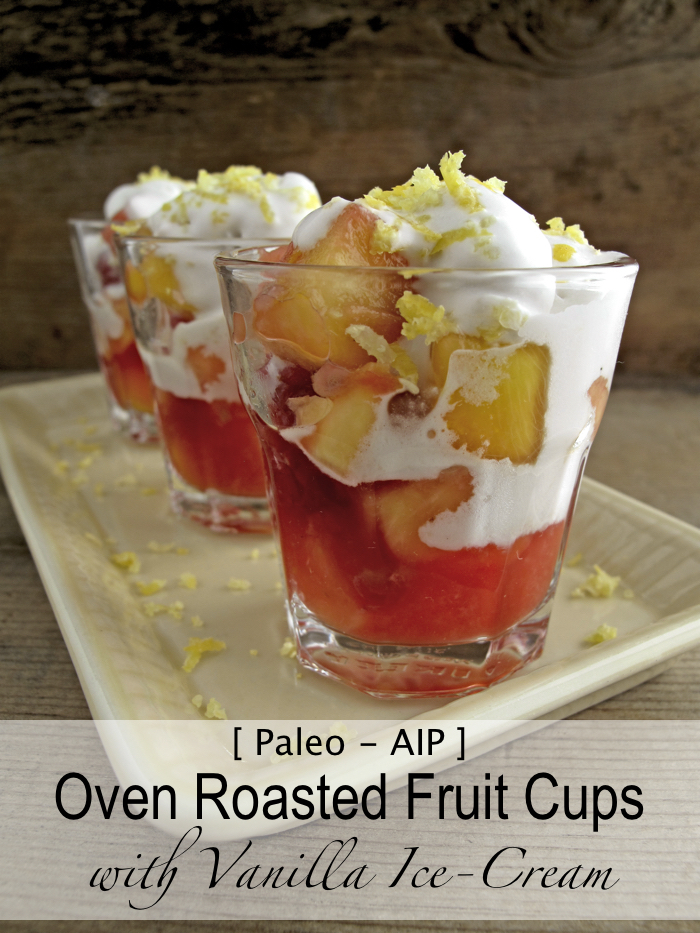 Mmhhh!  These little oven roasted fruit cups with vanilla ice-cream are beautiful, elegant, and mouthwatering! They make a perfect little treat when you want something sweet, healthy, and don't have the time, or the inclination, to bake a cake.
Instead of making a traditional fresh fruit salad, I decided to roast the fruits in the oven for this recipe.  Not so much that they come out mushy, like a fruit compote, but nicely baked and soft. While the pineapple and mango will hold together, the raspberries will melt and create a delicate and colorful sauce for the dessert.
Oven roasted fruit cups
with vanilla ice-cream!
Paleo – AIP
Pineapple – Mango – Raspberry
Substitutions: you can use pretty much any fruit you like to make these little cups.  Keep in mind that you will have to adjust the cooking time of the fruits so they don't come out of the oven overcooked.  For example, if you decide to use blueberries and strawberries, reduce the cooking time to maybe 8 minutes.  Just keep an eye on the fruits while they bake.
How to serve? As soon as the fruits come out of the oven, scoop them in small cups, verrines, or glasses.  Don't forget the raspberry sauce at the bottom of the baking dish!  Top the fruits with a generous scoop of vanilla ice-cream and some leftover lemon zest for the garnish! Be careful because the ice-cream will start melting immediately with the heat of the fruits.  So you need to be quick on your feet and serve the dessert immediately!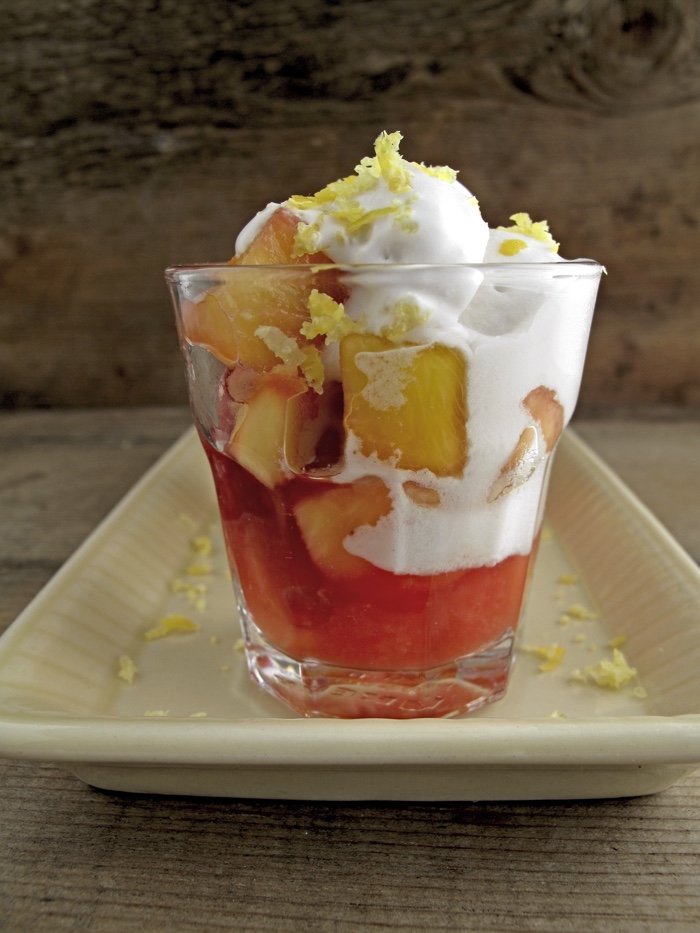 AIP / Paleo Oven Roasted Fruit Cup with Vanilla Ice-cream
This recipe is 100% autoimmune protocol compliant.
Cuisine:
Paleo Autoimmune Protocol
Ingredients
1/2 pineapple
1 mango
1 pack raspberries (6 oz - 170 g)
Zest of 1 orange
Zest of 1 lemon
Vanilla ice-cream: follow the steps in this recipe.
Instructions
Warm up the oven to 350 degrees F.
Peel the skin from the pineapple, remove the core and cut up the flesh into small cubes.
Peel the mango and cut up the flesh into small cubes as well.
In a large bowl, mix together the pineapple, mango, raspberries, and zest.
Lay the fruits in a large glass baking dish and cook for 15 minutes, until the fruits are soft but not mushy.
Serve the fruit salad warm, with a dollop of vanilla ice-cream!
Bon appétit!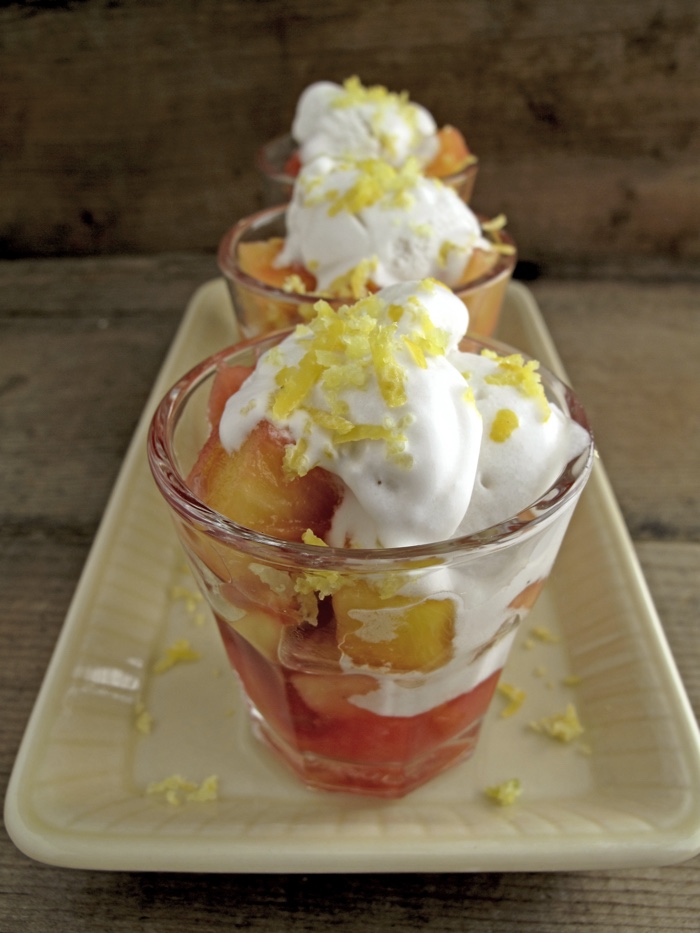 The recipe for these Oven Roasted Fruit Cups with Vanilla Ice-Cream has been shared on:
Paleo AIP Recipe Roundtable
 –
Fat Tuesday
–
Allergy Free Wednesday
–
---