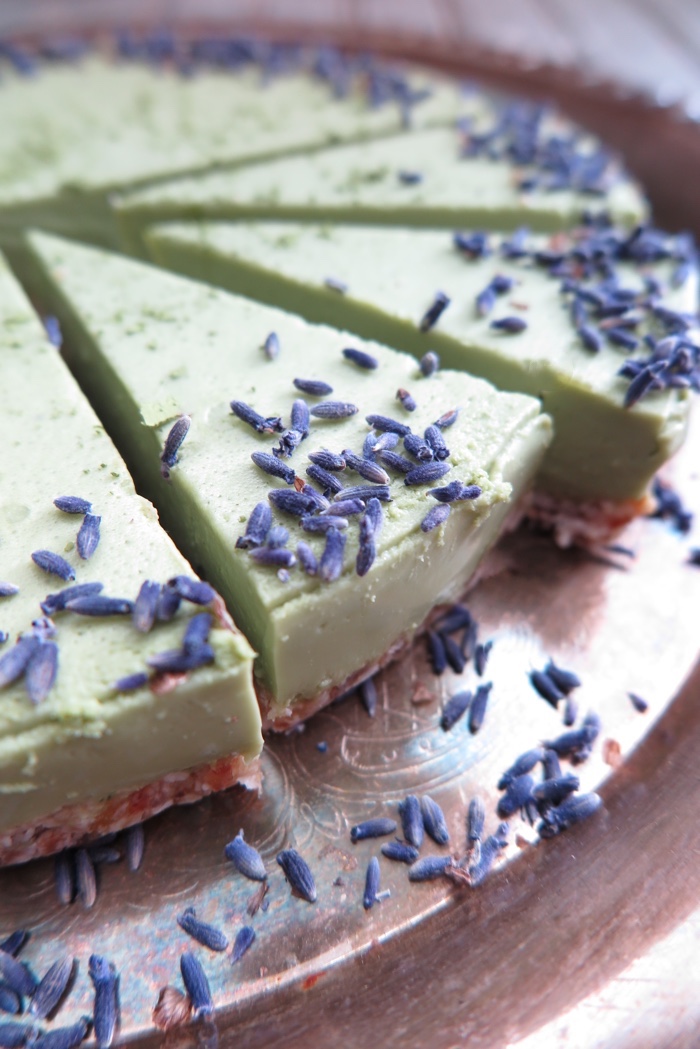 I have been wanting to create an AIP cheesecake for a long time. I have seen different versions floating around on Instagram from vegetarian-focused accounts I am following and they always look so beautiful and so healthy! Vegetarians definitely have a knack for decorating food, incorporating fruit, flowers, nuts, and seeds to create an exotic and luxurious look. You see, the way food is presented is as important to me as the quality of the ingredients and the workability of the recipe.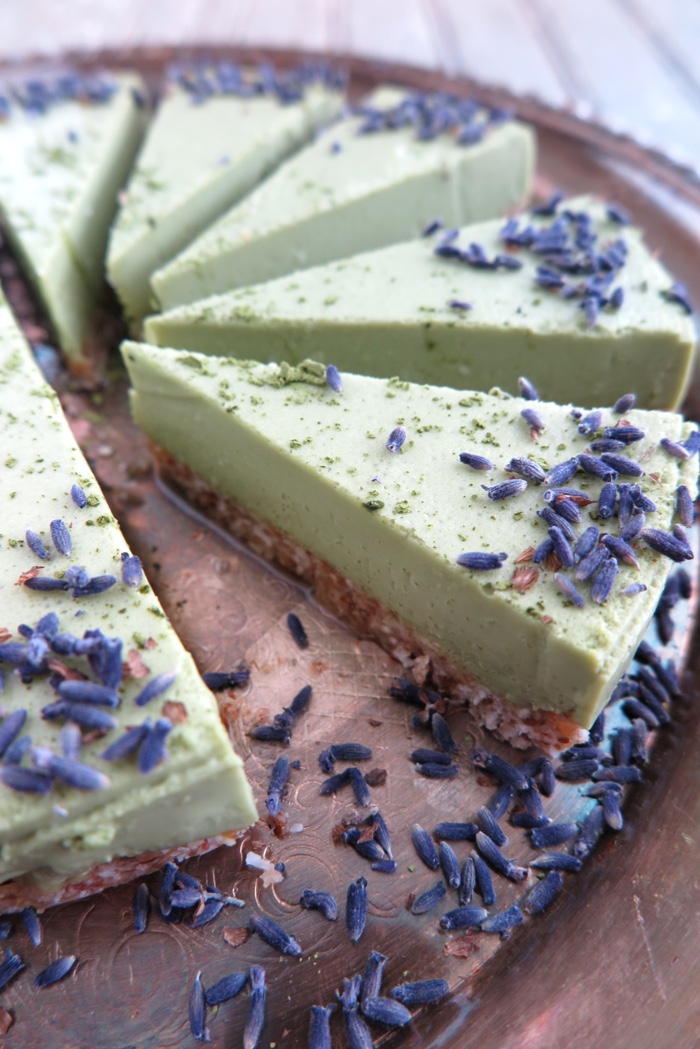 Then recently one of my daughters bought this vegetarian cookbook and there was an insanely good matcha green tea cheesecake in there.  The only problem is that traditional vegetarian cheesecakes rely heavily on nuts for the crust and even the filling (cashews). Since nuts are a big no-no during the strict elimination phase of the Autoimmune Protocol, I decided to create my own version, totally allergen-free, without any nuts or dairy.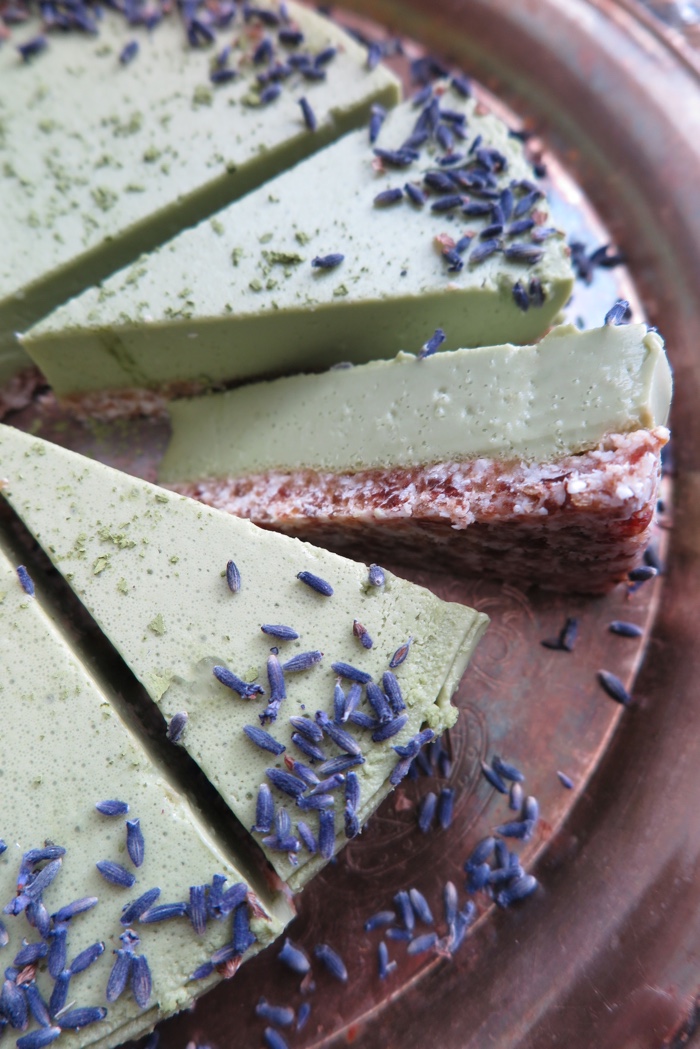 This No-Bake Matcha Green Tea Cheesecake is a wonderful and unique dessert to share for any celebration. Even though it looks sophisticated, the recipe is quite simple and requires only a few easy-to-find ingredients.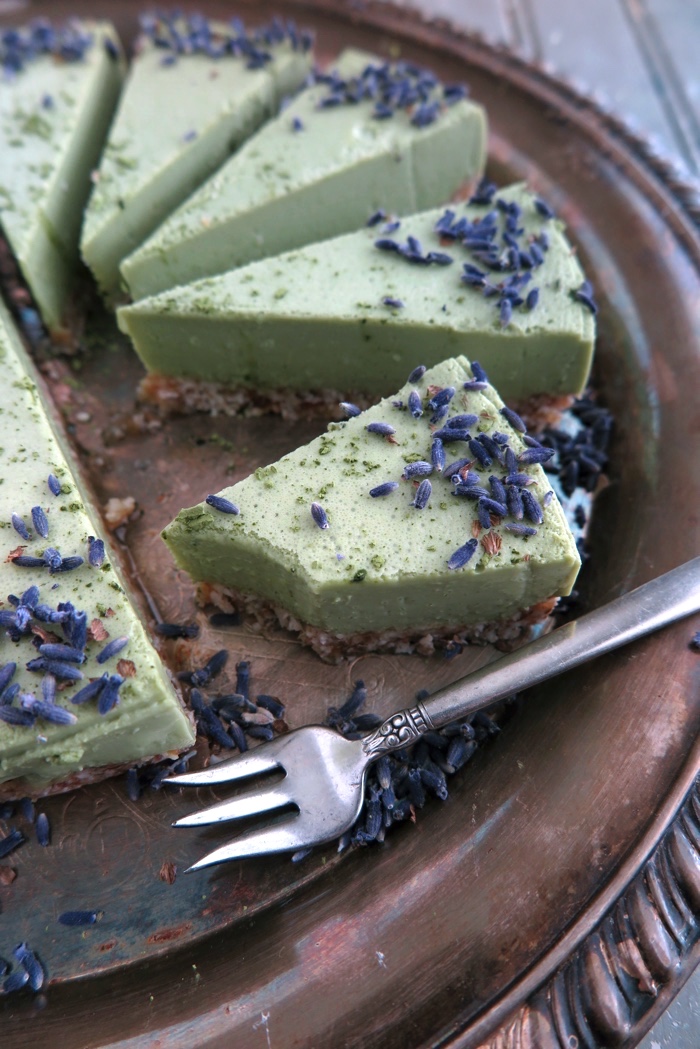 Kitchen note: Although it is more customary to use a springform cake pan to prepare cheesecakes, it is absolutely possible to pull it off with a regular parchment paper-lined cake pan. I am using this particular one, which I also use to make this delicious upside-down apple cake in my Instant Pot.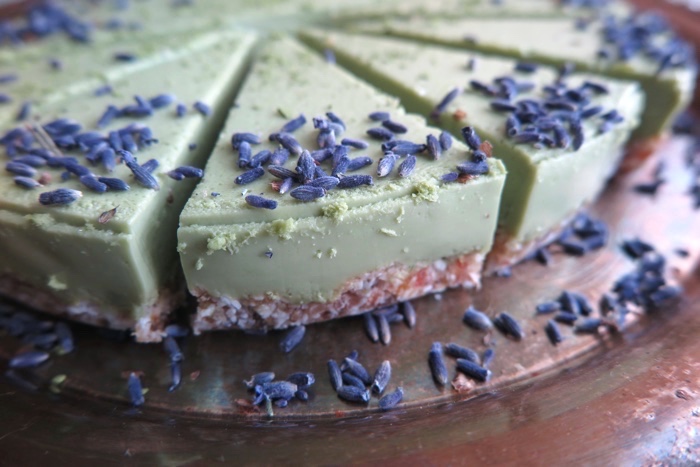 No-Bake Matcha Green Tea Cheesecake [Dairy-Free-Gluten-Free-Paleo-AIP]
This recipe is 100% compliant with the strict elimination phase of the Autoimmune Protocol (AIP).
Author:
Sophie Van Tiggelen
Cuisine:
Paleo Autoimmune Protocol
Ingredients
For the crust:
8 Medjool dates (about 5 ounces), pitted and chopped
2 tablespoons coconut oil, melted
For the filling:
1 (14-ounce) can coconut cream (or 1 1/2 cups) - you can also use the cream scooped off the top of at least 3 cans of full fat coconut milk which have been refrigerated for 24 hours (the cream separates from the water at cold temperatures).
1/3 cup honey
2 teaspoons matcha green tea powder
1/4 cup warm water (about 105-110°F - you should be able to hold the tip of your finger comfortably in the water)
1 tablespoon gelatin powder (use this one)
Dried lavender flowers, for garnish
Equipment needed: 1 (7-inch) round springform cake pan or 1 (7-inch) regular round cake pan - parchment paper - food processor
Instructions
To make the crust: If using a regular cake pan, line the bottom and sides with parchment paper. If using a springform pan, line only the bottom.
Combine shredded coconut, dates, and coconut oil in a food processor. Mix on high until coconut mixture become grainy, about 20 seconds.
Transfer to the bottom of the pan and spread crust evenly with your fingers or a spatula, ensuring the mixture is packed firmly. Refrigerate while you prepare the filling.
To make the filling: Sprinkle gelatin powder over warm water and let it sit for a couple of minutes.
Meanwhile, combine coconut cream, honey, and matcha powder in a food processor. Mix on high for 10 seconds.
Going back to the gelatin mixture, whisk briskly to dissolve the powder, ensuring there are no lumps.
Transfer gelatin mixture to the food processor and mix on high for another 15 seconds.
Carefully pour liquid mixture into the pan, ensuring you don't disturb the crust.
Refrigerate until completely firm (at least 6 hours, overnight is better).
To unmold, simply pull out the parchment paper or, if you used a springform cake pan, insert a knife around the side of the pan and run it all the way around so the cheesecake doesn't stick to the sides.
Garnish with dried lavender flowers before serving. Bon appetit!
Click to pin it!

This recipe has been shared on the Paleo AIP Recipe Roundtable at Phoenix Helix.