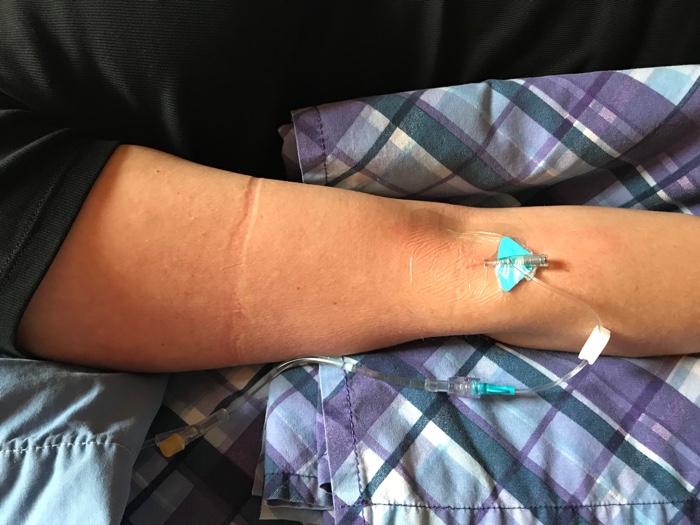 Last year, due to stressful events in my personal life, I suffered a severe episode of adrenal fatigue. Extreme fatigue even after a full night's sleep, muscle weakness, brain fog – all the good stuff. I found myself unable to recover on my own and so I began a course of IV nutritional therapy.
After an admission like that, I imagine you may have a few questions for me. What is IV nutritional therapy? How does it work? What are the benefits? Is it "one size fits all?" How long does it take to feel the effects? Did the therapy help me recover? Read on to learn more about my experience with IV nutritional therapy: the ups, the downs, and a few tricks I learned along the way to make it go more smoothly.
IV Nutritional Therapy
IV nutritional therapy is widely used by alternative and complementary medicine practitioners as a way to address and treat the symptoms of various conditions such as chronic fatigue syndrome, late stage adrenal fatigue, fibromyalgia, chronic sinusitis, asthma, immune disorders, and many others. It is also used to relieve symptoms of migraines and perform heavy metals detoxification.
How Does it Work?
Intravenous injections deliver a high dose of vitamins and minerals directly into the bloodstream, bypassing the digestive system. Yes, we are supposed to get our nutrients from the food we eat, but in some cases, especially when nutrient malabsorption is present, food is not enough and we need a high concentration of micronutrients in order to give a boost of energy to our cells and help the healing process. IV nutritional therapy provides that boost.
What is the Benefit?
The benefit is increased nutrient absorption. Your body will receive and absorb a much higher concentration than you would with an oral dose. This is a definite advantage for patients suffering from an autoimmune disease because they often deal with nutrient malabsorption and depleted levels of vitamins and minerals.
One Size Fits All?
When it comes to IV therapy, the Myers cocktail usually comes to mind. A baseline infusion, the Myers cocktail contains magnesium, calcium, B vitamins, and vitamin C and is generally prescribed to boost energy and support a lagging immune system, but there are, in fact, many other types of nutritional IVs available. If you are working with a functional medicine practitioner, which I strongly recommend, your doctor might decide to modify the basic Myers formula to fit your particular needs. This is called a modified Myers.
My Experience: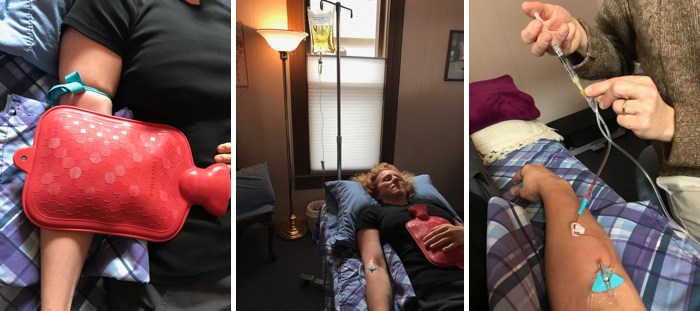 Working closely with my doctor, I received a modified Myers cocktail, specifically adapted to my needs, followed by a glutathione (a powerful antioxidant enzyme) injection (picture, far right). My cocktail of macronutrients was mixed right before each injection to ensure maximum freshness. Each treatment lasted 30-40 minutes and was administered in a dimly lit, quiet room. I found it best to lay down and relax during the treatment. You can even ask for a blanket to keep you warm!
Full disclosure: I didn't feel great immediately after my first few injections. There was no sudden and spectacular boost of energy or mental clarity. Actually, it was rather the opposite. My first few injections were followed by a "crash" lasting about two days during which time I experienced increased fatigue and an irresistible urge to sleep.
Concerned I was having an allergic reaction to the injections, I talked to my doctor. Why was I feeling worse when the injections were supposed to make me feel better? He told me that my reaction wasn't unusual and was actually a normal consequence of the detoxification process. Keep in mind that I was in a state of true exhaustion and my autoimmune disease was likely flaring due to stress. Further, I am known for being super sensitive to supplements and such. To make things easier for me and to alleviate the effects of the detox, my doctor reduced the concentration of the macronutrients I was receiving.
With the support and reassurance of my doctor, I decided to continue the injections and see what would happen. I also made sure to schedule my IVs on Fridays in order to have the weekend to recover.
Turns out, my doctor was right! I started feeling better and better after each treatment. I was experiencing increased energy throughout the day and more mental clarity. At first, the effects lasted for a few days, then, slowly, my energy began staying up between each weekly injection. I realize now that nutritional therapy isn't supposed to be a quick fix, but rather a slow process of rebuilding your health and energy at a deep cellular level. That takes time! But the effects are long lasting. When I get a nutritional IV now, I feel increased energy that lasts for days.
I also need to mention the fact that, thanks to these micronutrient injections, I haven't been sick at all this winter when people are falling ill left and right. The injections strengthened my immune system against viral infections.
How I Benefited from Nutritional Therapy:
energy boost
increased mental clarity
reduced inflammation
strengthened immune system
Where to Get IV Nutritional Therapy?
Many alternative medicine practitioners offer nutritional therapy. You can also get injections at IV bars, which are private clinic/spa/wellness centers offering "one size fits all" IV bundles. My advice? Work with a doctor who knows you and is aware of any and all of your pre-existing conditions. Your doctor should also run a full panel blood work prior to starting any nutritional treatment.
Troubleshooting:
Veins Small and Uncooperative? Hydrate well several days before the treatment. You can also try exercising directly before the treatment, sitting in a sauna before the treatment, and/or asking the phlebotomist to apply a hot water bottle to the insertion area.
Injection Stinging? When the IV is inserted into the crook of my elbow, where the veins are bigger and blood flow is strong, I don't feel anything. When the IV is inserted closer to my hand, on my wrist or directly on my hand where the veins are smaller, the injection can sting a bit. Ask the phlebotomist to reduce the speed of the drip. Also, gently massaging your arm will help soothe the sting.
Painful Glutathione Injection? Yes, glutathione can sting when injected too fast. Ask the phlebotomist to go very slowly or to dilute the glutathione in saline solution.
My Advice:
If you are embarking on a nutritional therapy regimen, I would urge you to be patient and give it some time. Many people report feeling the beneficial effects only after 4-5 sessions. For me, it took much longer. Keep in mind that we all start in a different place so your experience will be reflective of where your body is at the time you start. Also, make sure you are working with a knowledgeable team you trust. This is particularly important if you are dealing with an autoimmune disease or chronic illness.
Overall, I found IV nutritional therapy to be very helpful. Keep in mind that there are no overnight fixes, but if you are patient, you may find that IV nutritional therapy is a wonderful addition to your healing journey. Do your research, find a practitioner you trust, and good luck! Improved energy is within your reach!

---