If you have recently been diagnosed with an autoimmune disorder, the first moments can be overwhelming.  This article will give you valuable information on the effectiveness of the autoimmune protocol as a healing tool, how to find a holistic practitioner, as well as resources to help you create an autoimmune recovery plan.
It is normal for you to feel helpless at first when you learn about your autoimmune disorder.  After all you will have to deal with this for the rest of your life and there isn't a lot of information floating around in the media and doctor's office.  You might be asking yourself what you are going to do, where to start, how you can heal yourself, where you can get help, and the most important question of all: will you get better?  It is essential for you to know that with dietary changes and lifestyle adjustments , you can halt the progression of the disease, or even put it into complete remission!
The first reassurance I would like to give you is this:
if you have been diagnosed with an autoimmune disease,
you CAN get better!
Many people have been through what you are experiencing today and their success stories are proof that you can heal yourself.  Eileen Laird from Phoenix Helix has a collection of success stories on her blog that will give you a source of hope and inspiration! You can also read on the blog the AIP Tips and Tricks series in which seasoned AIPers are sharing their best advice to be successful on the Autoimmune Protocol.
Healing will take TIME, DETERMINATION and COMMITMENT.  You can't do the autoimmune protocol half way and expect tremendous results.  In fact, during the healing phase, if you follow the diet 95%, you can expect 50% of improvements.  So it is really important that you stick to the diet – no cheating!  You have to be single-minded about your health and recovery.
About holistic medicine and your health recovery plan:
I strongly recommend that you work with a functional medicine practitioner to have all your lab tests done and devise a comprehensive health recovery plan including dietary changes, supplements, stress management techniques, and other necessary lifestyle changes.
What is functional medicine?  Functional medicine addresses the underlying causes of disease, using a systems-oriented approach and engaging both patient and practitioner in a therapeutic partnership.  Functional medicine practitioners spend time with their patients, listening to their histories and looking at the interactions among genetic, environmental, and lifestyle factors that can influence long-term health and complex, chronic disease. In this way, functional medicine supports the unique expression of health and vitality for each individual. (Institute for Functional medicine)  
If you can't find someone to help you in your area, Dr. Sarah Ballantyne, Ph.D., offers a convenient online consulting program designed to help you fine tune your diet and lifestyle choices.  Sarah's philosophy is based on the principles of functional medicine; each client receives a personalized plan based on their needs and medical condition.  They offer 3 different packages with affordable prices.
Resources to get started with AIP: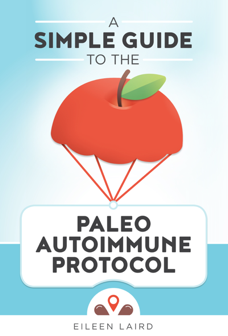 "85 Amazing AIP Breakfasts", a community cookbook edited by Eileen laird.  This cookbook, solely dedicated to AIP breakfasts (savory and sweet) will help you tackle the transition to a healthier start of your day.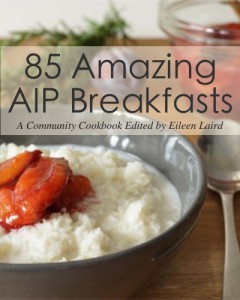 Here is a list of blogs that I find very helpful to get you started:
I know there are many great blogs out there run by talented individuals, autoimmune warriors like you, who have changed their lives and improved their health dramatically.   But I wanted to provide you with a manageable list to start with.
What can you do today to start on your healing journey?
Following the paleo autoimmune protocol (also referred to as AIP) will be paramount in your healing process.  (On this page, you will find a chart that will help you understand at a glance the differences between paleo and AIP).
Your first mission will be to clean-up your diet and learn to cook the AIP way!
KITCHEN CLEAN-UP (FRIDGE & PANTRY):

Get rid of all the junk food (processed sugary food) and other ingredients not allowed on the autoimmune protocol.  Only keep in your kitchen the food you can safely eat.  If this is not possible for logistic reasons, create an area where you will keep your own food.

HEALTHY FOOD SHOPPING:

Stock up your pantry and your fridge with food that is compliant with the autoimmune protocol.  Get the list of yes and no foods here.  Phoenix Helix has a very convenient shopping list to help you navigate the aisles of your grocery store.

PLAN YOUR MEALS:

 The best way to avoid getting back into your old eating habits is to be prepared!  Plan your meals ahead before you go shopping and purchase all the ingredients you will need to prepare your dishes.  Also, have healthy snacks on hand at all times.

AIP COOKING:

Start cooking simple meals that will nourish your body and promote the healing process.  In this post I give you 10 strategies to stay on the autoimmune protocol while cooking for the rest of the family.
My last advice to you would be DON'T GIVE UP!  BE PERSISTENT!  
All your efforts will pay off and you will feel so much better!
---