These soft veggie tacos are full of healthy nutrients and are so much fun to eat!
The green color of the tortillas comes from the fresh cilantro I added to the dough. It's a simple, but effective trick; this is a great way to increase your vegetable intake and change things up a bit! Bonus: kids love this kind of grab-with-your-fingers easy meal!
The stars of the show are these soft green tortillas. They are 100% allergen-free (no gluten, no wheat, no grains, no corn). On the technical side, don't worry if you don't have a tortilla press, you can use a rolling pin instead, or a tall glass jar. But make sure you use a piece of parchment paper to roll these out so they don't stick to the surface of your counter.
Three different ways to use these tortillas:
These green tortillas can be served:
Hot off the skillet
Refrigerated for later
Frozen
If you decide to freeze them, insert a small piece of parchment paper in between each tortilla. Remove from the freezer as needed, thaw at room temperature, and warm up in a skillet or a microwave oven.
What's in the green sauce?
Only three ingredients (coconut milk, fresh cilantro, and lime juice) and a dash of sea salt! This coconut milk-based sauce is my go-to dressing for all things vegetable, from salads to roasted vegetables and even stuffed sweet potato skins!
Keep the green sauce in a glass jar, closed with a lid, in the refrigerator for up to 1 week.
Take it out of the refrigerator 15 to 20 minutes before serving for a creamier consistency (it tends to harden in cold temperatures).
Load up on vegetables with these soft veggie tacos!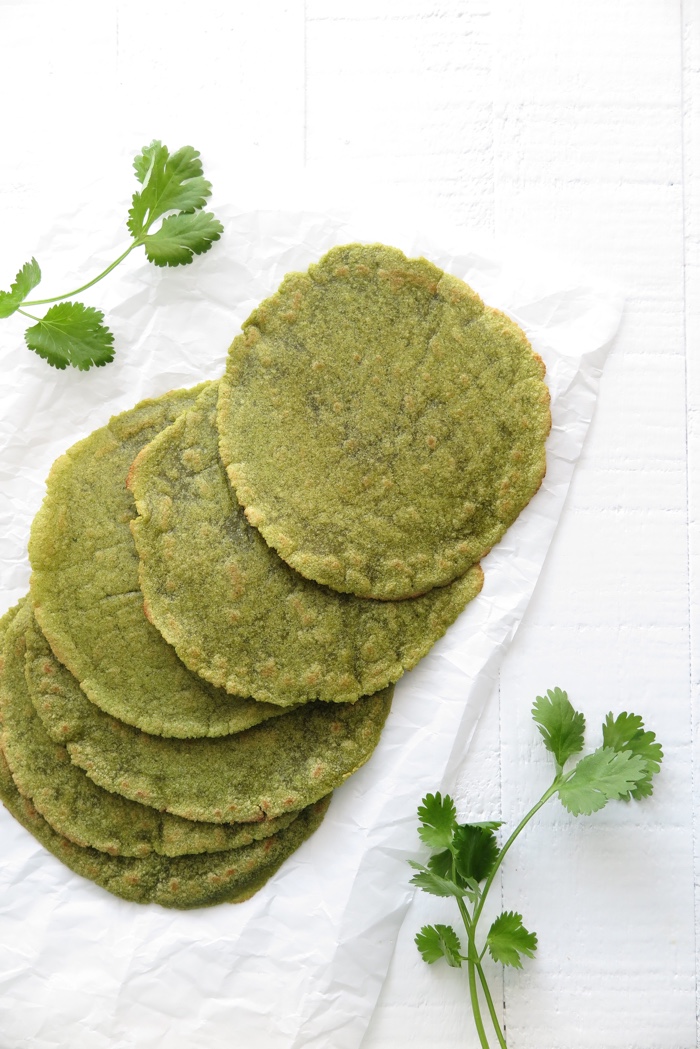 Soft Veggie Tacos with Green Tortillas [Paleo-AIP]
This recipe is 100% compliant with the strict elimination phase of the Autoimmune Protocol (AIP).
Author:
Sophie Van Tiggelen
Cuisine:
Paleo Autoimmune Protocol
Ingredients
For the soft green tortillas (makes 6 tortillas):
1 cup cassava flour
1 tablespoon coconut flour
¾ teaspoon fine sea salt
½ teaspoon AIP baking powder
⅔ cup lukewarm water
½ cup (packed) chopped fresh cilantro
3 tablespoons extra-virgin olive oil
½ teaspoon apple cider vinegar


For the green sauce (makes 1¼ cups):
1 cup full-fat coconut milk
1 cup (packed) chopped fresh cilantro
1½ tablespoons lime juice
½ teaspoon sea salt or more, to taste


To assemble the veggie tacos:
2 cups baby arugula
3 small (firm) peaches, cut julienne style
2 avocados, thinly sliced
1/2 cucumber, thinly sliced
Fresh cilantro, for garnish
Instructions
To make the tortillas, combine cassava flour, coconut flour, sea salt, and baking powder in a bowl. Mix well.
Add water, olive oil, vinegar, and cilantro to a high-speed blender and mix on high until thoroughly blended, about 30 seconds.
Add liquid mixture to dry ingredients and mix with a spatula to roughly combine. Finish by kneading a few times with your hands until a smooth dough forms.
Divide dough in half, then divide each half into 3 equal portions, forming little balls. Roll out each ball between 2 sheets of parchment paper to form a thin, round circle of about 6 inches in diameter. Insert a piece of parchment paper between each tortilla so they don't stick.
Heat a non-stick skillet over medium-high heat. Cook each tortilla, uncovered, until the bottom shows little golden spots, about 2 minutes. Flip and cook for an additional 1 1/2 to 2 minutes on the other side.
To make the green sauce, combine coconut milk, fresh cilantro, lemon juice, and sea salt in a high-speed blender and mix on high until smooth, about 30 seconds. Refrigerate until needed.
To assemble the tortillas, divide equally arugula, peaches, avocados, and cucumber between the tortillas. Garnish with chopped cilantro and drizzle with green sauce.
Bon appétit!
Notes
Soft green tortillas: Serve warm, refrigerate, or freeze for later. If freezing, place a piece of parchment paper between each tortilla.
Green sauce: Transfer dressing to an airtight container and refrigerate until needed. Will keep up to 7 days in the refrigerator. Remove from the refrigerator 20 minutes before serving for a creamier consistency.
Click it to pin it!