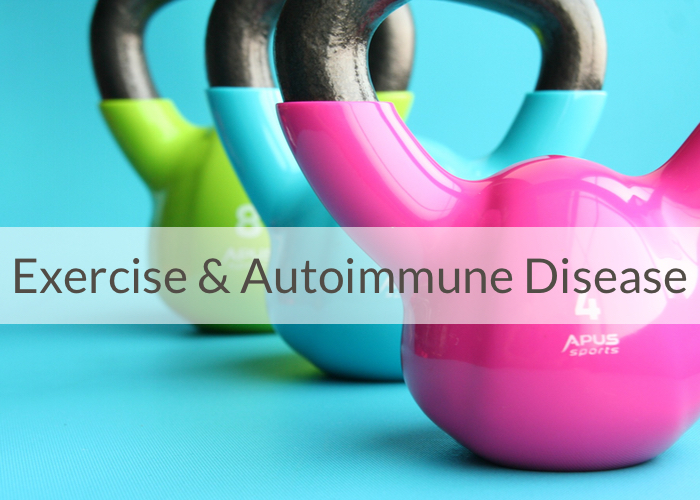 Whether you have an autoimmune disease or not, exercise plays an important role in your overall health and well-being. But if you are suffering from an autoimmune disease, exercising becomes trickier. A while back, I shared my best tips to ease into an exercise routine, stressing how important it is to take it slowly and listen to your body. I would like to give you an update today because a lot has happened in my life since I wrote that post, including that I have been working with a personal trainer and weathering a huge autoimmune flare-up.
In late 2015, I started working with a personal trainer at a local gym. This person (let's call him Coach B) was recommended to me by my functional medicine practitioner. This solution was the best for me at the time because I needed the outside accountability in order to move my butt!! I had tried to keep a regular exercise routine before that without success. During our evaluation meeting, I made sure to tell Coach B about my autoimmune issues and my current limitations (I can't do high-impact exercise because of my joints). He took the time to listen, which was a very good starting point! He developed a special routine tailored to my needs, including cardio, HIIT training, weight training, core, and stretches. I was really excited to get started!
It was very rough at the beginning for me; I was sore all over and so tired that I had to take naps during the day. Soon, I developed bad lower back pain. I thought it was normal for my body to hurt because I had been inactive for such a long time. Then, after 3 months, I started noticing I had an irregular heartbeat when I was resting. I would be sitting, watching TV, and all of a sudden my heart would skip several beats. It would last for a few seconds before returning to normal. At that point, I realized that my exercise routine was too hard on my body and was causing more harm than good. I was feeling frustrated with my limitations, but I decided to stop, heeding my own advice!
Shortly after this, life threw me a curve ball and I went through an intense period of stress that lasted for most of 2016. I also took several trips by plane which were quite tiring (including attending PaleoFX in Austin, Texas), all the while keeping up with work and my family life.
Fast forward to January 2017. I got a nasty flu that was going around and it was bad. I don't remember being that sick for a very long time. I couldn't shake off the sickness and my sleep was suffering from it. I was exhausted at that point. Then in February, I had a heavy dental surgery. The procedure went well in itself, but unfortunately I developed an infection, requiring that I take a round of antibiotics. I was reluctant to take them but there was no way around it.
That was the turning point for me and my poor body couldn't take it anymore. I went into a huge autoimmune flare that lasted for weeks, leaving me feeling like all the life had been sucked out of me.
Looking back, I can see all the warning signs and the storm coming on. It is like watching a train wreck in slow motion. I had been driving myself too hard for too long and, even if I was eating right, stress had finally caught up with me. If I had "reserves" before, I had used them all up. I was at the end of my resilience.
What did I do? Well, there isn't much you can do besides hitting the brakes and seriously taking care of yourself! For me, it meant working less, taking walks in nature, self-reflection, hot baths with lavender essential oil, working on my sleep, etc. I also talked to my doctor and he gave me supplements to support my body and give me more energy. And also acknowledging the fact that it was okay to feel like a slug, knowing that it would pass. Remaining hopeful that better days would come soon.
It took weeks and even months to start feeling better with focused self-care. As I write this post, I started exercising again about a month ago, but at a slower pace. I am going back to the gym, but this time around I am working alone. I have developed my own little exercise routine. I try to exercise every other day in a mindful way. I started really slowly, allowing myself super light days when I need them. Right now, I am happy when I show up and I don't impose on myself goals to attain (such as lifting x amount of weight or doing cardio for y minutes). I would describe my current exercise regimen as light to moderate and I am feeling good. My sleep has improved and I am feeling better in my own skin. I can tell that I am on the other side of this bad autoimmune flare and things are looking up!
Here are the lessons I took away from all this:
1) Stress can derail your life, even if you are eating right.
2) Exercise is good for you, even if you have an autoimmune disease, but take it slowly and listen to the signals your body is sending you.
3) An autoimmune flare is hard, but you can recover from it with mindfulness and focused self-care.
4) A positive mindset is important; remain hopeful!
---
If you enjoyed this post and are looking for more information on exercise with an autoimmune disease, read these as well:
Click it to pin it!