Comforting, wholesome, and prepared with simple ingredients, this Easy and Healthy Apple Crumble is everything you could wish for in a feel-good dessert and then some. This is no fancy-restaurant-super-small-serving-size kind of dessert. This is a dessert our Grandmas would bake for large family reunions, spooning generous portions of the sweet smelling stuff on your plate with a big scoop of vanilla ice cream on top for good measure! See what I mean? You need to be huuunnnngrrry for this 🙂
Am I making you hungry yet for this apple crumble? If you need a little bit more convincing, scroll down and devour the pictures with your eyes! I wish I could add a scratch and sniff feature to this blog post; it would really be worth it!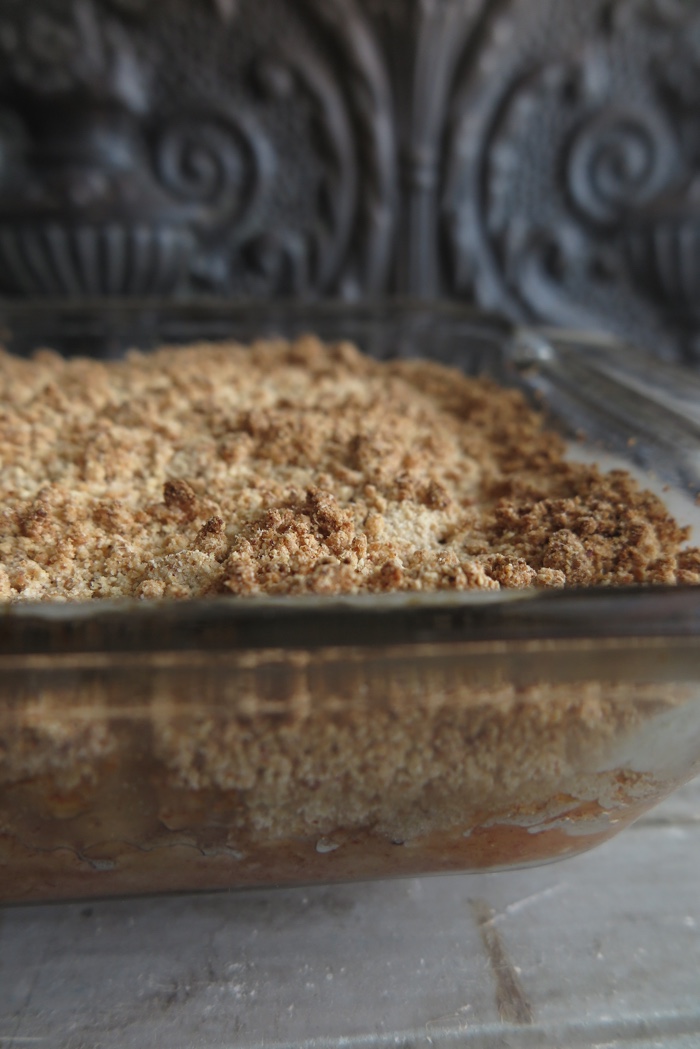 This apple crumble is crumbly in all the right places with a delicious golden breadcrumb texture on top. No oats or gluten (or butter for that matter) in this allergy-free version, though. Instead, I used a combination of cassava flour, tigernut flour, and coconut flour with palm shortening and applesauce serving as binding ingredients.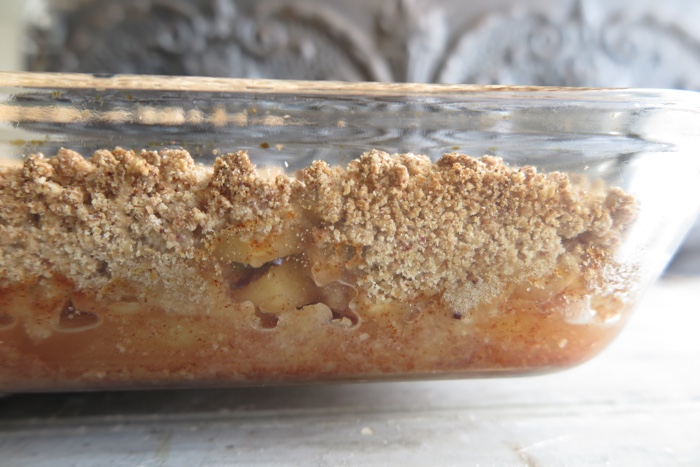 Underneath the sweet and nutty topping lies a divine apple goodness, perfumed with cinnamon and vanilla. A match made in heaven! Look at this side view; I am happy I used a glass dish so we can appreciate the different layers.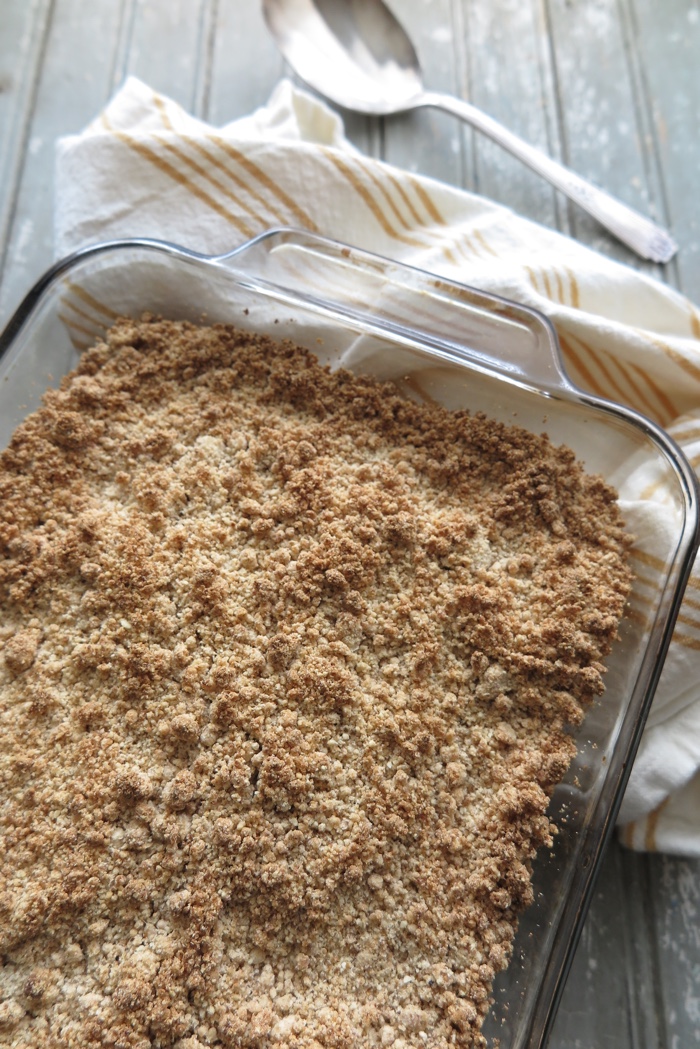 I almost hesitated to dive into this apple crumble with a dessert spoon! The crust turned out so perfectly that I didn't want to break it apart.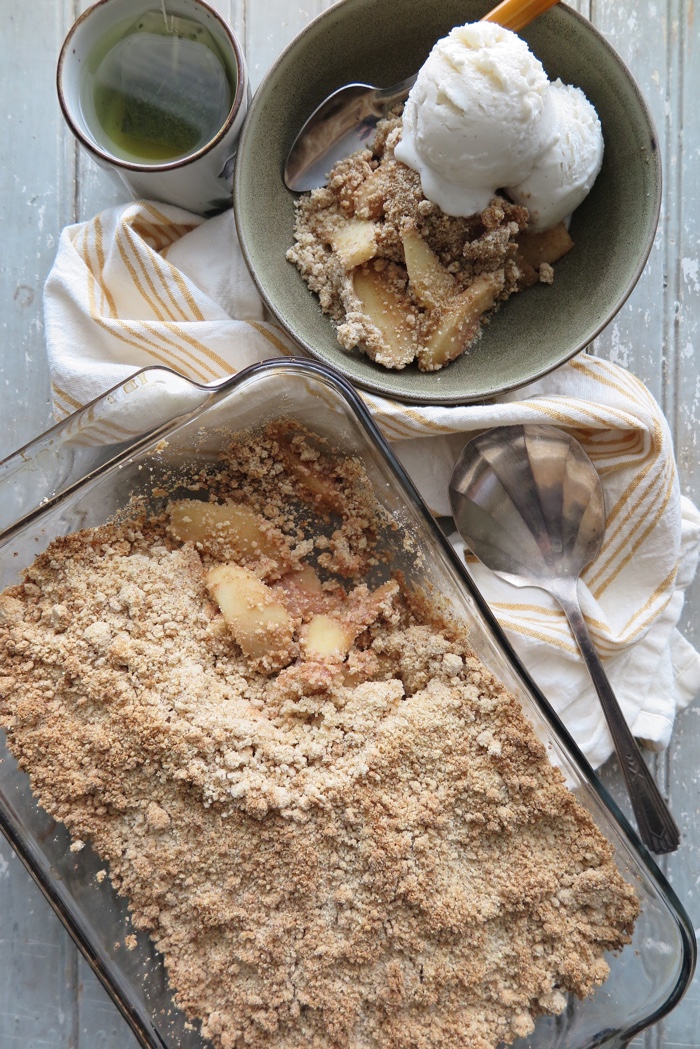 Almost, but my concern was not enough to hold me back. You can dive into this bowl of yumminess knowing that each ingredients has been chosen carefully to accommodate your food allergies, all the while bringing you maximum flavor and enjoyment! Serve with a scoop or two of AIP vanilla ice cream or coconut whipped cream.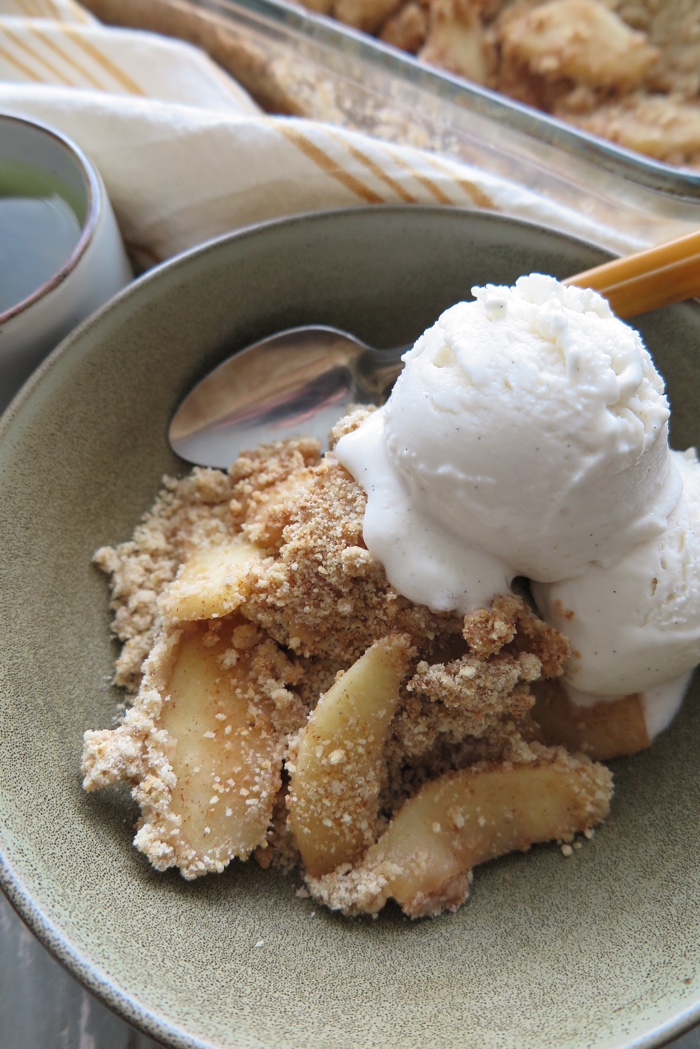 Bon appétit!
Pssst! If you don't feel like making this, my friends over at Paleo On The Go can deliver one to your doorstep! Click here and enter the keyword "apple crisp" in the search box to find it 🙂 

Easy and Healthy Apple Crumble [Gluten-Free-Oat-Free-Paleo-AIP]
This recipe is 100% compliant with the strict elimination phase of the Paleo Autoimmune Protocol (AIP).
Author:
Sophie Van Tiggelen
Cuisine:
Paleo Autoimmune Protocol
Instructions
Heat oven to 350° F. Place the rack in the middle of the oven.
In a mixing bowl, combine apples, water, lemon juice, vanilla extract, and cinnamon. Mix well and transfer to the baking dish.
In the same bowl, combine cassava flour, tigernut flour, coconut flour, date sugar, palm shortening, and applesauce. Mix to obtain a slightly moist and crumbly dough.
Spread the dough over the fruit and bake in the oven until apples are soft and the crust turns golden, about 30 to 40 minutes (depending on the variety of apples you use). You can test the doneness of the apples with a fork.
Serve hot with a scoop of vanilla ice cream! Leftovers (if any) will keep in the refrigerator up to 5 days. Also freezes well.
Click it to Pin it!

This recipe has been shared on the Paleo AIP Recipe Roundtable over at Phoenix Helix.