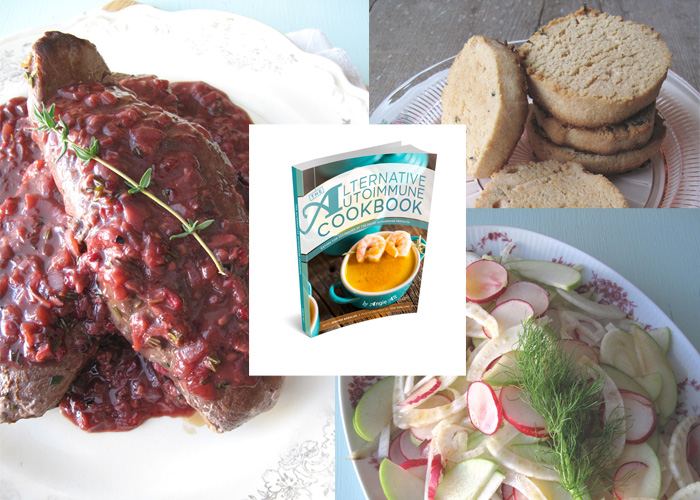 Today I am reviewing The Alternative Autoimmune Cookbook by Angie Alt.  Angie is blogging at Alt-ternative Autoimmune, a blog focused on the emotional side of healing from an autoimmune disorder. She struggled many years before being diagnosed with Celiac disease and Endometriosis.  She has since then experienced incredible healing on the autoimmune protocol diet.  She is a certified health coach through the Institute for Integrative Nutrition, a consultant at The Paleo Mom Consulting, and the author of the SAD to AIP in SIX program.
Angie's first publication, the Alternative Autoimmune Cookbook, became an instant classic among the best autoimmune cookbooks of the year.  This cookbook is a gold mine of helpful information, heartwarming stories and mouthwatering recipes that will make you think "the autoimmune protocol?  Yes, I can do this!"
Being a foodie myself, I have to admit that I was very interested in the quality, variety, and innovation of Angie's recipes; and I have to say she delivered!  From meaty mains, soups, sides, to desserts, and drinks, each page of this colorful cookbook is a culinary treasure trove.  Every recipe has clear and easy to follow instructions, as well as gorgeous pictures popping out of the page.
You will find below pictures I took of the delicious dishes I have prepared from Angie's new cookbook!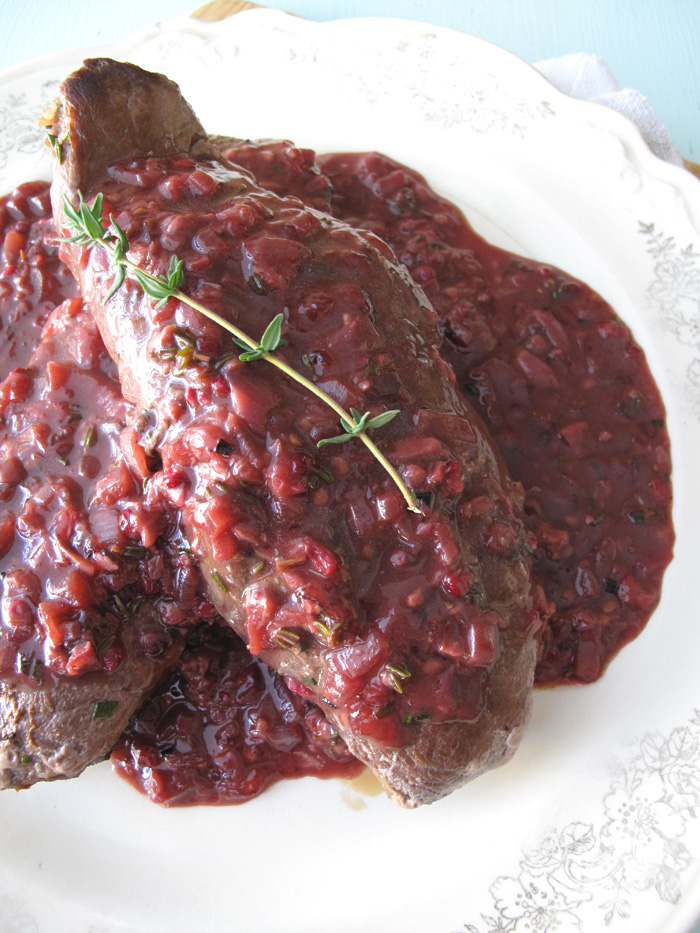 Rosemary elk tenderloin with huckleberry sauce.  This is something unique, that looks and taste gourmet, and still easy to prepare!  I swapped the huckleberries for fresh blackberries and used an organic pinot noir for the sauce.  Before you ask, yes it is permitted to cook with wine on the autoimmune protocol!  If you know that you are very sensitive to alcohol, you can use a mixture of beef broth and black cherry juice, for example, to replace the wine.  But most people will be fine with a small amount of wine, especially since the alcohol content will evaporate during cooking.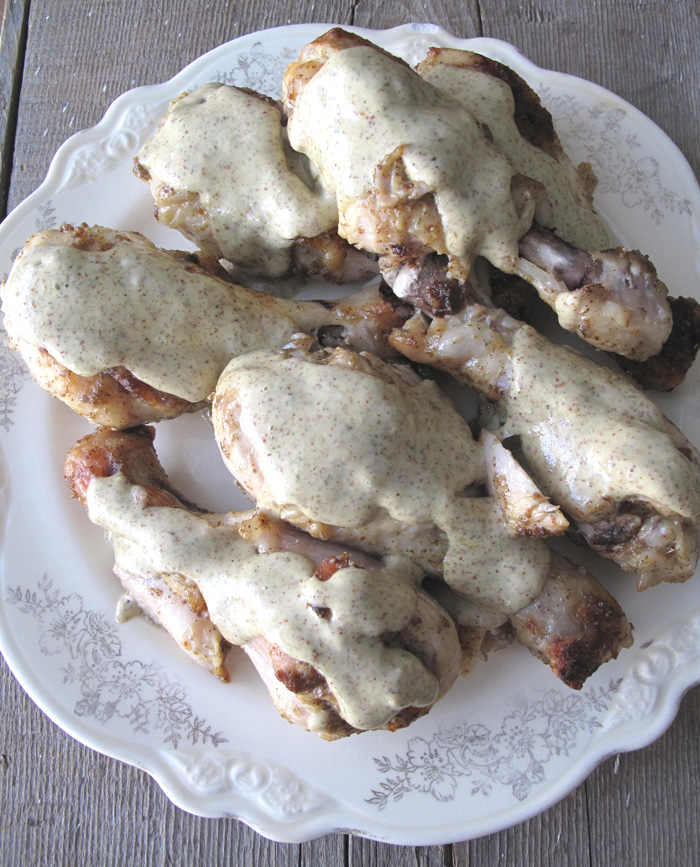 These mustard chicken wings are amazing!  Tender and juicy with a delicious and well balanced tangy flavor.  What makes the sauce so lip-smacking, finger-licking good is the combination of butter, garlic and mustard.  Oh my, this one was a definite winner at our house, especially with the kids!  If you are still following a strict elimination diet, you can replace the butter and mustard with a mixture of coconut milk, a little bit of turmeric for color, and your favorite herbs and spices.  For a complete list of AIP approved herbs and spices, check out this article by Eileen from Phoenix Helix.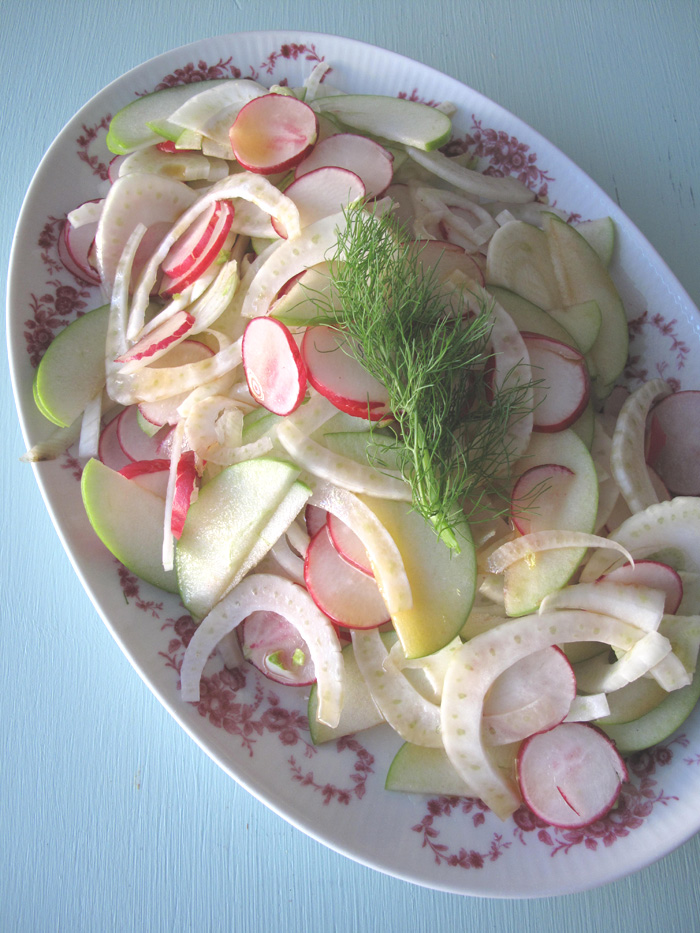 Tart radish and fennel salad.  An incredibly sweet and tangy dressing enhances the flavors of this beautiful and refreshing salad.  If you thought you didn't like fennel, you have to try this only once and you will be a believer!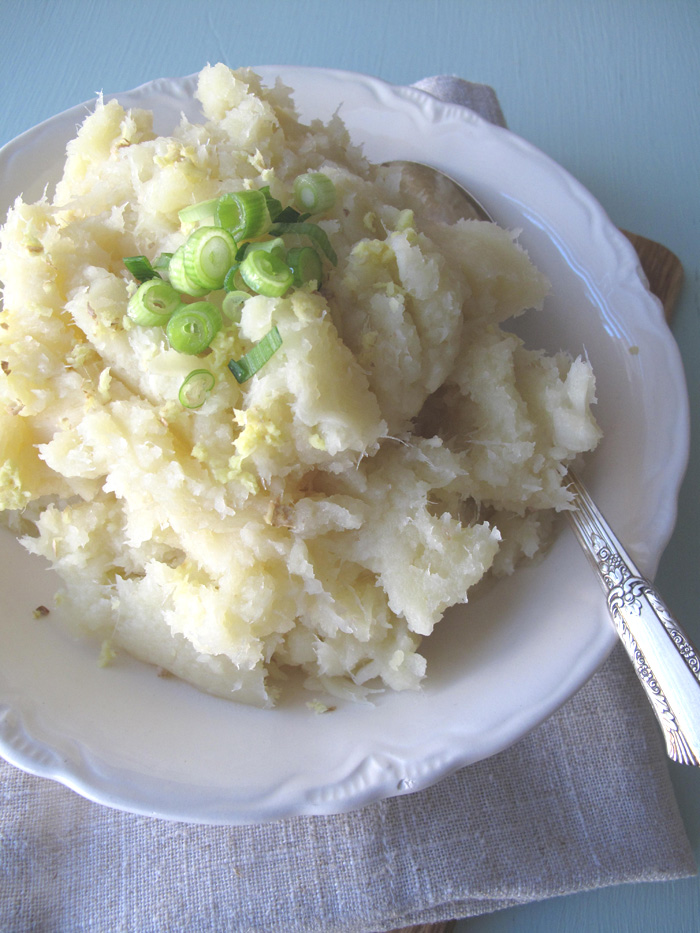 Mashed ginger parsnips.  Mashed potatoes used to be a staple at our house (you know way back then, before we all switched to paleo!) and sometimes I miss the comfort of this classic food.  Angie came up with a clever and healthy alternative with these nutrient packed mashed parsnips!  The delicious smell in the kitchen while they were cooking was enough to lure my teenage daughters in!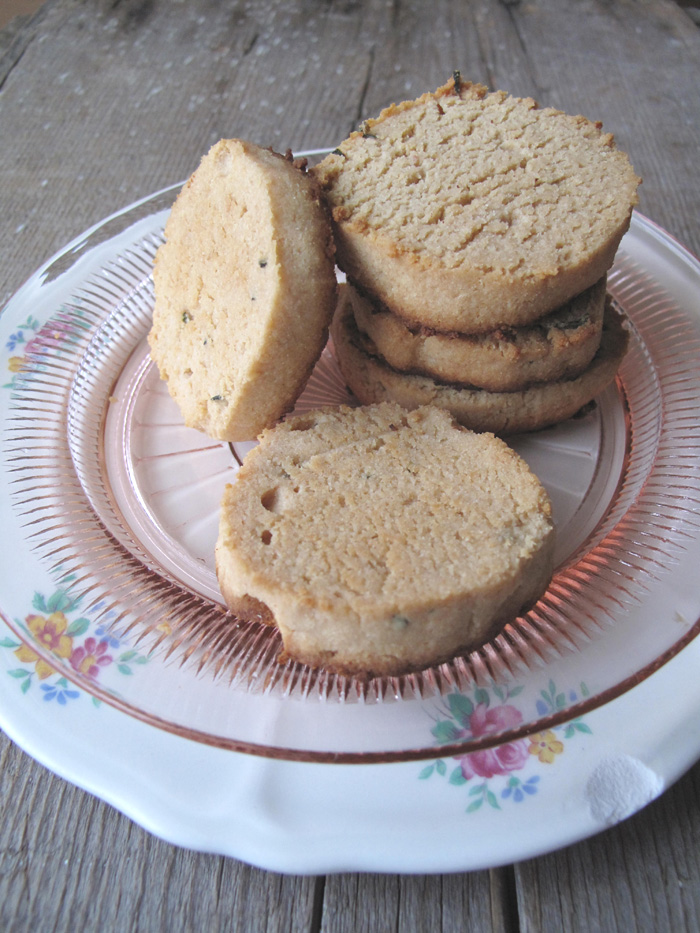 Rosemary tea time biscuits.  Finally, a cookbook wouldn't really be a cookbook without desserts!  Angie's Alternative Autoimmune Cookbook has a delectable variety of drinks and desserts that will have you saying hallelujah!  Just because I am a huge fan of traditional English tea time, I chose to make these distinctive and elegant afternoon tea cookies, delicately perfumed with rosemary.  They contain very little sugar and will satisfy your craving for a little snack.
I hope that you enjoyed this book review as much as I did!  Now is the perfect time of the year to treat yourself or someone you love with this inspiring cookbook!  
Click on the picture to purchase at $17.00.