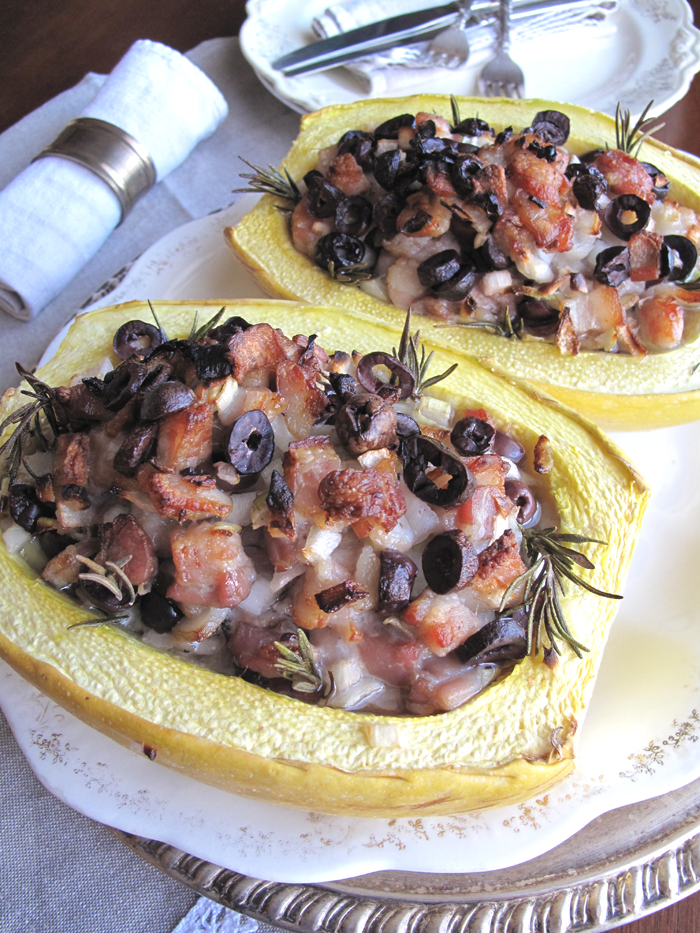 Try this super yummy paleo spaghetti carbonara, packed with bacon, onion, and black olives, for a healthy alternative to this traditional pasta dish.  Honestly, I am not very fond of spaghetti squash on its own; I find it rather bland and disappointing.  So I am always trying to find new ways to spice up this vegetable with other ingredients.  I am really happy with the way this recipe turned out; it is full of flavors and it is deliciously satisfying!
There is so much to eat in this spaghetti squash carbonara that you can serve it as a whole meal.  You can also prepare this dish ahead of time and preserve it in the refrigerator, covered with aluminum foil.  Then pop it in the oven whenever you are in the mood for simple, comfort food.
This paleo spaghetti carbonara is healthy, packed with flavors and budget friendly!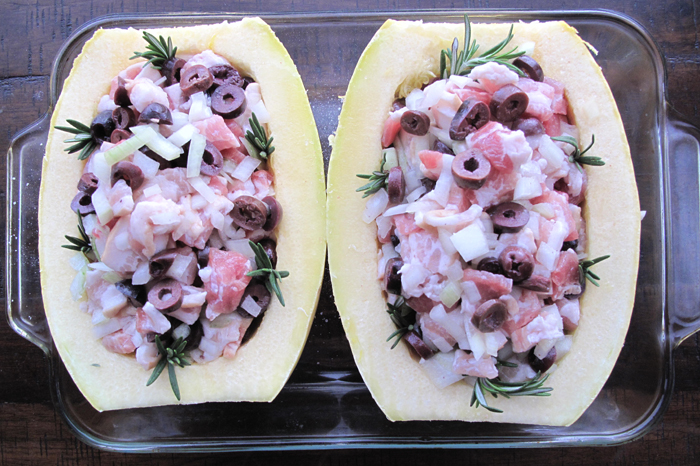 Be extra careful when you take this dish out of the oven; the spaghetti squash can easily tip over and all the baking juices (including the precious bacon fat!) could spill on your hands.  For this reason, I use the smallest baking dish I have that will hold the spaghetti squash cut in half.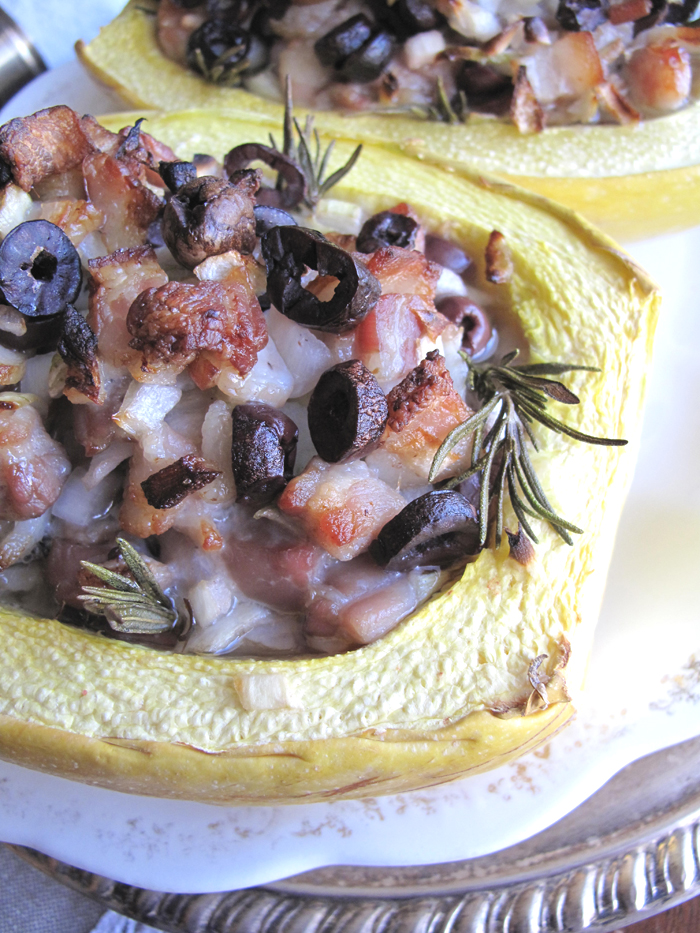 How to serve?  Using a large spoon, scoop out a generous portion of spaghetti squash and place it on a plate with stuffing on top.  You may want to drizzle a small amount of warmed up coconut milk all over.  Enjoy with some leafy greens on the side!

AIP / Paleo Spaghetti Squash Carbonara
This recipe is 100% autoimmune protocol compliant.
Recipe type:
One dish meals
Cuisine:
Paleo Autoimmune Protocol
Ingredients
1 medium spaghetti squash (3.5 lbs), cut in half and seeds removed
1 medium yellow onion, chopped
1 lb of bacon, cut into small pieces
1 cup of black olives, sliced
2 TSP sea salt (divided)
1 sprig of fresh rosemary
Instructions
Preheat the oven to 400 degrees F.
Season the bottom of the spaghetti squash with 1 TSP of salt.
Mix together the onion, bacon, and black olives. Divide the stuffing into two equal parts and fill in the center of each spaghetti squash.
Sprinkle with 1 TSP of salt on top.
Garnish around with pieces of rosemary.
Place the two spaghetti squash halves in the smallest baking dish that will fit (to avoid tipping over).
Put in the oven on the middle rack and bake for 1 hour.
Bon appétit!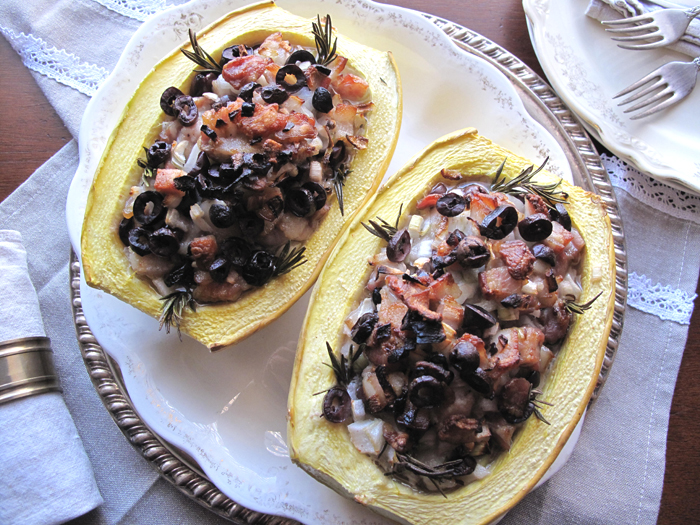 This recipe has been shared on
Fat Tuesday
–
Real Food Wednesday
–
Phoenix Helix Paleo AIP Recipe Roundtable
– Paleo Rodeo –
Natural Family Friday