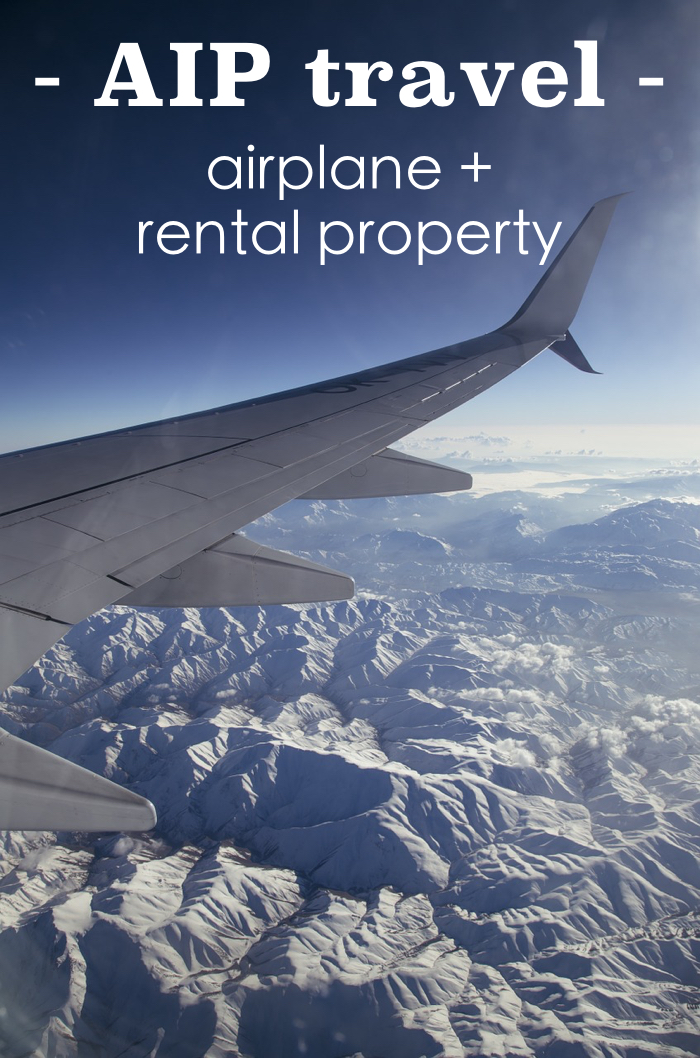 Traveling while following the Paleo Autoimmune Protocol (AIP) is totally feasible! Yes, AIP travel does take a little bit of planning ahead of time and some resourcefulness, but there is no reason why you shouldn't be able to enjoy vacations with family and friends. Things might look a little bit different than they used to before your diagnosis however; dealing with an autoimmune disease requires you to be really careful with your diet.
I'll be totally honest with you: traveling on AIP means no more spur-of-the-moment eating out. From now on, think of yourself as James Bond strategizing for his next mission: planning ahead, reconnoitering, survival kit on you at all times!
I recently traveled to the Blue Ridge Mountains of North Carolina in order to attend an AIP blogger's retreat! The trip involved a 3 ½ hour flight from Denver to Charlotte, a 2 ½ hour car drive up to the mountains, and a 4 day stay in a rental property. A long way from home, but so glad to see my friends Eileen from Phoenix Helix, Angie from Autoimmune Paleo, Samantha from Sweet Potatoes and Social Change, and last but not least Jaime from Gutsy by Nature.
The flight
The first thing I did was to book a flight not too early in the morning so I would have time to eat a substantial breakfast before leaving the house. Starting my trip with a full stomach means I won't have to worry too soon about my next meal. For such a short flight, snacks and fruits are plenty enough to keep my energy level up! Here are some examples of AIP approved snacks you can take with you on the plane: a pouch of wild albacore tuna with an avocado makes a perfect small meal, fresh fruits, a Wild Zora bar, and of course some reading material to pass the time (I love everything from Provence, including romance!).
It is important to bring AIP approved snacks with you when traveling (even if it's to spend the day at the mall!). There is nothing worse than being hungry in a foreign place, where you have nothing safe to eat. You need to be prepared and ready.
After landing in Charlotte, I immediately picked up my rental car and drove north towards the mountains. I wasn't very hungry because I had snacked on the airplane. Plus, I knew a good dinner was waiting for me at the rental place when I arrived! I bought some water though to stay hydrated. Hydration isn't something we talk about often on the Autoimmune Protocol, but keeping your little cells nice and hydrated is very important and will help alleviate the inevitable fatigue associated with long distance travel.
The rental
Since my Hashimoto's diagnosis, we have used rental properties a lot for our vacations. My favorite website to find a good place to stay is VRBO (stands for "vacation rental by owner"). I have used this website quite a lot and had a good experience each time. For this trip in North Carolina though, my friend Eileen took care of the rental for the group since she was our "host".
This charming barn-style, multi-level house is where we spent our weekend retreat. The house was spacious, pleasant, and we spent quite some time chatting on the deck overlooking the river! I was struck by the lushness and vividly green vegetation all around. It is such a big change from dry Colorado! Whew! My hair was all frizzy with the humidity!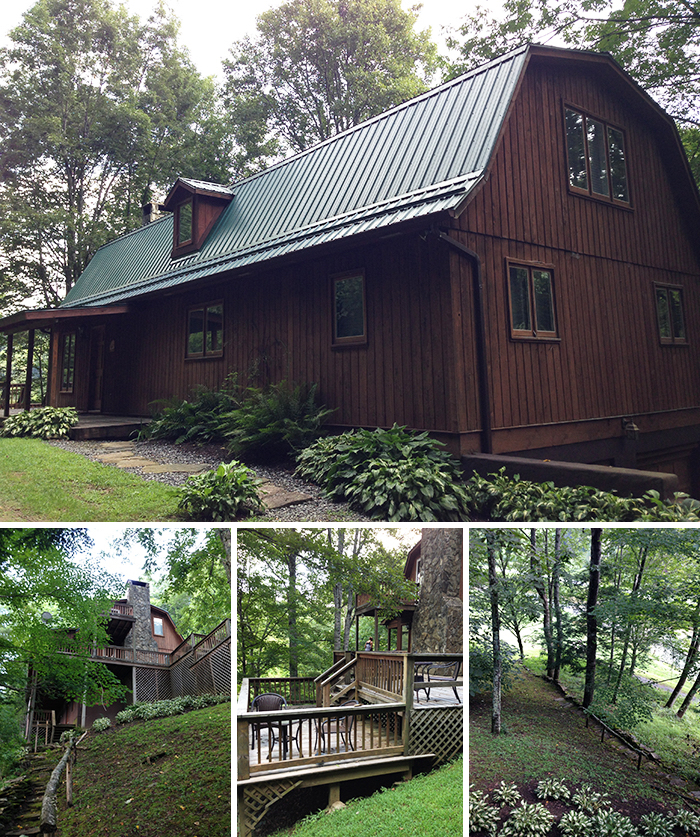 The food
The big advantage with a rental property is that you have a kitchen at your disposal in which to prepare your meals. All the properties I have rented in the past were not as big as this one; much smaller in fact, but they always had at least a sink, a fridge, and a microwave. In the picture below, you can see the enormous refrigerator we had in the kitchen! It was chock-full of AIP compliant food thanks to Eileen and my favorite online meal delivery service, Paleo On The Go!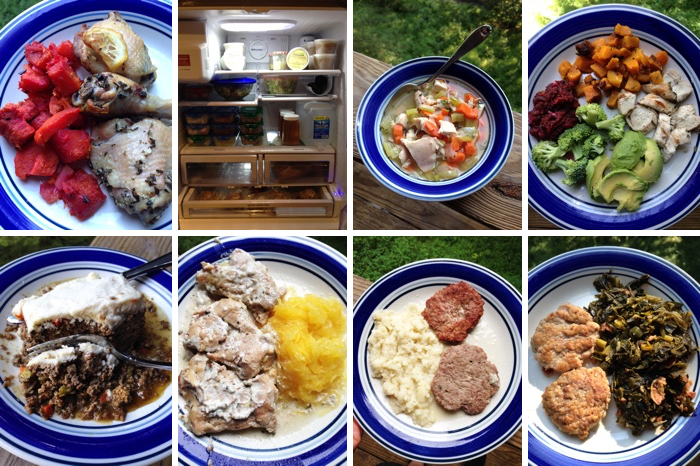 The folks at Paleo On The Go sent us AIP frozen meals for the retreat so we could review their products and tell you all about it! While for some of the others it was a discovery, I already knew about POTG products. I wrote a review after receiving samples at home and since then I have become a regular customer. Their meals are delicious, just like you would make them at home if you had the time, and compliant with the strict elimination phase of the Paleo Autoimmune Protocol (AIP). And it is so convenient!
You can either bring these frozen meals along with you on the plane (store them in a cooler bag and check with your luggage), or you can also ask POTG to ship directly to your vacation destination (house, hotel, cabin, condo,etc).
From upper left to lower right: herb roasted chicken with rosemary garlic roasted root vegetables / the fridge / grandmas's chicken soup / a plate full of goodies brought by Eileen / shepherd's pie / creamy chicken and bacon Alfredo with spaghetti squash / bangers and mash /  chicken breakfast sausage with collard greens and bacon.
As you can see, I ate like a pro during this retreat and I was able to stay on top of my diet while away from home.
Relaxation and fun
So what do AIP bloggers do when they get together? We are all about connections, enjoying life, having fun, and relaxation! Our host, Eileen, arranged for a local reflexologist to come to the house and give us all a super super relaxing foot massage! That was heaven!
The rest of the time was spent exchanging stories, eating, drinking mocktails (see Angie mixing all the ingredients in that big bowl?), walking, brainstorming ideas, and having a good time all around. I came back from this bloggers retreat completely rejuvenated by the deep connections I have with these amazing ladies. We share the same struggles, we understand each other, and we draw strength from our mutual friendships.