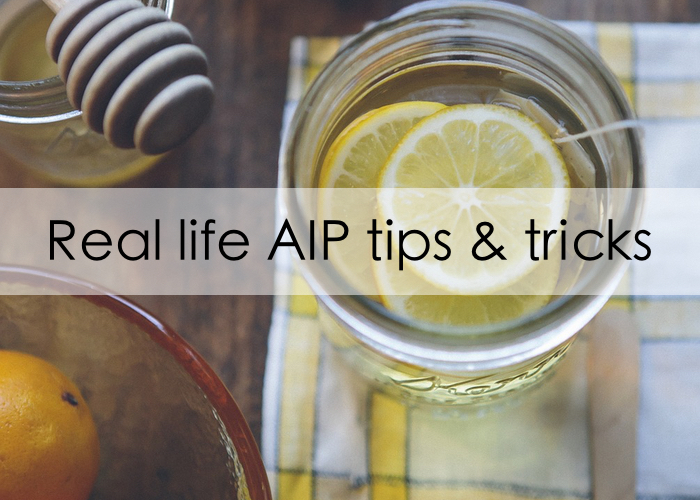 Real life AIP tips and tricks features stories from people like you who are using the Paleo Autoimmune Protocol to manage an autoimmune condition and live well in spite of the obstacles they may encounter. Healing from an autoimmune disease is not just about the food, though. While the food you eat (and don't eat) is extremely important, other lifestyle factors are at play, such as reducing emotional stress, cultivating quality sleep, practicing regular exercise, or keeping a positive outlook on life. My wish for you is to draw strength and inspiration from these real life stories from all over the world. To contribute your own story of recovery on the blog, click here to download the submission form. To read more real life AIP tips and tricks, click here.
Name: Casey Flancbaum
Location: Denton, TX
Diagnosis: Crohn's Disease
When did you start AIP? October 2016
Have you reintroduced any non-AIP foods yet? I tried egg whites, but it was not successful; I will definitely try again, but I am currently happy with how I am feeling without reintroductions!
Which tips or tricks made your life easier in the kitchen and helped you stick with the AIP diet? Planning! I know if I wake up in the morning and have food options in the fridge and a meal planned out for dinner in advance, I can focus on the other parts of my day!
What are your top three AIP go-to meals that are easy and quick to prepare?
1) Plantain nachos (fried plantains, any type of ground meat, tons of veggies, avocado, and coconut yogurt crema)
2) Bison meatballs (served with spaghetti squash, spiralized veggies, or a salad)
3) AIP pizza with butternut squash sauce (and any number of toppings)
What are your favorite AIP snacks? 
Epic bison bars

Baby carrots and

celery dipped in AIP compliant ranch dressing
Nori roll-ups (mashed avocado, veggies, and sometimes crab or tuna rolled in a sheet of seaweed)
How do you manage to stay AIP outside of the house (at work, restaurants, travel, etc.)? My favorite orange lunchbox! I typically carry a really large handbag, so my lunchbox fits inside perfectly. I carry around snacks when I'm working to make sure I have something to eat with me no matter where I am. When I eat out, my husband and I look at menus in advance and call ahead to see if the restaurant is able to accommodate my diet. At first, I was really shy about this and didn't eat out, but I realized that restaurants are far more accommodating than I expected, and a few genuine thank you's go a LONG way!
What other lifestyle components have you implemented in your healing routine (sleep, stress management, exercise, etc.)? The week I started AIP, I got in touch with a yoga instructor and started taking private classes. I wasn't comfortable taking a class with others because I wasn't sure if I would be able to keep up, so she comes to my house! Yoga has been a lifesaver! It instantly calms me down from my day and I am really seeing myself get stronger mentally and physically. Sleep is hard for me, but I do my best getting to bed at a reasonable hour. I rely on my dogs a lot for stress management-there is something very therapeutic about having an animal in your lap. I have a pit bull and a border collie mix who are better at making my day than anything else.
What advice would you give to a beginner just starting the AIP diet and lifestyle? Be open to new experiences and don't let failures get you down! This isn't a diet or a series of restrictions; it is pretty simply eating good foods that will help you heal. Since eating this way, I have appreciated food so much more for what it is in its most natural form. Never eaten organ meat? Neither did I! My first couple of attempts at eating it did not go well, but I kept at it and found ways to incorporate it into my diet it and actually enjoy it! Include your family and friends in your new lifestyle as much as you can or want-if they are stressing you out, don't feel like you have to explain yourself!
What are your favorite AIP resources? My first and favorite resource is the AIP Support Facebook group! I go on there multiple times a day and just read posts. Each time I have posted, I have gotten a ton of positive responses and extremely helpful answers to my questions. I use the internet and Pinterest constantly for ideas and recipes. The cookbooks I use most are The Healing Kitchen and He Won't Know It's Paleo; they have been a lifesaver and even my non-AIP husband and friends have been loving the recipes from those books! I still have a ton to learn about this lifestyle, but having these resources makes it completely doable!