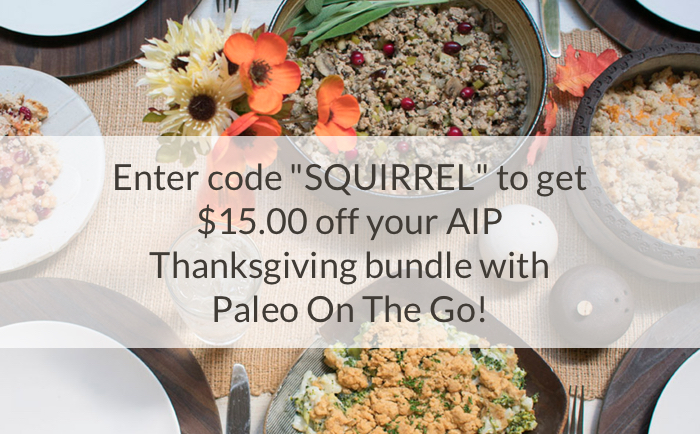 My favorite online meal delivery company, Paleo On The Go (POTG), came out with a genius option this year to simplify Thanksgiving for you and your family: a complete AIP Thanksgiving meal (except the turkey), 100% allergen-free and fully compliant with the Autoimmune Protocol.
This, my friends, is the perfect solution to skip all the hard work in the kitchen and still have a delicious AIP spread on the table to share with your loved ones. You simply heat the food up in the oven and serve.
I take every review I write very seriously. I don't promote products I don't fully endorse after testing or use myself on a regular basis. I tested this AIP Thanksgiving meal and it met my strict criteria. I personally sampled each dish and found each of them to be similar to what you would cook yourself at home. Wholesome, flavorful food made with high-quality ingredients.
Last day to order is November 14!
What's included in this AIP Thanksgiving menu?
Everything but the bird! Serves 4 to 6 people.
Sweet and Savory Pork Stuffing (approx. 32 oz)
Creamy Cauliflower Broccoli Bake (approx. 30 oz)
Sweet Potato Crumb Casserole (approx. 30 oz)
Apple Cranberry Crumble (2 standard pot pie-sized tins)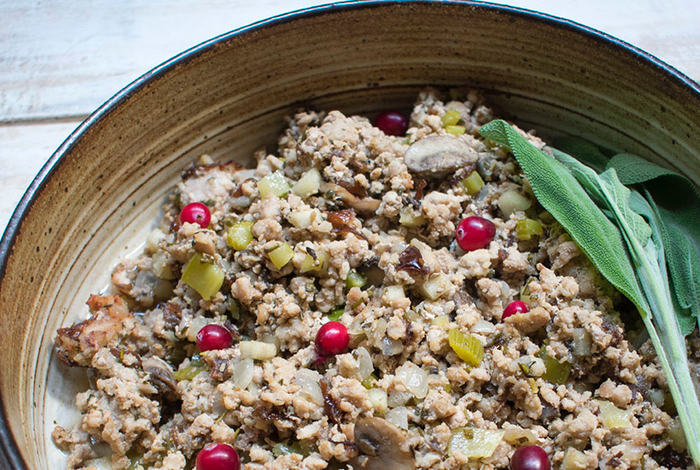 Sweet and Savory Pork Stuffing
This isn't your average Thanksgiving stuffing. Even the pickiest eater will enjoy this protein-packed twist on the traditional herb stuffing recipe.
My verdict: A nutrient-dense and perfectly balanced side dish that could easily take center stage at your Thanksgiving feast. With delicate, earthy tones and just the right amount of sweetness, this pork stuffing is very satisfying and nourishing. If cooking a turkey isn't in your plans this year, you are all set in the protein department with this dish.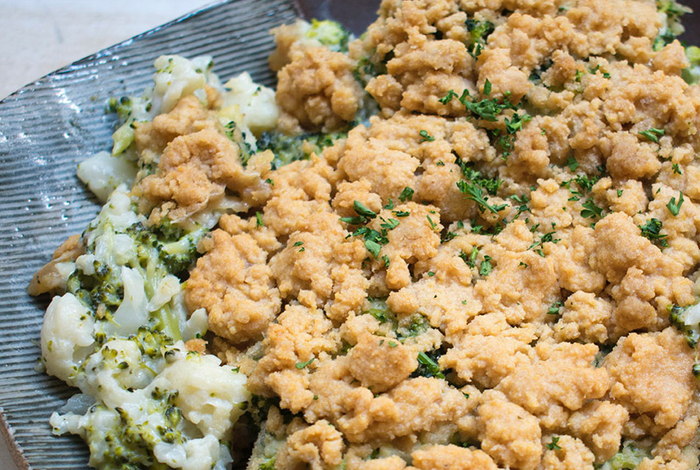 Creamy Cauliflower Broccoli Bake
Creamy inside with a tasty crunchy topping, this veggie-packed bake won me over instantly!
My verdict: I didn't expect to enjoy this side dish so much, but it had so much to offer! There are plenty of vegetables to satisfy your health-conscious side, a deliciously creamy coconut milk sauce, and a savory crumbly topping. Definitely a winner for me.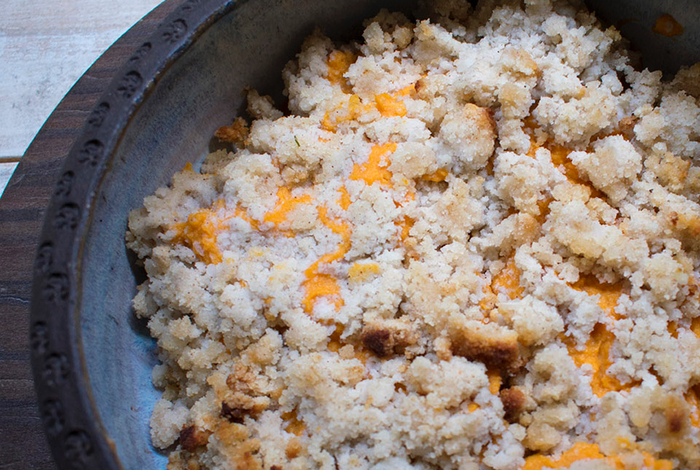 Sweet Potato Crumb Casserole
A super smooth sweet potato dish with a light crumb topping.
My verdict: This side dish delivers everything you have come to expect from a home-style sweet potato casserole: a rich, satisfying, and creamy crowd-pleaser. Not overly sweet, with just the right amount of cinnamon and mace to put you in the holiday mood.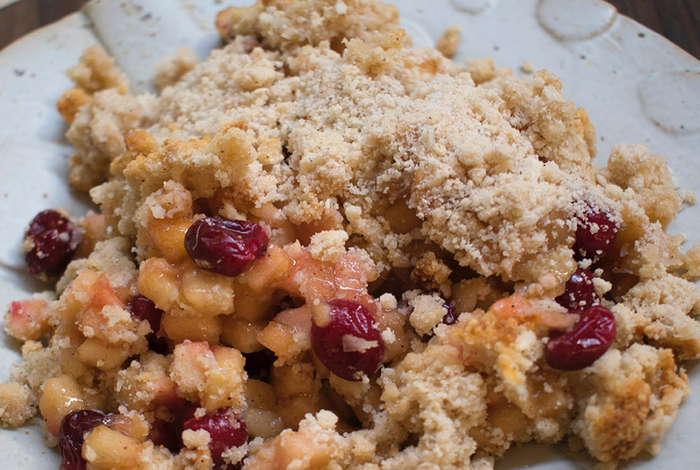 Apple Cranberry Crumble
Not too sweet, this perfect Thanksgiving dessert hits the spot!
My verdict: Move over pumpkin and pecan pies! I love a good crumble any time of year and this special holiday version, bursting with sweet honeyed apples and tart cranberries, had me licking my spoon. The double portions will feed far more than 6 guests, in my opinion.
Storage and Reheating Instructions:
Receive and store in your freezer.
Remove your Thanksgiving Feast from freezer and defrost overnight in the refrigerator.
Preheat the oven to 350 degrees.
Remove the plastic film from the Sweet and Savory Stuffing, Creamy Broccoli Cauliflower Bake, Sweet Potato Crumb Casserole, and Apple Cranberry Crisp.
Lay them on a sheet tray and warm them in the oven for 25-30 minutes until hot all the way through.
Serve and enjoy!