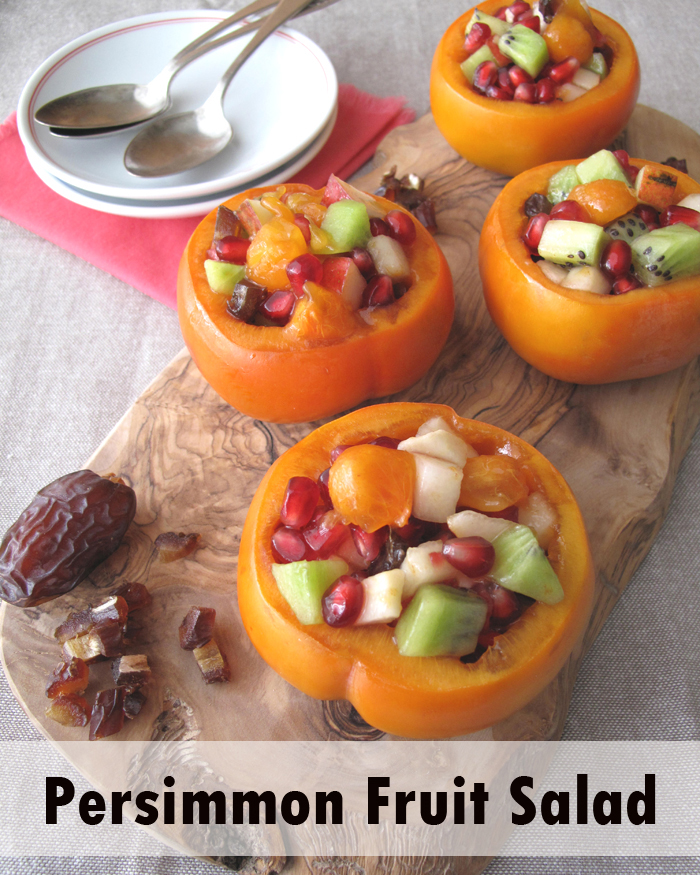 This autumnal persimmon fruit salad is a wonderful Thanksgiving dessert; not too sweet, not too heavy, and easy on the budget.  I don't know about you, but I always tend to load my plate a little bit too much at Thanksgiving or Christmas dinner (yes I am a foodie all the way through!); then I find that I can't swallow another bite when dessert comes!  Play it safe and keep it light this year with this delectable treat from mother nature.  You can indulge without overindulging!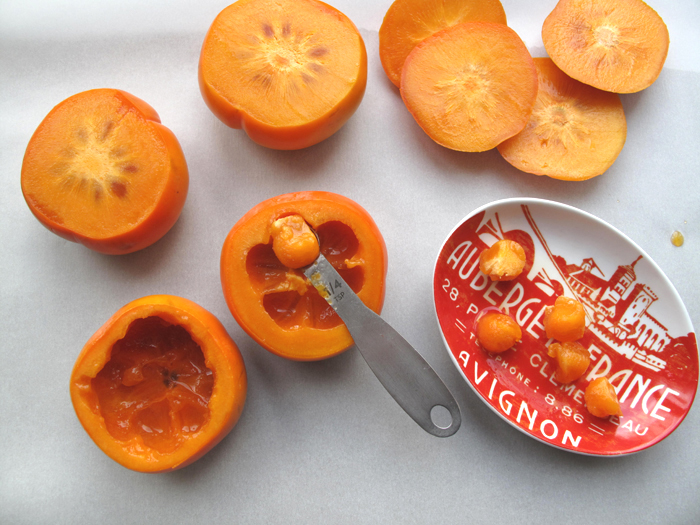 The most technical part of the recipe is the scooping out of the persimmon flesh!  No special tool is required; a teaspoon (1/4 in size) does the job pretty well.  If you plan on using the empty persimmons as a shell for serving the fruit salad, make sure you don't go too close to the skin or the bowl won't hold its load.  Now, you definitely can use pretty dishes instead of persimmons to serve this fruit salad; in fact the recipe will yield more fruits than you can stuff into four emptied persimmons.  I just used them because they looked so pretty for my pictures!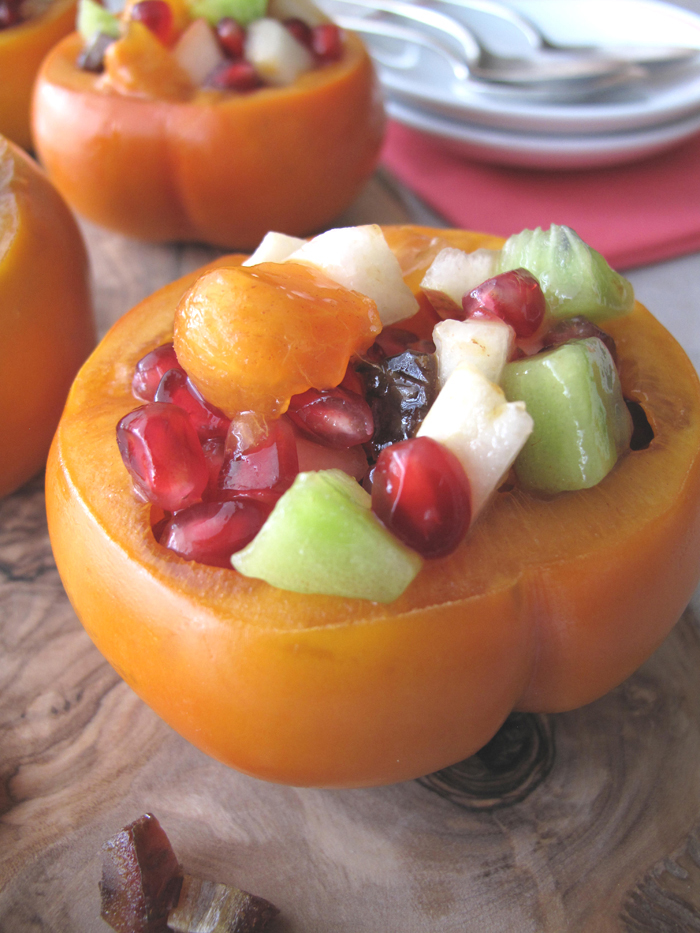 As I mentioned in this post for a fennel and persimmon salad, persimmons must be eaten only when they have reached an advanced level of ripeness, otherwise the flavor will be unpleasantly bitter and astringent.  Wait for the fruits to be soft to the touch.  Use Fuyu persimmons for this recipe because they are more stable if you want to use them as a serving vessel.  Hachiya persimmons are good too, but they won't stand up right on your plate.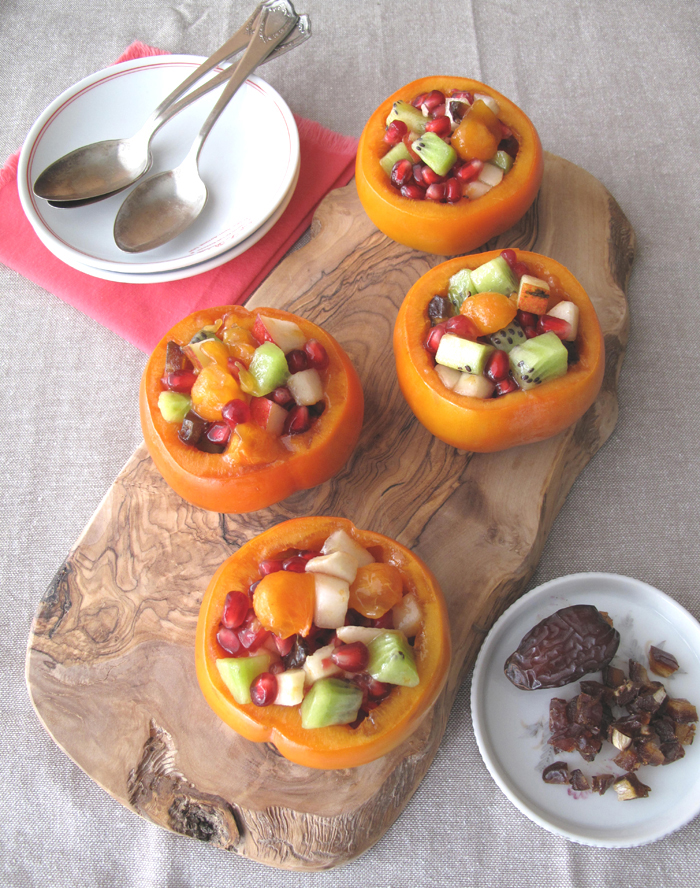 AIP / Thanksgiving Paleo Persimmon Fruit Salad - Fall dessert recipe
This recipe is 100% autoimmune compliant.
Cuisine:
Paleo Autoimmune Protocol
Ingredients
4 Fuyu persimmons, ripe!
1 pomegranate
1 pear
3 kiwis
2 Medjool dates
Instructions
With a sharp knife, cut off the top of the persimmons. Discard. Scoop out the flesh with a melon baller or a teaspoon (size 1/4), creating little balls.
Cut open your pomegranate and collect all the seeds.
Cut up and dice your pear, peeled kiwis and dates.
Mix all the fruits in a big bowl and serve either in the hollowed out persimmons (this recipe will yield more fruit salad than you can stuff into 4 persimmons though) or in small bowls.
Keep the fruit salad chilled in the fridge until ready to serve.
This recipe doesn't keep well more than 1 day.
Bon appétit!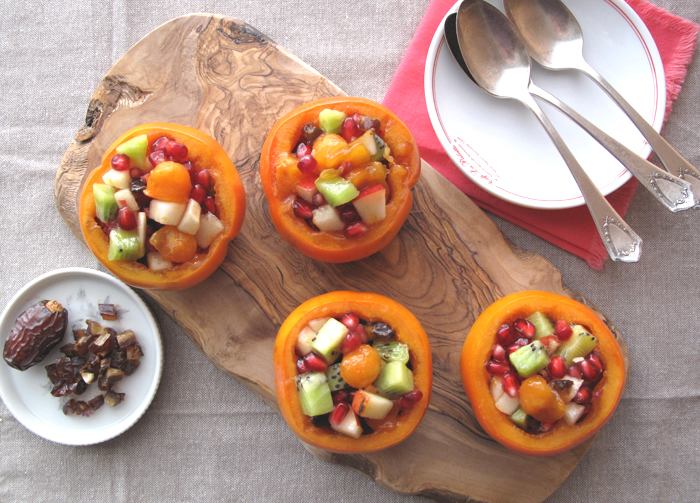 This recipe has been shared on
Phoenix Helix AIP Recipe Roundtable
 –
Fat Tuesday
–