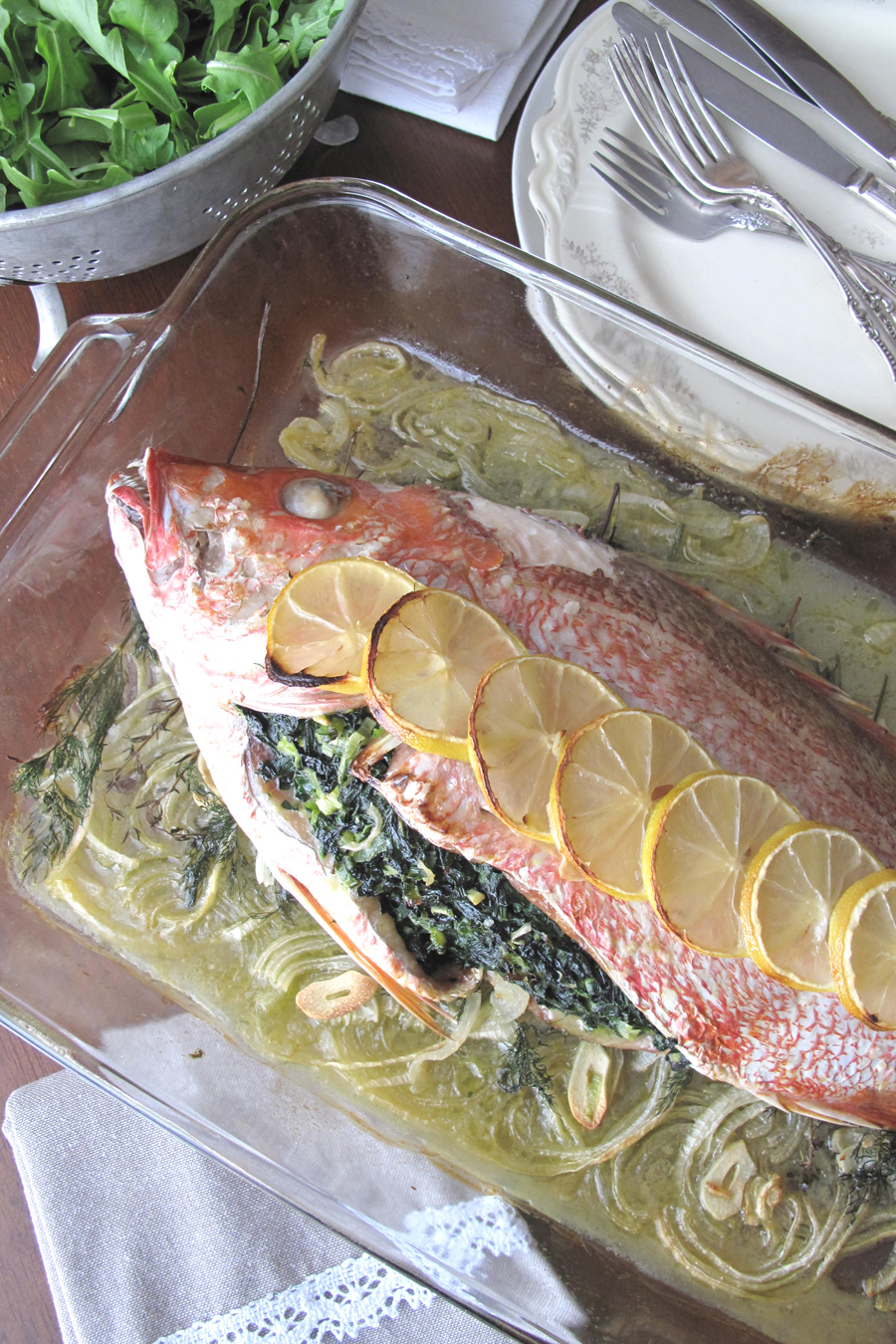 The recipe I am sharing with you today is inspired by the flavors of Provence.  This southern region of France is well known for its fragrant fields of lavender, where people enjoy life at a slower pace.  I have memories of summer holidays spent in Provence with my parents, visiting small towns nestled in the hills covered with flowers.  I have had the chance to revisit Provence since then with my husband and our children.  Each time I am seduced again by the simple charm of the French countryside, and the delicious flavors of the local cuisine.  Provençal cuisine is simple and preserves the natural taste of food.  Relying on vegetables, fish, poultry, garlic, and a myriad of fresh herbs, it is naturally healthy and easy to integrate in our paleo lifestyle.
I always buy exclusively wild caught fish so I am thrilled when I can find a whole fish to cook; the sight of a large fish, baked whole and presented at the table, symbolizes, for me, a time of abundance and family celebration.  This time, I was lucky to find a red snapper at our local Whole Foods, but you can use any other fish you like in this recipe.
A final note:  The fish will need to cook in the oven on a bed of vegetables and herbs, soaking in a cooking broth.  There are different options for this liquid.  You can either go with a fish or vegetable stock, or use a dry white wine if you enjoy a more robust flavor.  If you are concerned with the wine not being autoimmune protocol compliant, know that most of the alcohol content of the wine will evaporate during cooking. (The Paleo Approach, p.233)  I suggest serving the fish with a side of arugula salad.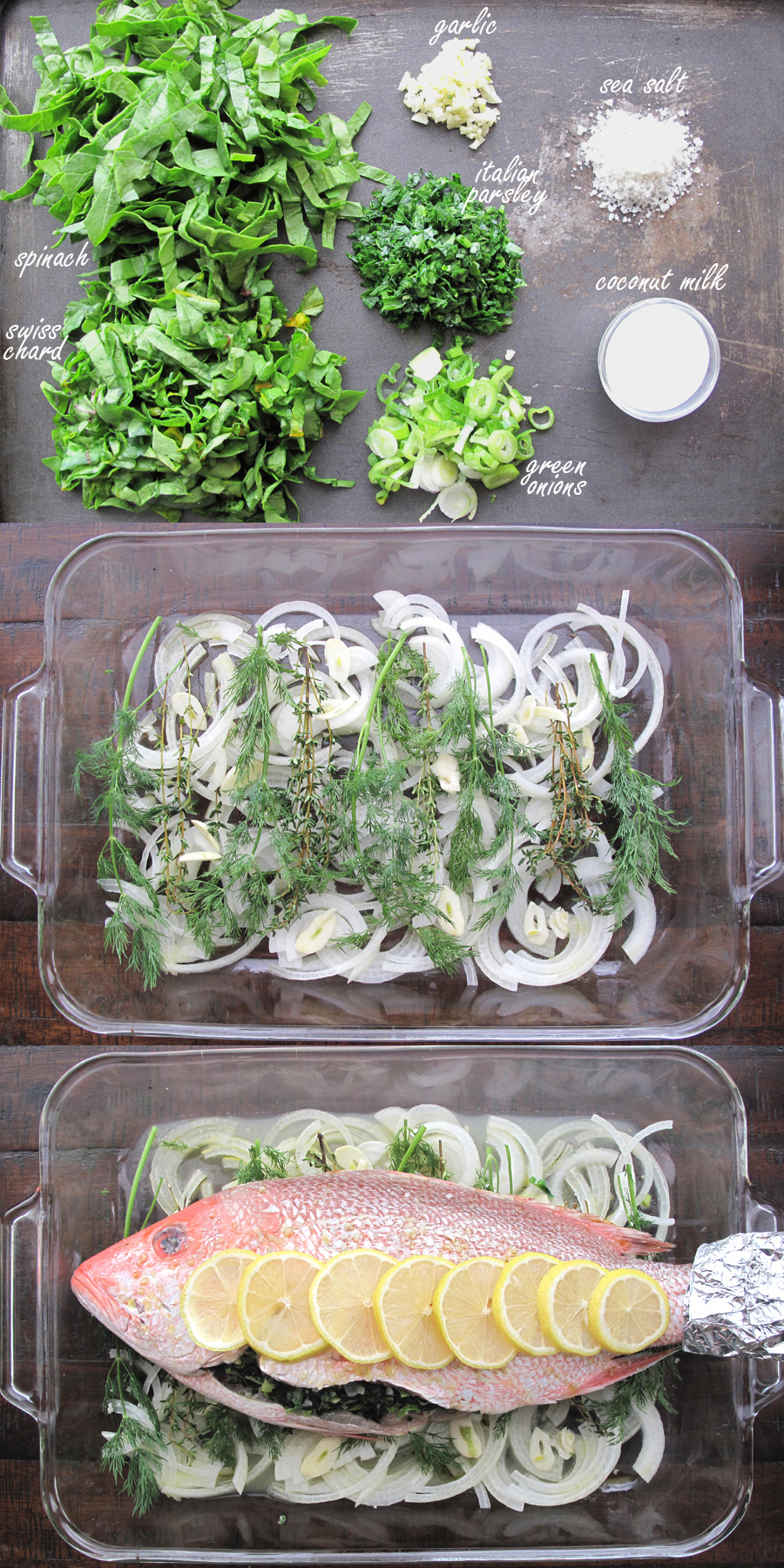 AIP / Provençal Herb Stuffed Whole Fish - French Paleo Recipe
This recipe is 100% compliant with the strict elimination phase of the Paleo Autoimmune Protocol (AIP).
Author:
Sophie Van Tiggelen
Cuisine:
Paleo Autoimmune Protocol
Ingredients
Stuffing:
2 tablespoons extra-virgin olive oil
⅔ cup of fresh spinach, chopped
⅔ cup of Swiss chard, chopped
1 clove of garlic, minced
2 tablespoons minced Italian parsley
2 green onions, minced
⅓ cup coconut milk
1 teaspoon sea salt


Fish:
1 whole fish (about 4 pounds), clean and dry
¼ cup extra-virgin olive oil, divided
1 yellow onion, chopped
2 cloves of garlic, sliced
4 sprigs fresh thyme
4 sprigs fresh dill
2 teaspoons sea salt, divided
2 lemons, sliced
½ cup liquid (fish stock, vegetable stock, white wine)
Instructions
In a large saute pan on medium heat, warm the olive oil and add all the other ingredients for the stuffing. Mix well.
Cover and cook for 8 minutes. The volume will reduce greatly.
Remove from the heat, taste and adjust the salt if needed. Cover and set aside for now.
Preheat the oven to 375 degrees F.
Rub the bottom of a large gratin dish with olive oil and scatter yellow onion, garlic, thyme, and dill over it. Sprinkle with 1 TSP of salt.
Stuff the fish with the stuffing, pushing well into the head and abdomen cavity.
Season the fish with 1 TSP of salt and place it in the gratin dish.
Wrap the tail in aluminum foil if the dish is too small for the fish!
Dribble the other half of olive oil over the fish, arrange a row of lemon slices, slightly overlapping, along the fish, from head to tail.
Pour the cooking liquid into the bottom of the dish.
Place on the middle rack in the oven and bake for 45-50 minutes, basting often. Turn the oven heat up to 400 degrees F in the last 10 minutes.
Serve the fish hot out of the oven with a spoonful of stuffing and a side of arugula salad for each plate. Don't forget to pour a spoonful of pan juices over each serving!
Bon appétit!