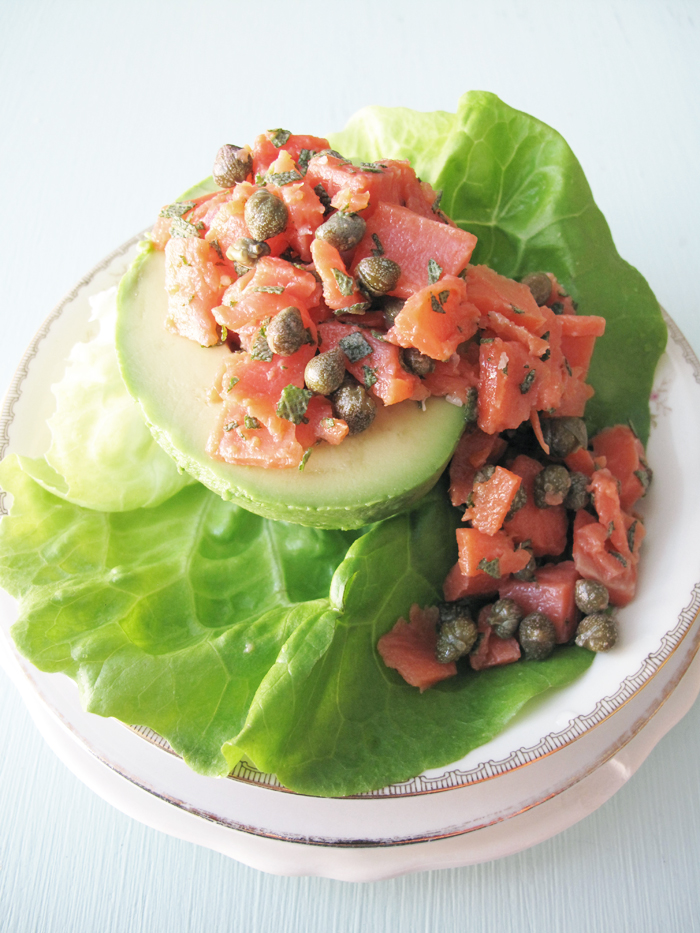 I may be following a strict autoimmune protocol diet to reverse my autoimmune disease and heal my body, but I do not feel restricted in my food choices.  There is nothing I like more than a beautiful plate with colorful, vibrant, and nutrient-dense food on it.  If you look around past the aisles of processed food, you will discover an abundance of flavorful and nutritious ingredients available to you.  Meat, fish, vegetables, and fruits; this is nature's bounty.  Take advantage of this wealth to create meals that will promote health and wellness for you and your family.
Speaking of family, I like to serve several small appetizers instead of one big main dish for holiday meals and celebrations. It has become somewhat a tradition in our house and everyone has come to expect this parade of hors d'oeuvres and canapés.
This recipe for smoked salmon and avocado boats is one of my favorite. Smoked salmon can be quite expensive, especially if you favor wild caught varieties as I do, but you will be serving only a small amount per person.
This particular recipe is very easy to put together, requires no cooking or baking, and will definitely impress your guests with its vivid colors and delicate flavors.
This recipe was originally posted on Real Food Forager. 

AIP / Paleo Smoked Salmon and Avocado Boats
This recipe is 100% compliant with the strict elimination phase of the Paleo Autoimmune Protocol (AIP).
Author:
Sophie Van Tiggelen
Cuisine:
Paleo Autoimmune Protocol
Ingredients
2 avocados
4 ounces smoked salmon – preferably wild caught, diced
1 tablespoon fresh sage, chopped
2 tablespoons capers
¼ teaspoon sea salt or more, to taste
1/2 teaspoon extra virgin olive oil
1/2 teaspoon coconut aminos
4 big leaves of Bibb lettuce
Instructions
In a large bowl, mix together salmon, sage, capers, salt, olive oil, and coconut aminos.
Cut avocados in half lengthwise, remove pit and skin (by slipping a spoon between the flesh and the skin).
On your serving plates, place in this order one big leaf of bib lettuce, ½ avocado and spoon ¼ of smoked salmon preparation.
Bon appétit!