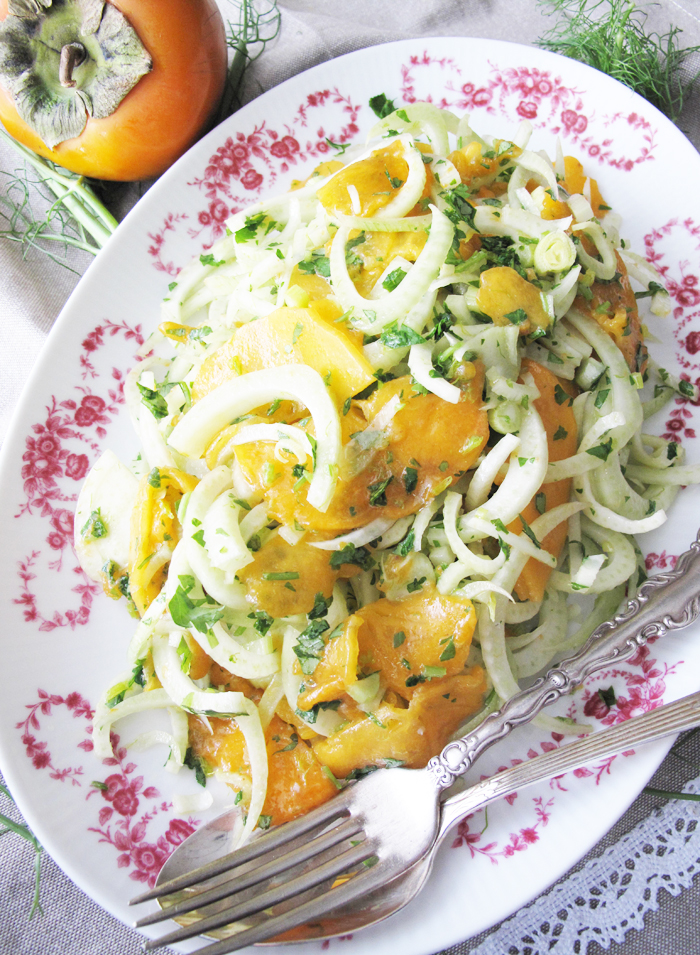 This persimmon and fennel salad is the perfect fall recipe for the holiday season!  The flavors complement each other to form a refreshing and festive looking side-dish.  I wish I could tell you about a childhood memory that inspired this autumnal salad, but instead its creation was fed by serendipity.  As I was coming back from the farm where I had purchased a big load of grass fed meat, I stopped in a grocery store to purchase a pumpkin to decorate our front porch.  Walking through the fresh produce aisle, I spotted the first persimmons of the season!  They looked so tempting, neatly arranged on a special display, that I bought two of them even tough I didn't have any particular recipe idea in mind.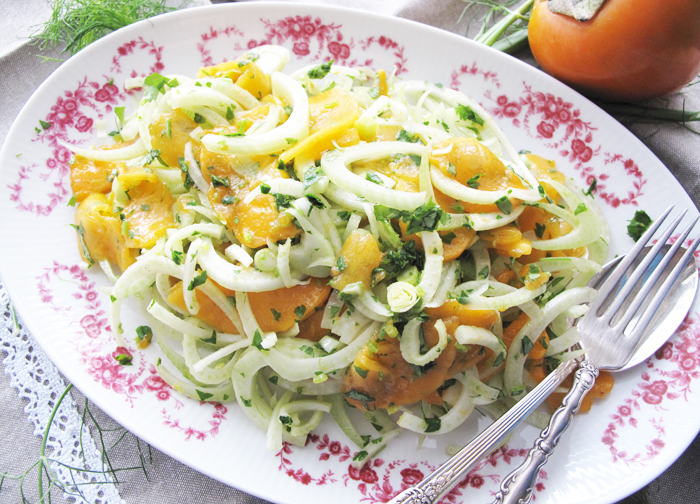 A few days later, when I was sure the persimmons were ripe,  I was really eager to incorporate them in my lunch.  I also had a fennel bulb in the fridge that I needed to consume.  So I started chopping my fennel bulb into thin slices, peeled and sliced a persimmon, added some fresh cilantro (because I love fresh herbs in pretty much everything!) and voilà!  Sometimes creating a new dish is quite simple. 
Substitutions.  If you are out of persimmon, a good alternate would be mango or peaches; they pair quite well with fennel as well.  I used fresh cilantro in this recipe, but you may also swap it for other fresh herbs like chives, parsley, or basil.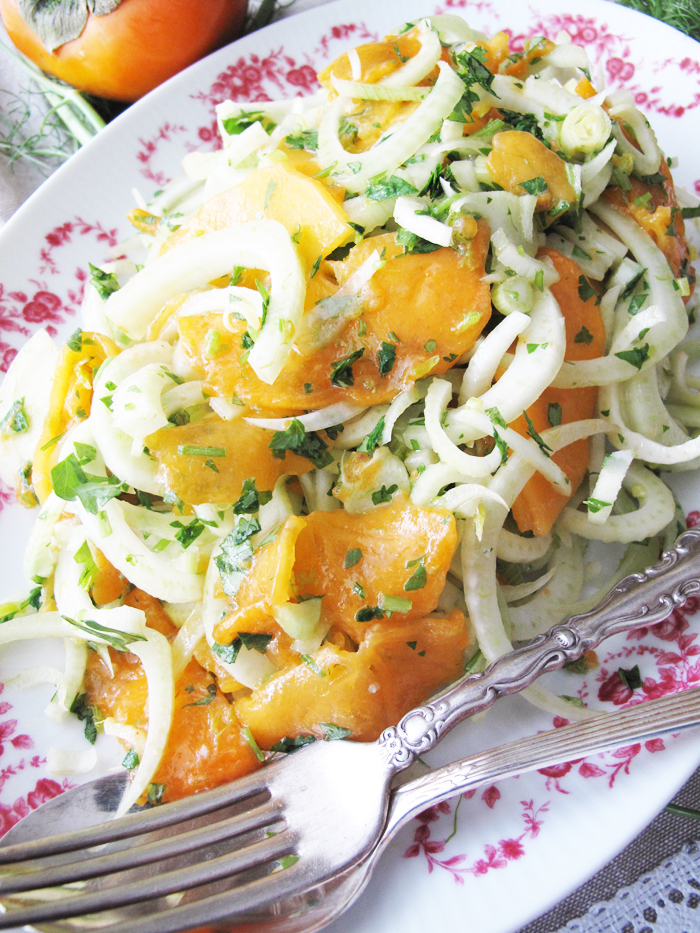 A word of caution about persimmons.  The most common types of persimmons are Fuyu and Hachiya.  Fuyu persimmons are a lighter orange-yellow in color and sort of squat in shape. These are ripe when still firm.  Hachiya persimmons are a darker orange and are more oblong or conical in shape. Hachiyas are more flavorful but they must be eaten only when they have reached an advanced level of ripeness, otherwise the flavor will be unpleasantly bitter and astringent.  It is a little bit similar to avocados; they take some time to mature but once they reach that point where they become tender to the touch, you have to eat them immediately or they will turn too mushy.
How to cut your persimmon?  With a sharp knife, cut off the top of the fruit and the leaves, peel the skin with a vegetable peeler, cut the fruit in half from top to bottom, remove the core and slice thinly.

AIP / Paleo Persimmon and Fennel Salad - Fall Recipe for the Holidays
This recipe is 100% autoimmune protocol compliant.
Cuisine:
Autoimmune Protocol - AIP
Ingredients
1 fennel bulb, with the stalks removed
1 persimmon, ripe (read the warning in the post)
1/4 cup of fresh cilantro, chopped
For the dressing:
2 TBSP olive oil
1 TBSP apple cider vinegar
1/2 TSP salt or more to taste
Instructions
Using a sharp knife, cut your fennel bulb in half from top to bottom. Thinly slice each half crosswise (the thinner, the better).
Cut off the top and the leaves of your persimmon and peel with a paring knife or a vegetable peeler.
Then cut the persimmon in half, from top to bottom. Remove the core. Cut each half into thin slices.
In a big bowl, gently mix together fennel, persimmon, and chopped cilantro.
Add the dressing right before serving.
Bon appétit!
This recipe has been shared on the following pages:
Fat Tuesday
–
Phoenix Helix AIP recipe roundtable
.
Click it to Pin it!