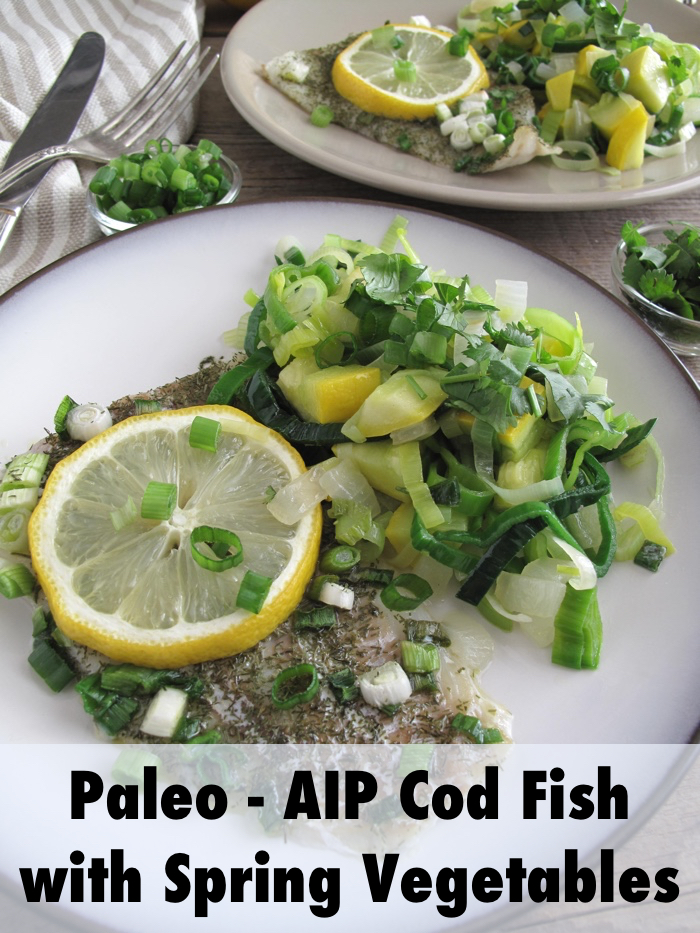 Have you noticed that something has changed in the air?  Spring is finally here and with it comes the promise of sunshine and warmer days.  I also noticed a change in my appetite and food choices.  Hearty winter dishes have been replaced by lighter meals, with lots of green vegetables and fresh herbs.
I am always amazed by the bounty and abundance of vegetables that we can actually eat on the autoimmune protocol.  Such a variety ensures that we never get bored!  I don't know that I am eating #morevegetablesthanavegetarian, but I am definitely looking forward to my daily dose of colorful and nutritious fruits and veggies!
This recipe has been originally posted on the blog Autoimmune Paleo.
AIP / Paleo Oven Baked Cod Fish with Spring Vegetables
This recipe is 100% compliant with the strict elimination phase of the Paleo Autoimmune Protocol (AIP).
Author:
Sophie Van Tiggelen
Cuisine:
Paleo Autoimmune Protocol
Ingredients
Fish
1½ pounds fresh cod filets (6 ounces per person)
2 tablespoons extra-virgin olive oil, divided
½ tablespoon sea salt
½ tablespoon dill
⅓ cup chopped scallions
1 lemon, sliced


Vegetables
3 tablespoons extra-virgin olive oil
1 medium onion, chopped
4 cups finely chopped leeks
4 cups chopped yellow squash
1 teaspoon sea salt
Fresh cilantro, for garnish
Instructions
Preheat oven to 350 degrees F.
Coat the bottom of a 9x13-in glass baking dish with 1 tbsp olive oil.
Arrange the fish fillets so they don't overlap.
Drizzle the fish with 1 tbsp olive oil, then add salt, scallions, and slices of lemon.
Cook in the oven for 20 minutes.
Meanwhile, warm up 3 tbsp olive oil in a large skillet over medium heat.
Add the onions, leeks, yellow squash, and salt.
Cover and cook for 15 minutes, stirring occasionally, until the vegetables are tender but not mushy.
Serve each portion of cod with a serving of vegetables and some freshly chopped cilantro for the garnish.
Bon appétit!