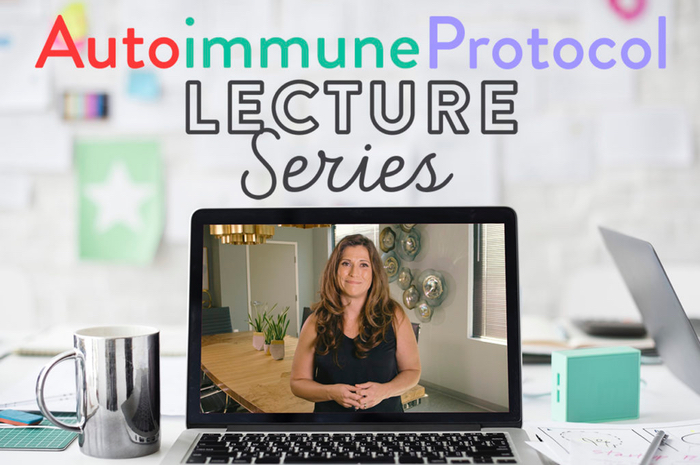 The AIP Lecture Series delivers a rich and supportive learning environment for autoimmune disease sufferers looking for a way to regain their health and keep it!
Enrollment for the next session of the AIP Lecture Series is now open! The next session of this 6-week online course begins Monday, March 19th, 2018.

What is the AIP Lecture Series?
The AlP Lecture Series is a 6-week, video-based, top-rated online course that will teach you the scientific foundation for the diet and lifestyle tenets of the Autoimmune Protocol.
The AIP Lecture Series features:
42 video lectures (totaling 16 hours!), all taught by Dr. Sarah Ballantyne, PhD

dozens of printable guides

action steps to help you go from theory to practice

daily self-discovery exercises to reinforce and refine implementation

an online forum to connect with other students and ask questions

weekly FAQ videos by Dr. Sarah Ballantyne, PhD in the online forum

recommended reading for every topic

interactive quizzes to test your knowledge
Download the course outline here.

Who can benefit from the AIP Lecture Series?
This course is geared at all levels, whether you are:
new to the idea of diet and lifestyle changes to heal chronic illness
already familiar with Paleo or AIP but had trouble sticking to it in the past
an Autoimmune Protocol veteran
a caregiver
a practitioner looking to learn about the Autoimmune Protocol
Scientific concepts and practical strategies!
The AIP Lecture Series doesn't shy away from teaching important scientific concepts. Dr. Sarah Ballantyne, PhD firmly believes that understanding how foods affect our health and the cellular level is an essential motivator for making positive and lasting change, as well as being critical to the self-discovery processes of finding individual tolerance and reintroduction.  But, you don't need a science background to take this course!  Dr. Sarah explains the scientific evidence for each facet of the Autoimmune Protocol in her signature approachable style using accessible language and visual guides.
The lectures are also loaded with practical tips and strategies for implementation, so you can go from theory to practice with this course! You'll learn what to eat (not just what to avoid) and why, how to balance lifestyle and diet priorities, and Dr. Sarah will tackle many topics related to day-to-day AIP life like eating out, reintroductions and even where to start when it comes to troubleshooting.
How does it work?
Every Monday, a new module containing 7 topics, each with a video lecture (averaging 2 to 3 hours total per week), recommended reading, relevant printables, relevant action steps, and self-discovery exercise will unlock. Proceed through the content at your own pace. Twice weekly discussions will be led in a private Facebook group to accompany that week's lectures as well as once weekly Facebook video FAQ with Dr. Sarah Ballantyne. The private Facebook group is also where you can ask questions and connect with other students. You will automatically receive an invite to the Facebook group a few days before the course begins (you will be prompted to supply the e-mail address that your Facebook account is linked to at checkout).
What if I can't start on march 19th?
No problem!  Once a module unlocks, you will have lifetime access to it (plus any future updates or additions), so you can fit this course into your schedule!