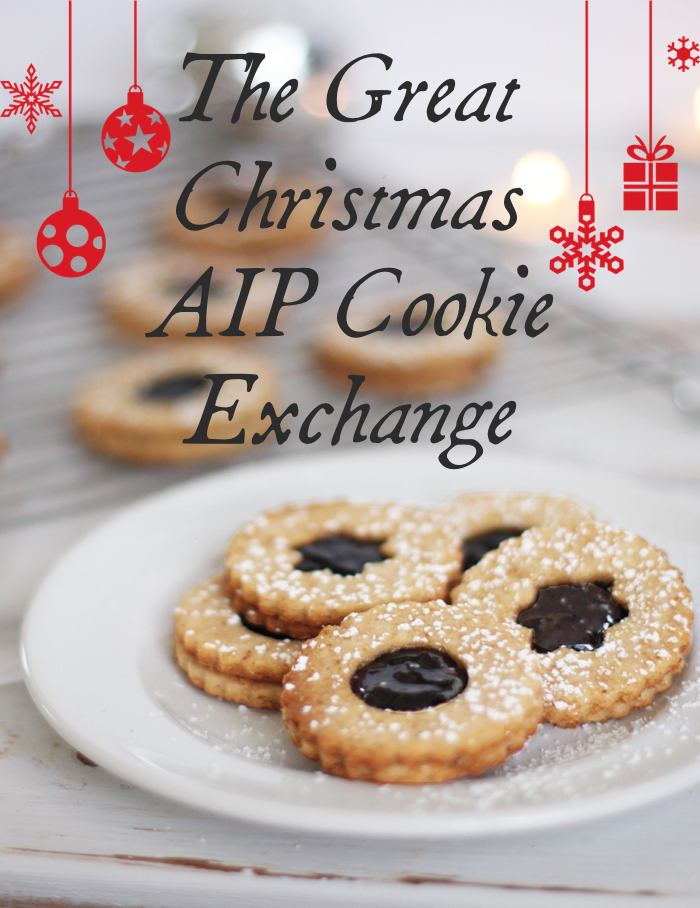 It is nice to have a little something sweet from time to time to celebrate a special occasion. And I think that Christmas is a pretty big occasion, wouldn't you agree? While eating treats, even Paleo or AIP treats, should be kept to a minimum, we don't want to be locked up in "food prison," either. How fun would it be to host a Christmas AIP Cookie Exchange with family and friends, knowing you can enjoy the treats of the season without the fear of having an autoimmune flare-up? You could even send this post to your friends and family to make it easy for them to find an autoimmune-friendly recipe.
All of the recipes below are compliant with the strict elimination phase of the Paleo Autoimmune Protocol (AIP). This collection was created with the help of some of the outstanding AIP bloggers in the community. I am sure you will recognize many of them!
Find more delicious and tasty AIP cookies (and other holiday treats) in Laura Vein's ebook, AIP & Paleo Holiday Sweet Treats!

For even more Paleo and AIP cookie inspiration, check out this beautiful Paleo Cookie Exchange ebook! You can download your FREE COPY here. A Paleo Cookie Exchange is all about indulging while managing food allergies and sensitivities.

The authors have graciously allowed me to share a recipe from their ebook on the blog today. Ladies and gentleman, for your enjoyment, allow me to present these dreamy Grapefruit Sandwich Cookies with Blueberry Preserves! The original recipe is Paleo, but the authors have made special accommodations to make these AIP-friendly. How nice is that?

Grapefruit Sandwich Cookies with Blueberry Preserves
Cuisine:
Paleo Autoimmune Protocol
Instructions
To make the organic powdered sugar: Using a high powdered blender, blend the granulated sugar for a minute until a fine powder remains. Add arrowroot starch for color and texture of powdered sugar.
To make the cookies: Preheat oven to 350° F. Line a baking sheet with parchment paper and place in the fridge to chill.
In a mixing bowl, combine dry ingredients. Using a hand or stand mixer, slowly add in wet ingredients. Mix until dough forms a ball.
Using two sheets of parchment paper, roll out dough to 1/4" thick.
Cut out dough with lemon zinger cookie cutters (these come in a set of 2, one with a hole in the center, both have scalloped edges)
Place each cookie cut out on the chilled, parchment lined cookie sheet.
Bake for 10-12 minutes or until cookies are just starting to brown.
Carefully slide the parchment off the cookie sheet and allow to cool before touching, otherwise cookies will crumble. Chill cookie sheet between baking cookie batches.
Let completely cool before adding about a teaspoon of blueberry preserves to the center of cookie, and top with a cookie with the center cut out. Sprinkle with powdered sugar to finish.
Click it to Pin it!
This post has been shared on The Paleo AIP Recipe Roundtable.