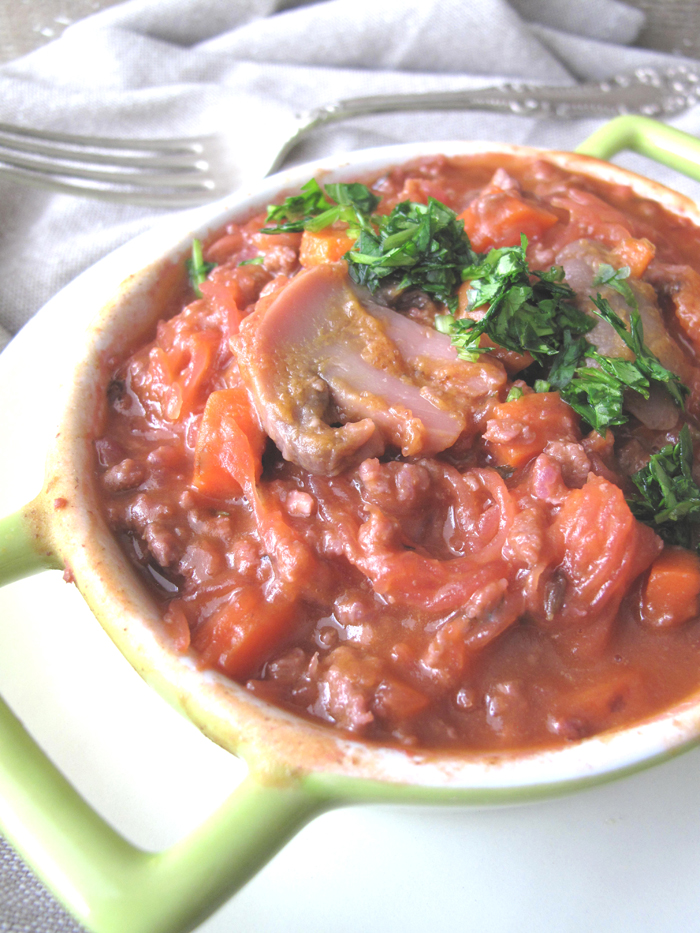 This baked spaghetti squash casserole is a wonderful single-dish meal that you can make ahead and freeze!  Really easy to prepare even for beginning cooks, this spaghetti squash casserole is a classic comfort food packed with nutrient-dense vegetables, ground meat and a succulent nightshade-free "tomato-less" sauce.  I know, the sauce really looks like the real thing, but let me assure you that it is made out of ingredients 100% compliant with the autoimmune protocol.  I even fooled my teenage daughters with this one. hehe.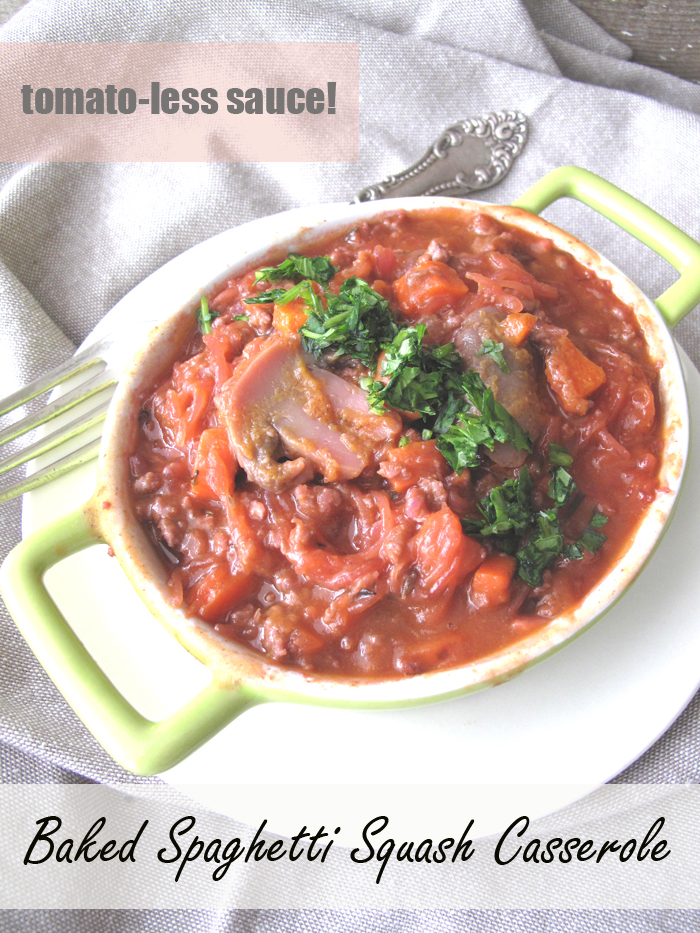 There is a little bit of preparation involved in this recipe since you will need 4 cups of spaghetti squash noodles.  If you haven't baked spaghetti squash before, I have scouted a few tutorials for you to choose from.
Here is the method I personally use for baking a spaghetti squash in the oven.
I also love this method from Martha Stewart because there is no difficult cutting process involved, although the cooking time is longer (1 hour and 20 minutes).  You place the whole thing in the oven and voilà!  I use this technique when I am flaring up and my wrists are screaming at me.
If you are more a video type of person, watch this short tutorial by Susannah Chen; she makes it look real easy and I particularly like the jazzy background music!
Author's notes:
The recipe below will yield 8 portions.  You can either save the leftovers for later or freeze them.  I am using a big rectangular baking dish (11″ x 15″) but you may use smaller ones if you are batch cooking.  Small aluminum loaf pans are also a good options, especially if you want to divide this casserole in multiple meals.

AIP / Baked Spaghetti Squash Casserole with Ground Beef & Tomato-less Sauce
This recipe is 100% compliant with the autoimmune protocol diet.
Cuisine:
Autoimmune Protocol - AIP
Ingredients
4 cups of spaghetti squash noodles cooked "al dente" (=1 medium spaghetti squash)
1 lb ground beef (or any other ground meat)
2 TBSP coconut oil
2 TSP salt
1 cup 1/2 onions, diced
1 cup carrots, diced
2 cloves of garlic, crushed and minced
3 TSP herbes de Provence
1/4 cup water
3 small cans mushrooms, drained (4 oz - 113 g)


For the "tomato-less"sauce:
1 can of butternut squash puree (or 1 cup 3/4 of homemade mashed butternut squash)
1/2 cup full fat coconut milk
3 TSP salt
1/2 cup cooked beets, diced
3 TBSP gelatin (Great Lakes, red can)
Instructions
In a large skillet over medium heat, add 1 TBSP of coconut oil, ground beef, and 1 TSP of salt. Cook until there is no more pink showing in the meat (about 8 minutes). Save the meat in a large bowl on the side.
Using the same pan, place once again over medium heat. Add 1 TBSP of coconut oil, diced onions, carrots, garlic, herbes de provence and water. Cover and simmer for 10 minutes, stirring occasionaly. Add these vegetables to the meat.
In a Vitamix or high speed blender, add butternut squash puree, coconut milk, salt, beets, and gelatin. Mix on high until the mixture is smooth.
Mix together spaghetti squash noodles, meat, onions, carrots, mushrooms and "tomato" sauce.
Pour the preparation in a 11" x 15" baking dish or several smaller dishes.
Reheat the casserole in the oven at 400 F for 30 minutes.
You may also freeze this casserole.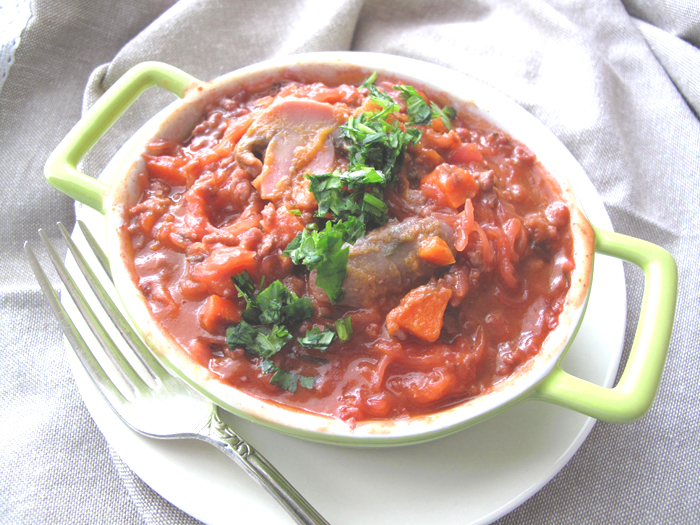 This baked spaghetti squash casserole recipe has been shared on
Fat Tuesday
–
Real Food Wednesday
–
Phoenix Helix AIP Recipe Roundtable