Hi!  I am Sophie! I am an autoimmune warrior, foodie, recipe developer, and photographer.  I am also wife to an athlete always hungry and mother of three busy teenage girls!  Our family moved to Colorado from Belgium in 2000 and we all speak French at home.  So you may find that my recipes have a certain French flair!  I keep myself apprised of what is happening on the other side of the ocean in the healthy eating movement.  We can always learn something useful from the experience of our neighbors.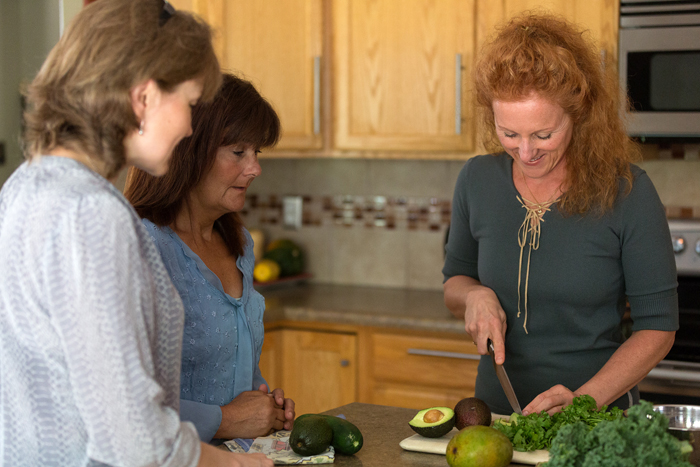 What will you find on this blog?
A Squirrel in the Kitchen is a blog focused on offering easy answers and practical support to those suffering from an autoimmune disease, as well as to anyone simply wanting to improve certain areas of their health or looking for a long term weight loss solution.
They are plenty of resources out there if you wish to dig deeper into the scientific mechanisms of autoimmune diseases and leaky gut (click here to consult the resource page). But if you are like me when I first started on this journey, you might feel overwhelmed by the amount of information to process.  What you need now is help to implement the necessary changes in your diet and lifestyle.
That is why I strive to provide helpful posts like these to get you started right away:
understanding the basics of the anti-inflammatory healing diet (paleo diet – autoimmune protocol diet – AIP diet): the yes-foods and the no-foods
the private emotional side of dealing with an autoimmune condition
how to start a whole new way of cooking and baking  for your family
how to gradually get your family on board, without drama!
colorful and easy recipes with simple ingredients that you can buy anywhere
strategies to create new healthy eating habits and beat the sugar cravings
lifestyle recommendations: exercise, relaxation,  meditation, sleep
If you don't find the answer your are looking for in my posts, ask me!
Who can benefit from the anti-inflammatory diet?
The answer is really easy: EVERYONE!  But just to make sure, if you can answer yes to at least one of the questions below, then you will benefit from the anti-inflammatory diet!
do you suffer from an autoimmune disease?
are you dealing with any kind of health condition on a daily basis?
are you taking medications?
are you dealing with issues like anxiety, trouble sleeping, low energy, PMS, migraines, skin problems, bloating, etc?
do you want to lose weight "for good" without counting calories?
do you wish to clean-up your diet and feel good?
do you want to improve your athletic performances?
The AIP (anti-inflammatory) diet is the core of the program, with adjustments made according to your personal needs and goals.  click here to read more about this.
My personal story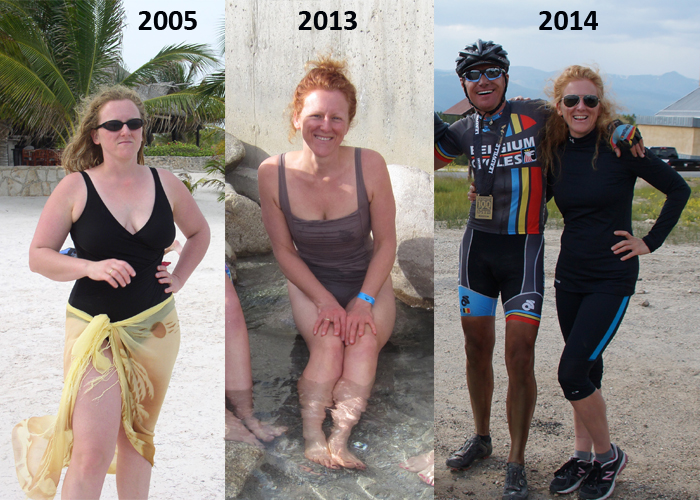 2005: I was not taking good care of myself after my 3 pregnancies.
2013: 1 year after starting the strict autoimmune paleo diet; I quickly lost weight and my symptoms improved.
2014: Feeling healthy and full of energy now!
I was diagnosed with Hashimoto's disease in 2009 immediately after a minor outpatient surgery.  Practically overnight I started having severe anxiety and panic attacks, heart palpitations, insomnia, fatigue, brain fog, memory problems, just to name a few symptoms.  Looking back it feels like my life got completely derailed, out of control.  I adopted a gluten free diet, thinking that it would solve all my problems. It took a lot of therapy and meditation to overcome my anxiety disorder.
In 2012, plagued with persistent symptoms of severe joint pain and chronic fatigue, I sought healing beyond medication and conventional medicine.  I started a strict anti-inflammatory diet often called the autoimmune protocol diet (or AIP, hypotoxic diet).  Very quickly my worst symptoms subsided and within months I regained health and vitality.
Along with a regular practice of relaxation techniques and exercise, the delicious and healthy recipes I developed for myself and my family allowed me to rebuild my health from the ground up.
To read more about my story and my struggles with anxiety and PTSD (post traumatic stress disorder), read this post (part 1) and this post (part 2).
*************************************
Take your health, happiness and well being into your own hands today!
To get started with the healing anti-inflammatory diet click here
*************************************