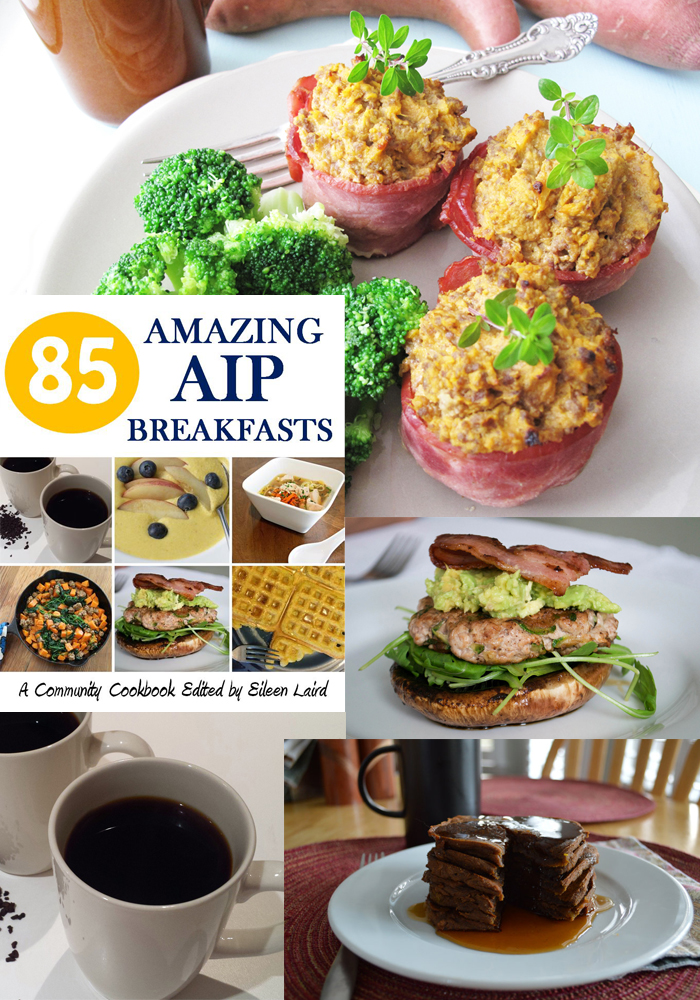 I am so pleased to announce today the launch of a new and incredibly helpful community cookbook: 85 Amazing AIP Breakfasts!  Twenty-six bloggers, including myself, who have used the paleo autoimmune protocol to improve their own health, have joined forces to create this unique resource.  The purpose of this cookbook is to help you tackle one of the biggest challenge of the autoimmune protocol, which is what to eat for breakfast!  This amazing new cookbook will give you 85 different options for a nutritious and healing AIP breakfast, including beverages, bowls, skillets, soups, patties, pancakes, and waffles!
85 AIP Breakfasts to eat well and reverse your autoimmune disease!
Why choosing a nutrient-dense breakfast is so important?  To reverse autoimmune disease and rebuild our bodies, we need to make sure that we eat enough highly nutritious foods.  Breakfast is an important meal that will keep us fueled and satiated for hours.  So be sure you consume plenty of fat, protein, and carbohydrates for a nutritious breakfast!
THIS COOKBOOK IS:
♥ 

 A paleo autoimmune protocol cookbook.
♥ 

 A resource for

reversing autoimmune disease

.
♥ 

 Aligned with The Paleo Approach, by Dr. Sarah Ballantyne.
♥ 

 

85 AIP breakfasts

 from the best of the AIP blogs.
♥ 

 

33 completely new recipes

never published elsewhere.
♥ 

 Over half the recipes can be

easily modified

for
low-FODMAP, GAPS/SCD, low histamine, and coconut free diets.


As a special treat, Jo from the blog Comfort Bites is sharing her recipe for these AIP breakfast stacks.  She created this delicious recipe after craving a full English cooked breakfast!  This British breakfast is AIP-compliant, healthy and full of flavors.  I have had the chance to spend some time in England and I must say that this breakfast stack is pretty close to the real deal!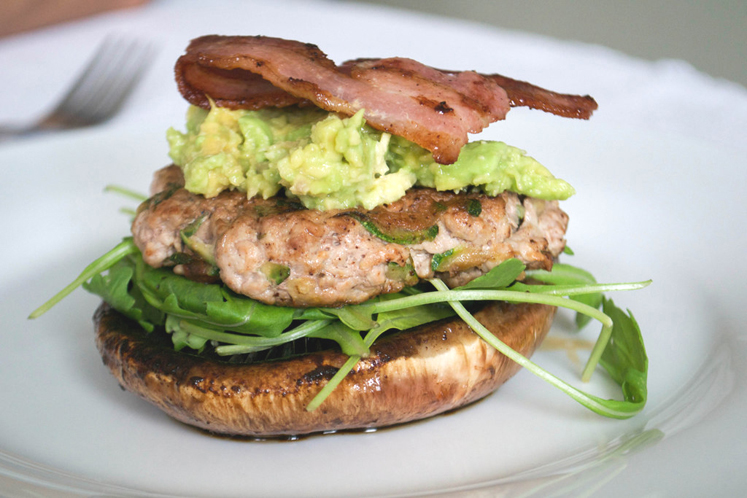 AIP Breakfast Stack
This recipe is 100% autoimmune protocol compliant.
Cuisine:
Paleo Autoimmune Protocol
Ingredients
4 slices AIP-friendly bacon
1 pound ground turkey
1 medium zucchini, grated coarsely
1/4 teaspoon dried sage
couple of pinches of salt
coconut oil (if needed)
4 large flat mushrooms, stalks removed
2 medium avocados, stone and skin removed
juice of one small lemon
rocket or watercress leaves
Instructions
Fry bacon in a large, dry skillet over medium heat until crispy. Set bacon aside. Leave fat in pan.
In a bowl, blend the turkey, zucchini, sage and a pinch of salt. Form into 6 patties. refrigerate 2 for a snack later; cook 4 now.
If there's not enough bacon fat in the skillet, add a little coconut oil. Cook patties 5-6 minutes per side. Check they are fully cooked throughout and then remove from pan and set aside.
Add mushrooms to skillet along with a splash of water. Cook for a few minutes each side, until they turn golden. Turn off the heat.
Quickly mash the avocado flesh together with a pinch of salt and the lemon juice.
To assemble: place the upturned mushroom on a plate and arrange a small tangle of the watercress or rocket leaves on top. Place the turkey and zucchini patty on top of that and finish with a spoonful of guacamole and a slice of bacon. Eat while hot.
85 Amazing AIP Breakfasts is not just another cookbook,
it is an essential tool to help you
reverse your autoimmune disease
and heal your body!